Anti-BDS bill sent to California governor for approval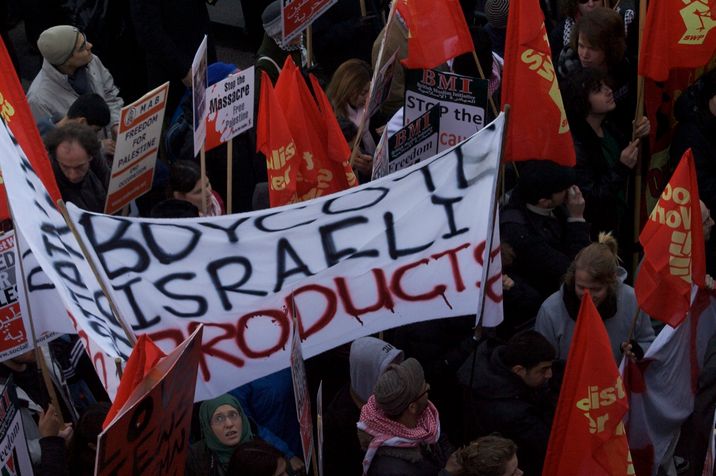 BDS supporters, London 2009
claudia gabriela marques vieira/ Wikipedia
Israel supporters say law will damage attempts to boycott Israel, while opponents call it merely symbolic
California voted on Tuesday in favor of a bill targeting the Boycott, Divestments and Sanctions (BDS) movement, which Governor Jerry Brown is expected to make law within weeks, the Jerusalem Post reports.
The Jewish Journal reported that the state assembly had passed the bill in a 60-0 vote, after months of debate over its contents.
Assembly Bill 2844 was proposed by Democratic Assemblyman Richard Bloom in April, and in its original form called for a limit of $100,000 for state contracts with businesses boycotting Israel.
The wording was altered following criticism that the proposed bill would infringe on constitutional rights, with all references to Israel being taken out.
The final form of the bill does not ban contractors from boycotting Israel, instead establishing that businesses prove they are not violating state civil rights law if boycotting a nation recognized by the US – a compromise supporters say can forestall criticism that the bill violates free speech rights. Israel is reportedly mentioned as an example.
The Jewish political establishment in California has embraced the bill, according to the Jewish Journal. Pro-Israel groups say legislation in the most populous state, which according to the state would be the sixth largest economy in the world if it were a country, will likely have an effect on the ongoing campaign to boycott Israel.
Dean Schramm, Los Angeles chairman of the American Jewish Committee (AJC), rejected claims that the bill would violate constitutionally protected free speech rights if passed.
"It is a consistent theme of BDS supporters to suggest that any time anything is directed towards them in the form of criticism, that somehow their free speech rights are being chilled," he told the newspaper.
Opponents of the bill are skeptical that it would be significant. "Those standards already apply," Democratic State Sen. Bill Monning said. "So we have a bill on the floor that seeks to affirm laws that already exist and people are held accountable for already".
David Mandel, an attorney active in the California-based Jewish Voice for Peace, told the Jewish Journal that the legislation was not meant to have a significant practical effect, but rather to "try to make a political point, to intimidate people, to send a message".
Prominent American Jews have frequently criticized BDS activity in the US, particularly as anti-Israel attitudes appear to be rapidly becoming more pervasive on the campuses of some of the country's most esteemed educational institutions – raising concerns that politically active students are hearing only one side of the issue. The Anti-Defamation League highlighted complaints it received about anti-Semitic rhetoric by both students and professors at, among others, Vassar, Oberlin, UCLA, and Northeastern.
Supporters of Israel have found success in challenging the moment in two large states with sizeable Jewish populations.
In June, New York Governor Andrew Cuomo signed the first executive order targeting BDS. The order stated that the state would create a public list of institutions and companies supporting BDS and deny them state funding.    
In March, Illinois published a list of 11 companies banned from conducting business with the state over their stance on BDS. Some of the companies included on that list have cut business ties and withdrawn money from Israeli businesses in East Jerusalem and the West Bank while continuing to conduct business with Israeli companies within the Green Line. It followed the passage of legislation in July 2015 divesting public pension funds from companies that directly boycott.