DNC hopeful Keith Ellison defends Israel remarks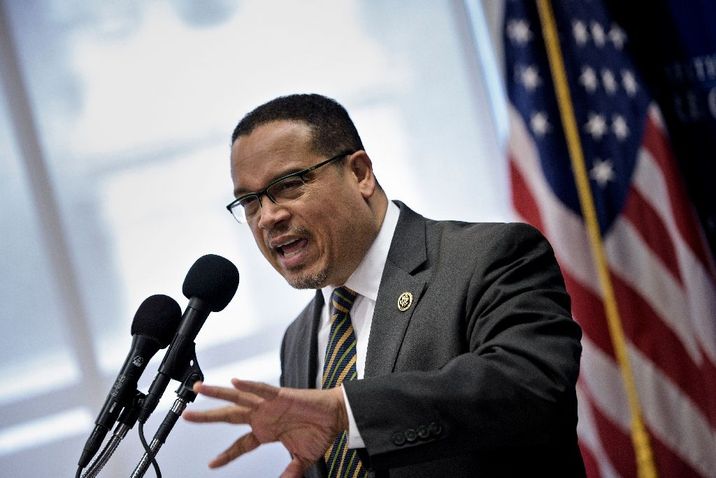 Keith Ellison
AFP/Brendan Smialowski
Progressive congressman says remarks in 2010 audio criticizing US foreign policy 'taken out of context'
A Democratic congressman running for Democratic National Committee chair has defended past remarks on Israel, after a tape emerged of him criticizing US foreign policy in the region. 
Ellison, a member of the House of Representatives who hails from Minnesota, became the first Muslim elected to the US Congress in 2006. He announced his DNC bid following Hillary Clinton's loss in the November 8 election to Republican tycoon Donald Trump, vowing to take the party in a more left-wing direction.
Earlier this week an audio recording emerged in which Ellison is heard saying that "United States foreign policy in the Middle East is governed by what is good or bad through a country of seven million people." 
"A region of 350 million all turns on a country of seven million," he further added. "Does that make sense? Is that logic? Right? When the Americans who trace their roots back to those 350 million get involved, everything changes." 
The Anti-Defamation League, a Jewish American watchdog, slammed the remarks as "deeply disturbing and disqualifying."
On Thursday, Ellison claimed the audio was edited and his words were "taken out of context."   
Ellison was one of the first supporters of Bernie Sanders, in October 2015, in the Vermont senator's ultimately unsuccessful bid against Hillary Clinton in the Democratic presidential primaries.
Sanders, a self-described democratic socialist, was among the first to announce his support for Ellison to lead the DNC.
A number of other party heavyweights also back him, including the next Democratic leader in the Senate, Chuck Schumer of New York.
"The Democratic Party needs to look itself in the mirror and work tirelessly to become once again the party that working people know will work for their interests," Sanders wrote in launching a petition drive to support Ellison's bid last week.