Backlash amid confirmation hearing for Trump's controversial Israel envoy pick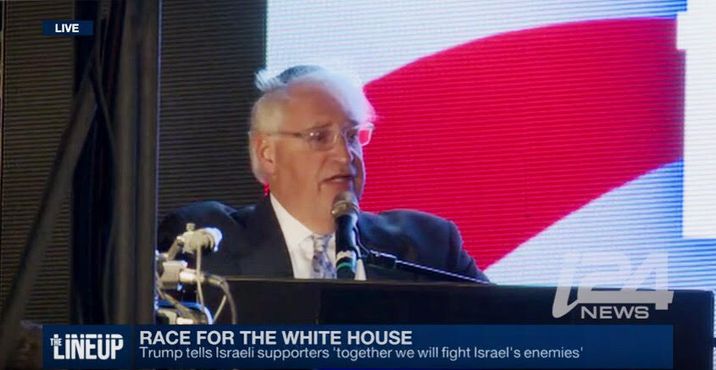 President-elect Donald Trump has chosen David Friedman to be the US ambassador to Israel
i24news
David Friedman is a vocal supporter of settlement construction and called J Street "worse than kapos"
David Friedman, US President Donald Trump's pick for ambassador to Israel, faced his confirmation hearing before the Senate Foreign Relations Committee on Thursday, just one day after an historic meeting between Prime Minister Benjamin Netanyahu and President Trump at the White House.
Friedman, the son of an orthodox Rabbi and a vocal supporter of settlement construction in the West Bank who represented Trump as his lawyer for 15 years, faced backlash earlier this week from liberal Jewish American organizations which called for the senate to reject his nomination.
In his opening remarks, Friedman spoke about the "unbreakable bond" between Israel and the US and affirmed that he would work to "advance the cause of peace within the region."
While reflecting upon the legacy of his father, Rabbi Morris Friedman, who was the child of poor immigrants, Friedman said he "felt an enormous debt of gratitude to our beloved country."
He also stated that his father "cared deeply for Americans of all religions and political stripes" and that he "marched in the civil right movement" and "handcuffed himself to the Soviet mission to protest the Kremlin's refusal to allow Soviet Jews to immigrate."
Friedman asserted that Israel and the US have a strong and longstanding partnership and said that the two countries are co-dependent upon one another for security and economic progress.
"Israel provides critical intelligence support to the United States, cooperates extensively with the United States in military initiatives, and acts as an 'incubator' for many cutting edge strategic projects," Friedman said.
Friedman stated that, if confirmed, he would devote his time to strengthening the bond between the US and Israel and he would work to "bring peace and stability to the region."
"Notwithstanding the inevitable disagreements that may arise between our two countries, there should never be any 'daylight' between the Unites States and Israel," Friedman said.
Friedman mentioned his qualifications for the position, explaining that he has been on more than 50 visits to Israel, has a deep understanding of its culture and history as well as a "working command of the Hebrew language."
J Street, an American Jewish organization which promotes the two-state solution, recently led a campaign to block Friedman's appointment, calling upon its supporters to write letters to their local senators in order to sway them from supporting the nomination.
As a part of the campaign, over 600 rabbis and cantors signed an open letter, released on Monday, opposing the nomination.
Friedman has attacked J Street in the past, saying that its members were "worse than kapos." He also said that the Anti-Defamation League were "a bunch of morons."
In his remarks, Friedman said that he regretted his use of harsh language during the campaign and said that the "inflammatory rhetoric that accompanied the presidential campaign is entirely over."
"If I am confirmed," Friedman promised, "you should expect that my comments will be respectful and measured."