Friedman rejects annexation of W.Bank, says two-state solution best option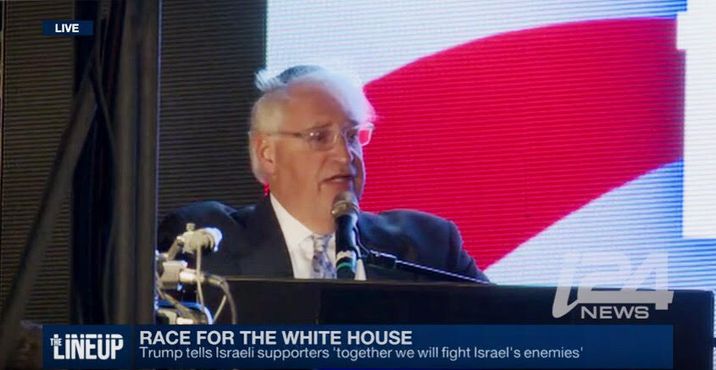 President-elect Donald Trump has chosen David Friedman to be the US ambassador to Israel
i24news
At least six protesters were escorted out of the hearing during the first half hour for interruptions
US President Donald Trump's nominee for ambassador to Israel on Thursday disavowed possible Israeli action to annex parts of the West Bank and said that the two-state solution remains the "best possibility" for peace in the region."
The attorney who is a close friend to Trump was grilled for nearly three hours by the Senate Foreign Relations Committee about his past inflammatory rhetoric, support for Israeli settlement building and his ability to be open to viewpoints from across the political and social spectrum.
Friedman was interrupted only a few sentences into his opening statement by pro-Palestinian activists waving Palestinian flags and shouting "free Palestine!" They were later joined by American Jewish activists who yelled at Friedman "you don't represent us!"
At least six protesters were escorted out of the hearing during the first half hour of the hearing for interruptions.
Echoing Trump, Friedman told lawmakers that he would be "delighted" if Israel and the Palestinians could achieve a two-state solution and welcome any deal reached between the two to end their conflict.
He said that the two-state solution remains the "best possibility" for peace in the region, however, Friedman expressed doubt over the Palestinian's commitment to peace.
"I would be delighted to see peace come to this region where people have suffered on both sides for so long," he said, further stating "I do not support Israeli annexation of the West Bank."
"I have expressed my skepticism about the two-state solution solely on the basis of what I have perceived as unwillingness to renounce terror and accept Israel as a Jewish state."
He said that the groundwork for such an accord was reached at the 1993 Oslo talks between Israel's then prime minister Yitzhak Rabin and the late Palestinian leader Yasser Arafat.
But he argued that, since then, Palestinian violence against Israel has only increased.
"One of the primary commitments was chairman Arafat's commitment to begin to educate his people to stop hatred," he said.
"We haven't made progress since then, and terrorism has increased four-fold since before Oslo."
Friedman, a 58-year-old Jewish American bankruptcy lawyer who has worked for Trump's property empire, was a controversial choice to represent the United States in Israel. Prior to the hearing five former US ambassadors to Israel strongly urged the Senate Foreign Relations Committee in a letter to reject Friedman, calling him "unqualified" and "extreme" in his positions.
Friedman is a longstanding supporter of Israel's push to build Jewish settlements in east Jerusalem and on the West Bank on land that Palestinians would claim as theirs in any future peace deal.
Faced with questions over this support, Friedman told the committee that he thought expanding settlements past their current borders would be "unhelpful."
On accepting Trump's nomination Friedman said he hoped to work from "the US embassy in Israel's eternal capital, Jerusalem."
Asked about moving the embassy Friedman replied only that "the decision will be made by the President and I will support his decision."
The current US embassy is in Tel Aviv, previous presidents having decided not to court Palestinian anger and disrupt peace efforts by endorsing Israel's claim on the holy city as its undivided capital.
American Jews living in Israel protested against Friedman's appointment outside the embassy as the hearing took place.
Concerns were raised that his views make him a provocative choice for ambassador, and many senators' questions focused on extreme and hurtful comments that Friedman made during the campaign, and prior to it.
Senator Tom Udall (D- New Mexico) told his fellow senators at the hearing that Friedman is "profoundly unfit" to lead members of the State Department, and that he "might inflame the situation in Middle East."
"I urge the majority in Senate to discuss Friedman's appointment again and think about moving in a different direction," he added.
Former Senator Joe Lieberman, on the other hand, said that Friedman's close relationship with Trump will strengthen the relationship between the US and Israel and urged bipartisan support for Friedman as ambassador.
If Friedman's nomination is cleared by the Senate Foreign Relations Committee, his appointment will be put to the full chamber at a later date, in what is expected to be a close vote.
Read more: Backlash amid confirmation hearing for Trump's controversial Israel envoy pick
LIVE BLOG: Confirmation hearing for Israel ambassador nominee David Friedman