Trump reprimands Jewish reporter for question about anti-Semitism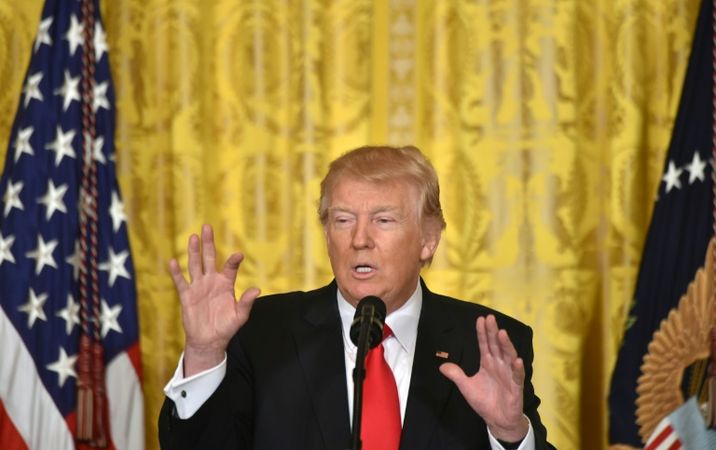 Donald Trump lors de sa conférence de presse à Washington le 16 février 2017
Nicholas Kamm (AFP)
US President tells Jewish reporter to 'sit down' and says it's "not a fair question" when pressed about racism
US President Donald Trump, when asked by a reporter from a Jewish publication about a recent rise in incidents of anti-Semitism, said it's "not a fair question," in a press conference on Thursday.
Jake Turx, a reporter from Ami Magazine, began his question by explaining that incidents of anti-Semitism have surged throughout the country in recent months. Before Turx could fully ask his question, he was told to 'sit down' by President Trump who then referred to his remarks as unfair.
WASHINGTON: VIDEO: Ami Mag's @JakeTurx asks Trump about Anti-semitism, Trump tells him to sit down "You said it's gonna be simple question." pic.twitter.com/WI5Z3pgzWT

— KolHaolam (@KolHaolam) February 16, 2017
"I am the least anti-Semitic person that you've ever seen in your entire life" Trump said, "I am the least racist person"
"I hate the charge, I find it repulsive, I hate the question," Trump continued, reprimanding the reporter for asking "a very insulting question."
Asked about an increase in reports of anti-Semitic incidents in the US since the election at a press conference on Wednesday , the president said that "we are going to do everything we can to stop racism.
"As far as Jewish people - so many friends, a daughter, a son-in-law and three beautiful grandchildren - I think you're going to see a very different America in the next three, four years," he said, referring to his daughter Ivanka, who converted to Judaism before marrying Jared Kushner. "You're going to see a lot of love."