Driver who plowed into crowd in Times Square says 'God made me do it'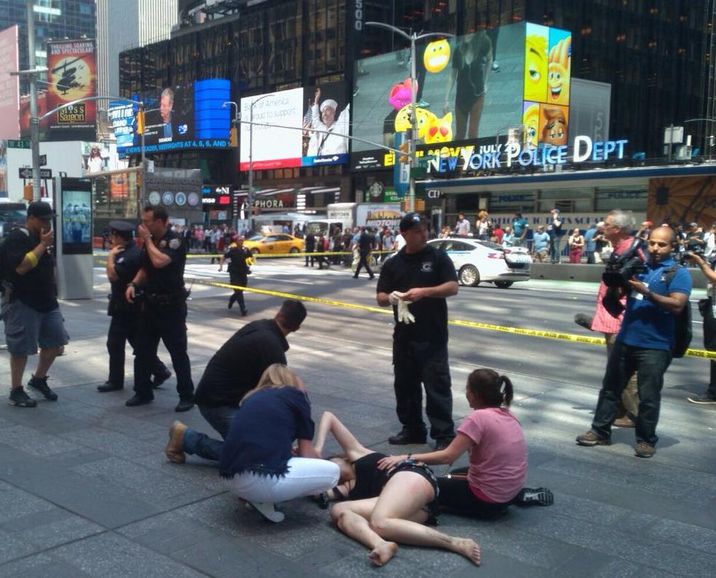 Sidewalk at Times Square after car strikes pedestrians, May 18, 2017
i24NEWS
The driver, who also tested positive for PCP, injured 22 people and killed one
A vehicle "lost control" and struck pedestrians in New York City's Times Square on Thursday, killing one and wounding at least 20 people, authorities said.
A source in law enforcement told CNN Friday that he tested positive for PCP, an intense hallucinogenic with dissociative properties, and had told police that "God made him do it."
The driver initially tried to flee say reports but was taken into custody, noting that he appeared intoxicated and suffered from "psychological issues." 
According to the CNN source, the man who was identified as 26-year-old Richard Rojas from the Bronx and a Navy veteran. also told police he expected officers to shoot him. 
The NYPD reportedly said Rojas had a history of arrests for driving while intoxicated but the incident was not being treated as terrorism.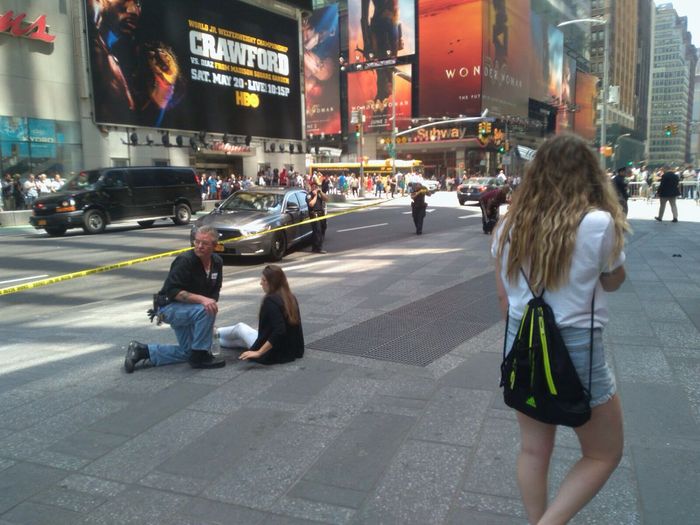 A law enforcement official initially told the New York Times that the driver appeared to be either drunk or on drugs and underwent a breathalyzer and drug tests.
Multiple witnesses told i24NEWS that the car accelerated and was driving against traffic before it plowed into the sidewalk.
"There is no indication that this was an act of terrorism," Mayor Bill de Blasio said in a statement.. "That being said, we are reinforcing key locations around the city with our anti-terror units of NYPD."
"It's a tough day for New York City," he added, commending the efforts of the police, fire and emergency services.
Times Square, next to the famed Broadway theater district, is one of the most popular tourist attractions in the US financial capital and where police stepped up patrols in recent years after a car bomb was planted in 2010.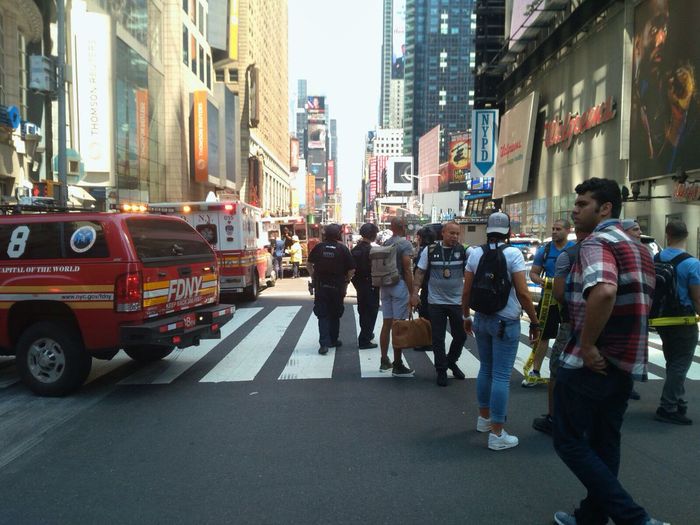 Rojas drove his Honda onto the sidewalk at 11:55 am (1555 GMT), smashing into pedestrians for three blocks at high speed, police said.
The vehicle collided with a metal pole and came to a stop at 45th Street and Broadway.
The vehicle flipped onto its side, smoke and flames spewing out of the hood as the injured littered the ground.
Witnesses spoke of fear and panic as the car hurtled through the crowd at the start of the lunch hour as people enjoyed one of the first warm days of summer in an area typically packed with tourists and office workers.
"There was a maroon car just careening at high speed. It seemed like it was trying to hit everybody," witness Annie Donahey told AFP.
Four of the injured remain in critical condition and two in serious condition, but are all expected to survive, said one of the hospitals treating their injuries, which officials confirmed.
New York City's Bellevue Hospital said it had received 13 patients, three of which were teenagers, and were being treated for serious injuries including pelvic fractures, internal bleeding and head injuries. 
The victim, was an 18-year-old woman from Michigan, who is described to a local Grand Rapids TV station as a "thought, really bright, very pleasant young lady," by her school principal