Ex-FBI chief Comey to testify publicly before lawmakers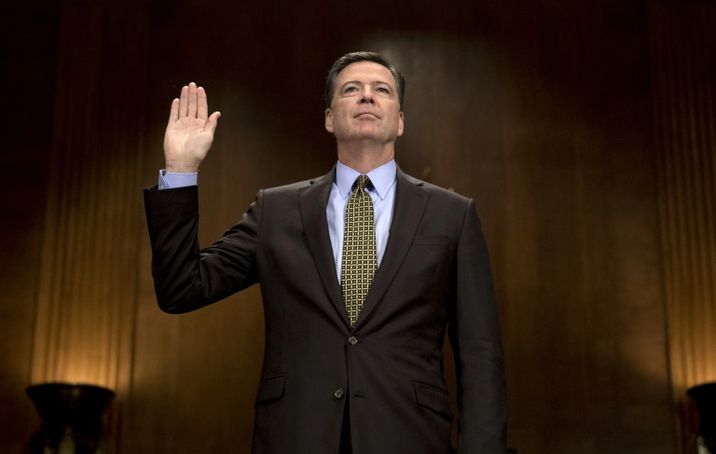 Fired FBI Director James Comey was asked to testify before the Senate Intelligence Committee
JIM WATSON (AFP/File)
Comey's testimony was sought by congressional committees after reports Trump asked him to drop Flynn probe
James Comey, the former FBI chief whose firing by President Donald Trump has triggered uproar, has agreed to testify publicly about Russian interference in the 2016 elections, lawmakers announced Friday.
"I hope that former Director Comey's testimony will help answer some of the questions that have arisen since Director Comey was so suddenly dismissed by the president," the top Democrat on the Senate Intelligence Committee, Mark Warner, said in a statement.
The hearing would be scheduled after the Memorial Day holiday, May 29, according to the statement.
Earlier in the day the New York Times reported that Trump told Russian officials that his firing of Comey, who he referred to as "a real nut job", had taken "great pressure" off of him with regards to an investigation into his administration's ties with Moscow.
The Times cites a document read to the paper by an unnamed US official which summarizes the scandal-ridden May 10 Oval Office meeting between Trump, Russian Foreign Minister Sergei Lavrov, and Moscow's ambassador to the US, Sergey Kislyak.
"I just fired the head of the FBI. He was crazy, a real nut job," Trump is quoted as saying, according to the document. "I faced great pressure because of Russia. That's taken off."
"I'm not under investigation." Trump added. 
In an explosive report that was immediately denied by the Trump administration, the Times reported earlier this week that the president had urged Comey to drop an investigation into the Russia ties of his sacked national security adviser Michael Flynn.
"I hope you can see your way clear to letting this go, to letting Flynn go," the memo quotes Trump as saying, according to the newspaper which cited a memo summarizing their February 14 meeting.
"He is a good guy. I hope you can let this go," Trump allegedly said.
Flynn, a former military intelligence chief, had been forced out of his White House job the day before Trump's meeting with Comey over concerns about his contacts with Russian officials.
It later emerged that Flynn was suspected by the Justice Department as having become vulnerable to Russian blackmail.
Meanwhile, the Washington Post reported Friday that the probe into possible collusion between the Trump camp and Russia had reached the highest levels of the president's administration, with investigators reportedly pegging a current White House official as a significant person of interest.