Trump endorses bill slashing legal immigration levels in half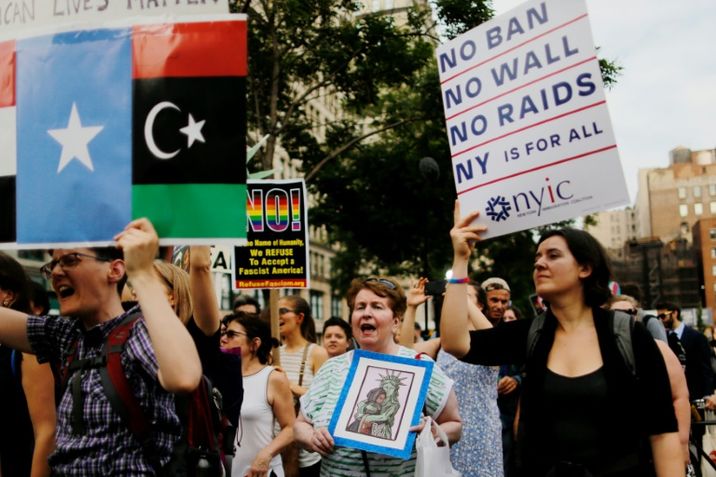 Manifestation à New York contre le décret anti-immigration de Donald Trump, le 29 juin 2017
EDUARDO MUNOZ ALVAREZ (AFP)
Top Trump aide, great-grandson of Jewish immigrant, dismisses Statue of Liberty's famous pro-immigration poem
US President Donald Trump on Wednesday endorsed new legislative proposals that would slash legal immigration levels in half over the course of the next decade, and which would give English-speakers priority for US residency cards.
Trump backed bills that would reform the process of obtaining a US "green card" by introducing a points-based system favoring skilled anglophone workers.
Around one million immigrants are granted permanent residency each year, but the draft legislation aims to cut that number by around 50 percent. It would also put a cap on the number of refugees able to gain permanent residency at 50,000 a year.
Trump hailed what he described as "the most significant reform to our immigration system in half a century," and said that the US had admitted too many low-skilled workers claiming they were taking jobs from Americans.
"This policy has placed pressure on American workers, taxpayers and community resources," he said. "It has not been fair to our people, to our citizens, to our workers."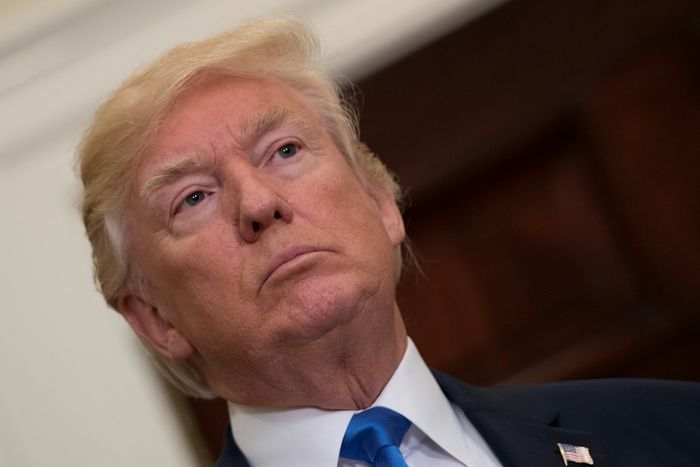 The legislation has only a slim chance of passing in Congress, but Trump's endorsement gave the White House an opportunity to show the president's base supporters that he is trying to live up to his hardline promises.
"This competitive application process will favor applicants who can speak English, financially support themselves and their families and demonstrate skills that will contribute to our economy," he said.
Trump said the new system, if approved, would "help ensure that newcomers to our wonderful country will be assimilated, will succeed and achieve the American dream," while also protecting "struggling American families."
- 'Statue of Liberty not pro-immigration symbol' -
At a White House press briefing later Wednesday, senior Trump aide Stephen Miller engaged in a heated debate with a CNN anchor after he rejected that the famous poem inscribed at the base of the Statue of Liberty -- which includes the line "give me your tired, your poor, your huddled masses yearning to breathe free" -- symbolizes a pro-immigration American spirit.
Asked by CNN's Jim Acosta whether the new immigration measures would violate the spirit of Jewish poet Emma Lazarus' 1883 poem "The New Colossus," Miller, himself the great-grandson of a Belarusian immigrant, said that the poem "doesn't matter" because it was added to the statue after its construction.
"I don't want to get off into a whole thing about history here, but the Statue of Liberty is a symbol of liberty and lighting in the world; it's a symbol of American liberty lighting the world," Miller argued. "The poem that you're referring to was added later. It's not actually part of the Statue of Liberty."
.@Acosta to WH aide Stephen Miller: Is Trump admin trying to change what it means to be an immigrant coming to US? https://t.co/7GdKGiwqja

— CNN (@CNN) August 2, 2017
Miller then went on to aggressively question Acosta on what level of immigration would violate is "Statue of Liberty law of the land," before admitting "things got heated" and apologizing to the anchor who he said had "made some pretty rough insinuations."
Emma Lazarus' poem, inscribed on a plaque added to the site in 1903 -- almost 30 years after construction on the Statue of Liberty began -- has been long associated with America's welcoming spirit, as immigrants passed under the statue and those famous words towards nearby Ellis Island, the nation's busiest entry point for some 12 million aspiring Americans since 1892.
"The Statue of Liberty was not conceived and sculpted as a symbol of immigration, but it quickly became so as immigrant ships passed under the torch and the shining face, heading toward Ellis Island," historian John T. Cunningham wrote of the Statue, according to JTA. "However, it was [Lazarus's poem] that permanently stamped on Miss Liberty the role of unofficial greeter of incoming immigrants."
Between 1881 and 1914, when World War I broke out, some 2 million Jewish immigrants arrived on US shores through this gateway.
Presidents including Franklin D. Roosevelt and Lyndon Johnson have given notable pro-immigrant speeches at the base of the statue, which Lazarus referred to as the "Mother of Exiles."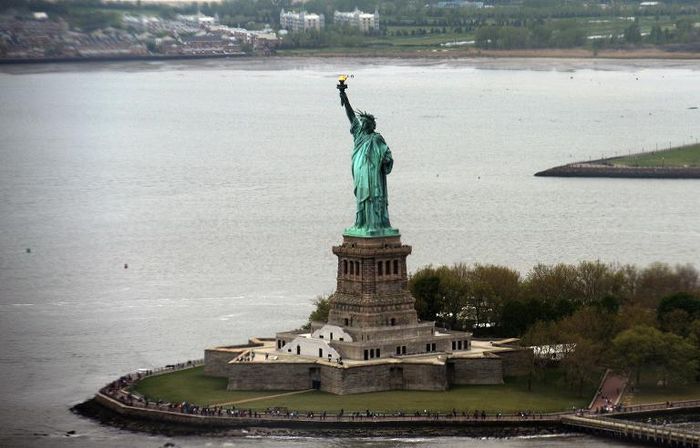 - 'Nationalist agenda' -
Critics of the new immigration proposals say the measures would actually result in falling wages, by slashing the number of migrants creating jobs.
But Trump's message is likely to resonate strongly with low-skilled white workers who have seen wages stagnate and believe their long-held cultural dominance is being eroded.
Trump has made tackling illegal immigration from Latin America a key plank of his politics.
He has promised to build a "wall" on America's southern border with Mexico and tackle violent Hispanic gangs at home.
But the effort to curb legal immigration is unlikely to be universally welcomed by business leaders or within the Republican Party.
The Southern Poverty Law Center, an anti-discrimination group, said the plan "very much reflects a White nationalist agenda."
"Its provisions reflect the shameful agenda of nativists and white nationalists who fear the growing diversity of our country," the group said in a statement.
(Staff with AFP)