Trump defends national security adviser, says McMaster is 'pro-Israel'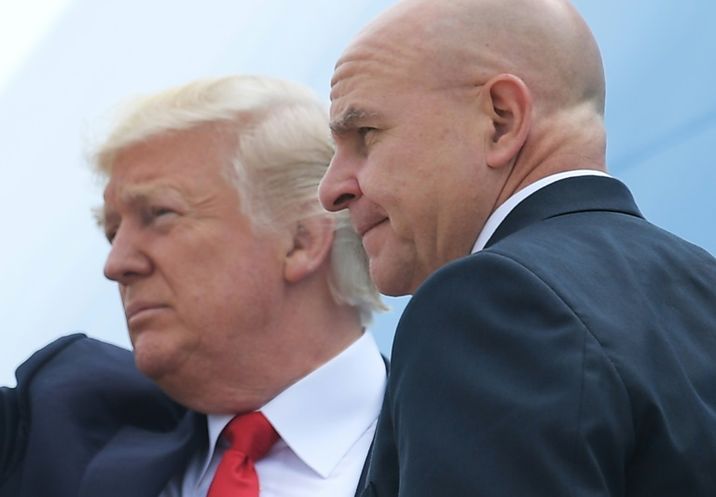 Donald Trump et son conseiller à la Sécurité nationale, le général McMaster à Miami le 16 juin 2017
MANDEL NGAN (AFP)
McMaster was accused of being anti-Israel, having a short temper and collaborating with Obama-era officials
US President Donald Trump on Friday pushed back against pressure from right-wing groups to oust National Security Adviser Herbert Raymond "H.R." McMaster, stressing the senior official is supportive of Israel.
In a volley of attacks from right-wing media, McMaster has been accused of being anti-Israel, having a short temper and collaborating with Obama-era officials.
"General McMaster and I are working very well together. He is a good man and very pro-Israel. I am grateful for the work he continues to do serving our country," Trump said in a statement.
The barrage of unflattering portrayals emerged as McMaster worked with new chief of staff John Kelly to purge the White House national security council of staffers from the nationalist wing of Trump's base.
A major plank of the invective directed at the White House's most senior national security expert has focused on his alleged bias against Israel.
Israeli journalist Caroline Glick wrote on Facebook that "McMaster ... is deeply hostile to Israel and to Trump. According to senior officials aware of his behavior, he constantly refers to Israel as the occupying power and insists falsely and constantly that a country named Palestine existed where Israel is located until 1948 when it was destroyed by the Jews."
Yet at the same time, criticism of McMaster has also taken on an anti-Semitic hue.
The US-based Anti-Defamation League wrote on Thursday that the anti-McMaster campaign is spearheaded by "alt-lite" radio host Mike Cernovich, a supporter of Trump's chief strategist Steve Bannon.
The ADL said that Cernovich appears to have commissioned a plainly anti-Semitic cartoon that shows McMaster being controlled on puppet strings by Jewish billionaire George Soros, who in turn is being puppeteered by a hand bearing the name "Rothschilds".
On Saturday, a few hours after Trump's statement, a senior Israeli military chief was quoted in Haaretz newspaper expressing support for McMaster.
"All on our side who has met McMaster and keeps contact with him are constantly impressed by how pro-Israel he is. The relationship with him is excellent, and we really appreciate him," the senior official was quoted as saying.