Three dead in wake of violent far-right rally in Charlottesville, Virginia
On Friday, demonstrators marched with torches shouting 'white lives matter' and 'Jews will not replace us'
A white nationalists' rally erupted into deadly violence Saturday as a car plowed into a crowd while demonstrators and counter-protesters clashed, spurring President Donald Trump to condemn "hatred, bigotry and violence on many sides."
But as the death toll linked to the rally rose to three -- one in the car ramming and two state police officers in a helicopter crash outside Charlottesville -- the president's apparent refusal to criticize far-right hate groups sparked sharp criticism, even from members of his Republican Party.
Virginia Governor Terry McAuliffe had already declared a state of emergency after deeming the gathering "unlawful" when a sedan surged into a crowd of what witnesses said was counter-demonstrators in the picturesque university city of Charlottesville.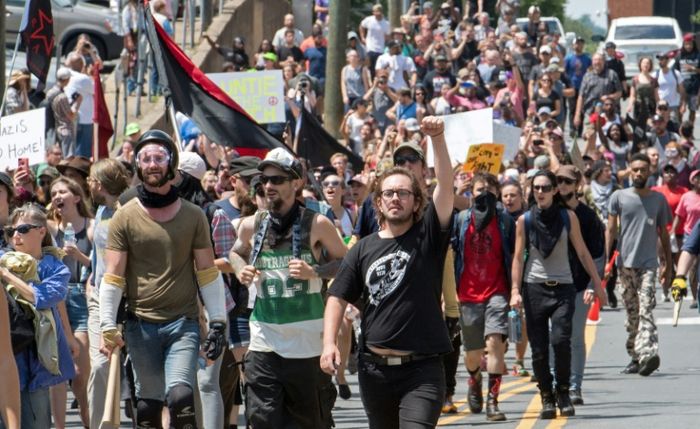 A 32-year-old woman was killed and 19 were hurt, police said, with injuries ranging from minor to life-threatening.
Another 16 people were treated for other injuries linked to the rally, including from "individual engagements," Charlottesville police chief Al Thomas said.
The superintendent of the Albemarle-Charlottesville Regional Jail, Col. Martin Kumer, said that James Alex Fields Jr., 20, of Maumee, Ohio had been charged with second-degree murder, three counts of malicious wounding and failing to stop at the scene of a crash that resulted in a death, the New York Times reports.
US federal investigators said Saturday they have opened a civil rights investigation into the car-ramming, and Attorney General Jeff Sessions, the top law enforcement official in the country, said "the violence and deaths in Charlottesville strike at the heart of American law and justice."
Sessions said he had spoken with FBI Director Chris Wray, along with FBI agents on the scene and law enforcement officials from Virginia, the state home to Charlottesville.
"The Richmond FBI Field Office, the Civil Rights Division and the US Attorney's Office for the Western District of Virginia have opened a civil rights investigation into the circumstances of the deadly vehicular incident that occurred earlier Saturday morning," they said in a statement.
The cause of the helicopter crash, which occurred in a nearby wooded area, was under investigation, Virginia State Police said. There was no indication of foul play.
Lieutenant H. Jay Cullen and Trooper-Pilot Berke M.M. Bates had been assisting law enforcement efforts with the situation in Charlottesville, the agency said.
Trump tweeted his "deepest condolences to the families & fellow officers of the VA State Police who died today."
He later added: "Condolences to the family of the young woman killed today, and best regards to all of those injured, in Charlottesville, Virginia. So sad!"
'Unite The Right'
The incident came as hundreds of white-nationalist protesters brawled with opponents before and during a rally that was branded as "Unite the Right," which protested the removal of a statue of a Confederate general from the grounds of the University of Virginia. The demonstration snowballed into one of the largest street gatherings in years of far-right protesters in the US.
Images posted on Twitter showed a grey car moving at high speed down a side street before smashing into a crowd of people and two more vehicles ahead of it. The driver then reversed rapidly, hitting more people as they did so.
Videos and pictures of the immediate aftermath showed several people lying on the ground, while others screamed for medics.
A witness told AFP news agency that a dozen people had been hurt in the collision - which he called "intentional" - saying one girl got "tore up" after the car "backed up and they hit again."
Virginia State Police referred to the incident as a "three vehicle crash" and confirmed that there were "multiple injuries". They promised to provide further information soon. The University of Virginia Medical Center told the New York Times that one person was dead and nineteen injured, although it was not immediately clear if the person died after being hit by the car.
US President Donald Trump addressed reporters roughly two hours after news of the incident broke, but did not address it directly, instead saying "We condemn in the strongest possible terms this egregious display of hatred, bigotry and violence on many sides, on many sides."
Earlier, an hour after the commencement of the main march, which has attracted leading white nationalist figures such as David Duke and Richard Spencer, Trump tweeted "We ALL must be united & condemn all that hate stands for. There is no place for this kind of violence in America. Lets come together as one!"
During the late morning local time, a few hours before the main march was scheduled to commence, scuffles erupted between the white nationalists and their opponents, including the use of pepper spray against each other. Two people were seriously injured in an "altercation" in Emancipation Park in the usually sleepy city of 50,000, reported the Daily Progress, a local newspaper.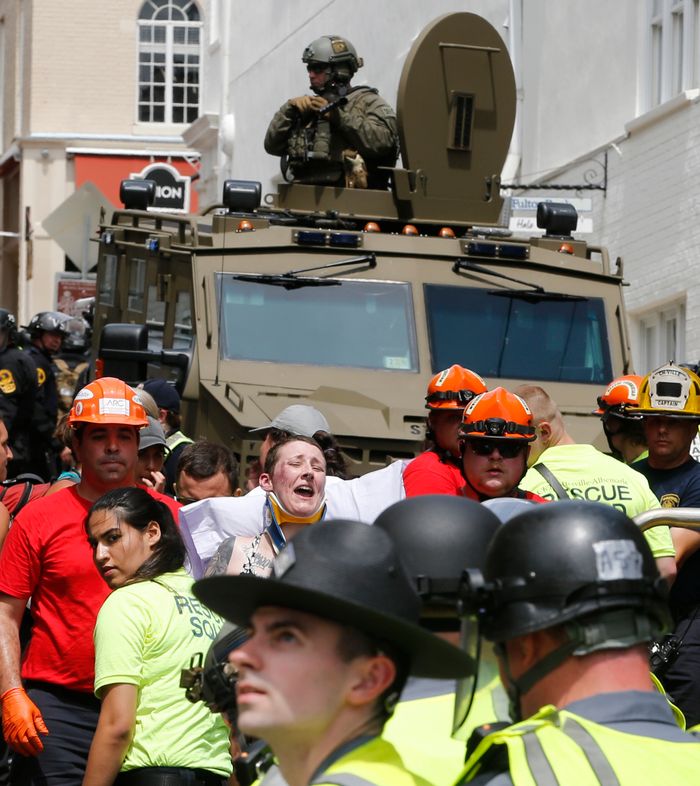 Police later evacuated the park and threatened to arrest anyone who remained. City officials told the Progress that just one arrest had been made by the time the march was due to begin.
After earlier tweeting that the rally was "abhorrent", Virginia's Governor Terry McAuliffe said he "has declared a state of emergency to aid state response to violence at Alt-Right rally in Charlottesville".
Footage posted on social media on Saturday showed groups of men milling about waving Confederate flags and bearing white shields with black crosses. Most were donned in black.
Videos posted by a civil liberties group showed fist-fights between the protesters and their opponents, many wearing face-covering masks and hurling bottles and verbal insults. There did not appear to be police present, although Virginia State Police tweeted their own pictures of police in riot gear confronting demonstrators and arresting one.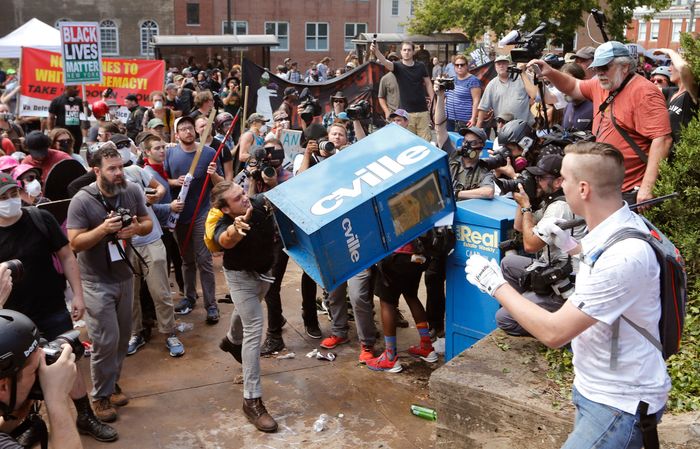 Several people were photographed holding Nazi flags and wearing clothing bearing Nazi phrases or insignia.
Thousands of far-right supporters, including members of white supremacist group the Ku Klux Klan, are expected to turn out for the event.
Saturday's far-right rally follows a much smaller demonstration last month that saw a few dozen Ku Klux Klan-linked marchers gather to protest the city's planned removal of the statue, of General Robert E. Lee, who led Confederate forces in the US Civil War.
Emblematic indeed#Charlottesville pic.twitter.com/qTvTB3BpSa
— Andy Campbell (@AndyBCampbell) August 12, 2017
Far-right groups, also including the "alt right" movement and other white supremacists outfits have found a new cause in defending the confederate flag and monuments in the US south that they see as being under attack from the Left or 'political correctness'.
For many Americans, they are outdated symbols of racism and slavery, and have been mobilizing to have them taken down from public places.
The police declared both Friday and Saturday's gatherings "unlawful assemblies".
Tweeting before her husband, First Lady Melania Trump wrote: "our country encourages freedom of speech, but let's communicate w/o hate in our hearts. No good comes from violence."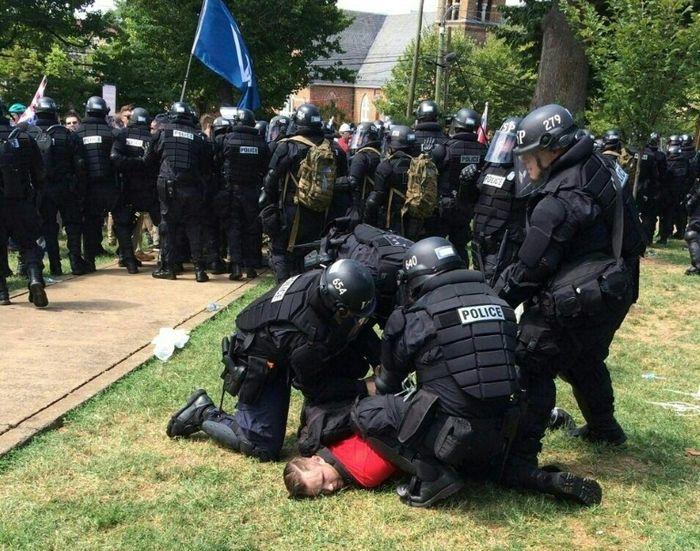 The marches were also condemned by Republican House Speaker Paul Ryan, who said "Let it only serve to unite Americans against this kind of vile bigotry."
A pre-demonstration at the university on Friday night saw hundreds of mostly white, male participants march with torches shouting "white lives matter" and "Jews will not replace us", the Washington Post reported.
Charlottesville's Mayor Mike Signer condemned that protest, calling the gathering "a cowardly parade of hatred, bigotry, racism, and intolerance."
"Everyone has a right under the First Amendment to express their opinion peaceably, so here's mine: not only as the Mayor of Charlottesville, but as a UVA faculty member and alumnus, I am beyond disgusted by this unsanctioned and despicable display of visual intimidation on a college campus," he said, according to The Hill.
(Staff with agencies)