'Secret Hitler' board game rises in popularity, garners rave reviews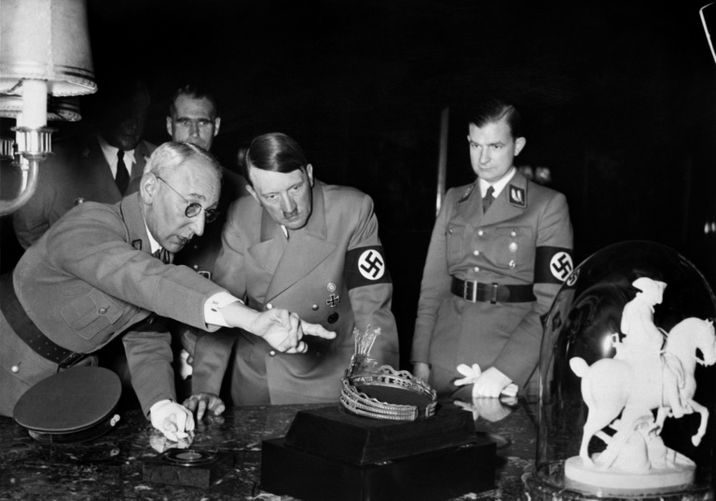 Adolf Hitler intended to make Linz, Austria, the "cultural capital" of the Third Reich
- (FRANCE PRESSE VOIR/AFP)
Game simulates rise to power of fascists and liberal forces trying to stop them
A new board game called "Secret Hitler" is rising in popularity and gaining wide acclaim, as it simulates the rise of fascism and liberal forces trying to prevent it.
Players are secretly divided into two teams, liberals and fascists, and pitted against each other in a race for power.
The official website describes the game as a "social deduction game" which is recommended for players ages 17 and older.
"The majority of players are liberals," the game description says on its official website. "If they can learn to trust each other, they have enough votes to control the table and win the game. But some players are fascists. They will say whatever it takes to get elected, enact their agenda, and blame others for the fallout."
The liberal players are meant to prevent the fascists from passing laws, while none of the players really know who belongs to which side.  
"The liberals must work together to discover the truth before the fascists install their cold-blooded leader and win the game," the game description reads.
One of the game's founders, Max Temkin, is known for being one of the creators of the popular party game Cards Against Humanity
The game is available on Amazon and is reportedly so popular it has sold out, according to the San Francisco Chronicle. The game goes for some $45 a set and has garnered rave reviews.
The game's website also directs  those who "don't think there's anything funny or cool about fascism" to lodge a complaint with US President Donald Trump, providing his mailing address at the White House.  
The game's founder was not immediately available for comment. 
You need to be logged in in order to post comments. Sign up or log in
September 8, 2017 7:15 AM
If you're a fan of social deduction games like this, "Throne of Lies" is a PC/Mac/Linux game also based off the 1986 "Werewolf/Mafia" genre (Secret Hitler's genre origins) for $9.99 -- medieval politics, social manipulation, good stuff ~ https://www.ThroneOfLies.com