Al Jazeera sent undercover reporter to 'reveal workings of Israel lobby' in US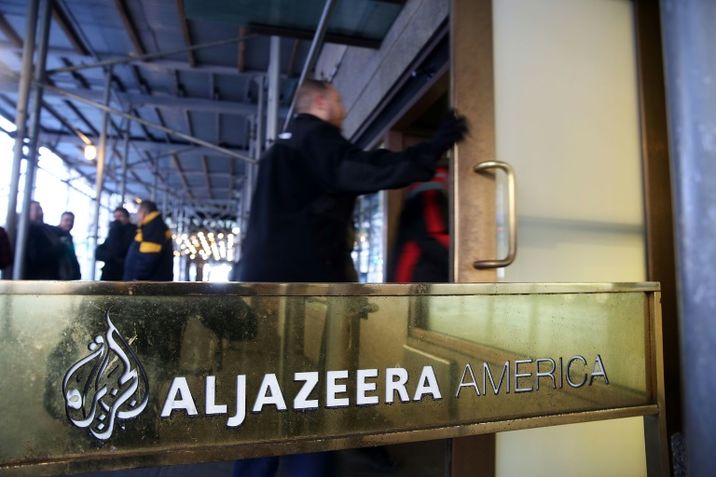 People walk into the offices of Al Jazeera America on January 13, 2016 in New York City
Spencer Platt (Getty/AFP)
Al Jazeera says with all eyes on 'foreign interference' in US politics, new documentary comes at perfect time
Qatari-owned international news network Al Jazeera admitted Monday that it had planted an undercover reporter inside pro-Israel organizations in Washington, D.C. to reveal the inner workings of the so-called "Israel lobby" for a new documentary.
The network made the announcement shortly after a British communications regulator dismissed complaints against an earlier documentary by Al Jazeera, in which an undercover reporter joined pro-Israel organizations in the UK.
That earlier report, which resulted in the resignation of an employee of the Israeli embassy in London who was filmed discussing "taking down" pro-Palestinian British lawmakers, was criticized by pro-Israel groups for anti-Semitism, bias, unfair editing and the infringement of privacy.
But the Ofcom regulatory body rejected all charges and deemed the program "a serious investigative documentary which explored the actions of the Israeli Embassy and, in particular, its then Senior Political Officer Shai Masot and his links to several political organizations that promote a pro-Israel viewpoint."
Shortly after, Al Jazeera's director of investigative reporting Clayton Swisher revealed that "at the very same time [as the London investigation]...we had an undercover operative working in tandem in Washington."
Swisher told online publication The Intercept that the network did not want to broadcast the materials gathered in Washington before British regulators had delivered a final verdict on their London investigation.
"With this U.K. verdict and vindication past us, we can soon reveal how the Israel lobby in America works through the eyes of an undercover reporter," he said.
Pro-Israel activists had long suspected an undercover operative within their ranks, after footage from America appeared in the original four-part UK documentary which aired in late 2016.
Tablet Magazine in January published a report identifying the suspected infiltrator as a British citizen named James Anthony Kleinfeld who was active in pro-Palestinian groups in the UK before adopting the pseudonym Antoine Kleinfeld and going undercover for Al Jazeera.
Swisher did not confirm nor deny the identity of their reporter.
He said that the new documentary is airing at the perfect time, with foreign intervention in American politics a hot topic as of late.
"I hear the US is having problems with foreign interference these days, so I see no reason why the US Establishment won't take our findings in America as seriously as the British did, unless of course Israel is somehow off limits from that debate," he said.
See also:
Israel says plans to strip Al Jazeera journalists of passes due to 'incitement'