US rights group sues state of Kansas over anti-BDS law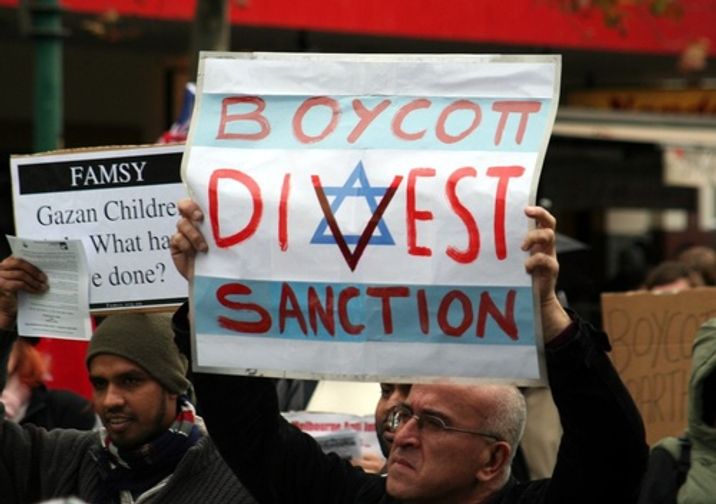 A Boycott, Divestment and Sanctions (BDS) protest against Israel in Melbourne, Australia, on June 5, 2010
Mohamed Ouda via Wikimedia Commons
The American Civil Liberties Union filed a federal lawsuit on Wednesday that will challenge a Kansas law which prevents state employees from participating in boycotts against Israel.
The lawsuit was filed on behalf of a Wichita public school teacher Esther Koontz and seeks to overturn a law passed July 1 prohibiting state contractors from participating in Israel boycotts on the ground that it violates free speech rights.
"The government does not get to use its leverage to silence one side of the debate," ACLU attorney Brian Hauss told The Associated Press. 
Koontz, the wife of a Mennonite pastor, said that she decided to participate in boycotting Israeli products and services  to "support the Palestinians' struggle for equality," the lawsuit says.
It names as the defendant Kansas State Department of Education Commissioner Randy Watson, saying that the government ministry told her in August that she could not be paid as a teacher trainer due to her support for the BDS movement.
The ACLU has requested that enforcement of the law be suspended while the case is reviewed.
Similar laws exist in 21 states across the country, including in California, Alabama, and Texas. 
Proponents of the law argue that it does not prevent individuals from participating in boycotts or protesting Israel's policies, only that they forgo state contracts if they do.
Backers of the Boycott, Divestment, and Sanctions (BDS) movement argue that it is a legitimate and peaceful protest in support of Palestinian human rights, while opponents accuse the movement of seeking the destruction of the Jewish State.
"Boycotts of Israel are really a discriminatory effort by a few people who aren't necessarily interested in a peaceful resolution in the Middle East," Jacob Millner, midwest regional director for The Israel Project, told AP.
(Staff with agencies)