'Just say no to Jewish lies' posters discovered on Ivy League campus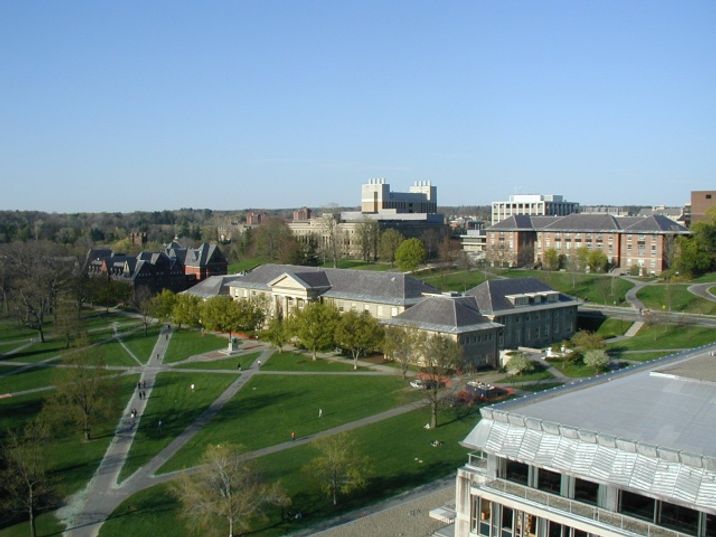 Cornell University arts quad
Wikimedia Commons/Cornell010
The university has agreed to convene a taskforce, to address, "problems of bigotry and intolerance."
Swastika illustrated-posters urging students to, "join the white gang" and to, "just say no to Jewish lies" were found plastered across several university buildings at Cornell University yesterday.
The 'Solar Cross Society', an unheard of hate group with scarce internet background, appeared prominently on the banners that were discovered on the Ezra Cornell statue.
Cornell University President Martha E. Pollack said in a statement, "whoever they are, they need to ask themselves why they chose our campus, because Cornell reviles their message of hatred; we revile it as an institution, and I know from many personal conversations that thousands of Cornellians deplore it individually."
She said the fliers had "a clear and hateful message of anti-Semitism and white supremacy" adding that all of the posters had been removed and that the supposed sponsoring organization does not actually exist.
"The fact remains that the fliers' sentiments are abhorrent, and I condemn them in the strongest possible terms," she said.
BREAKING: Anti-Semitic Posters Appear on Campus Advertising Apparently Fake Hate Group https://t.co/DwQbNw6XeQ

— Cornell Daily Sun (@cornellsun) October 23, 2017
This is the latest incident in a series hate cases that have befallen Cornell University in recent weeks. A black student was targeted with derogatory rhetoric and later assaulted, whilst a joke referencing the Holocaust was reportedly found in a 'Google Doc', according to the Cornell Daily Sun. In response to these events, the university has agreed to convene a taskforce, to address "persistent problems of bigotry and intolerance."
Rabbi Ari Weiss, the head of the university's Hillel branch, reiterated his support for the welfare of Jewish students on campus in a letter stating that the organization, "will continue to work with our campus and community partners to make sure all Jewish students feel safe and welcome on our campus and that incidents like this do not happen again."
University campuses are increasingly becoming hotbeds for anti-Semitic rhetoric with the lines becoming progressively blurred with anti-Zionist sentiment.  A 2016 Report from Brandeis University stated that one-third of those who responded to their survey reported being witness to "some form of anti-Semitic harassment, often Israel related."