At Hanukkah reception, Trump celebrates Jerusalem decision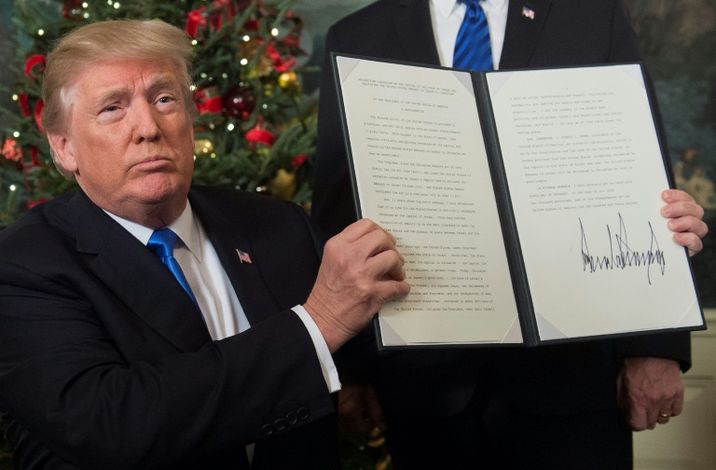 US President Donald Trump signs a memorandum recognising Jerusalem as Israel's capital on December 6, 2017
SAUL LOEB (AFP)
Trump also kicked off the process of moving the US embassy from Tel Aviv to Jerusalem
At the White House Hanukkah party, US President Donald Trump celebrated his politically charged decision to proclaim Jerusalem as Israel's capital and commit to eventually move the US embassy there.
"I know for a fact there are a lot of happy people in this room," Trump said as he entered the party. "This one will go down as especially special."
Their history, rife with suffering and resilience, is why "...the Jewish people shine as a light to all nations," the leader said at the soiree. "And right now I'm thinking about what's going on and the love that's all over Israel and all about Jerusalem."
Trump's announcement on Wednesday also prompted an almost universal diplomatic backlash that continued on Thursday, with fresh warnings from Turkey, the European Union and Russia.
Yet, surrounded by daughter Ivanka and son-in-law Jared Kushner, who are Jewish, the leader seemed to bask in the momentousness of the move.
"The miracle of Hanukkah is the miracle of Israel," he added. "The descendants of Abraham, Isaac, and Jacob have endured unthinkable persecution and oppression. But no force has ever crushed your spirit, and no evil has ever extinguished your faith."
Tonight, @FLOTUS Melania and I were thrilled to welcome so many wonderful friends to the @WhiteHouse – and wish them all a very #HappyHanukkahhttps://t.co/wyPkpTsP1i pic.twitter.com/XhNXZSBEC8

— Donald J. Trump (@realDonaldTrump) December 8, 2017
A number of Jewish cabinet members were present including Treasury Secretary Steven Mnuchin, Secretary of Veteran Affairs David Schulman and Trump's special Middle East peace envoy Jason Greenblatt. Rabbi Meir Soloveichik and Holocaust survivor Louise Lawrence-Israels were invited to speak.
However, also notably, the presence of Congressional Democrats was distinctly missing from the event.
Trump also kicked off the process of moving the US embassy from Tel Aviv to Jerusalem -- another campaign promise dear to US evangelical Christian and right-wing Jewish voters.
His predecessors had made the same pledge, but quickly reneged upon taking office.
Several peace plans have unravelled in the past decades over the issue of how to divide sovereignty or oversee holy sites in Jerusalem.
Israel seized Arab east Jerusalem in the 1967 Six-Day War and later annexed it in a move never recognized by the international community.
The Palestinians want the eastern sector as the capital of their future state.
The international community does not recognize the ancient city as Israel's capital, insisting the issue can only be resolved in negotiations.
This point was reiterated by UN chief Antonio Guterres, who stressed his opposition to "any unilateral measures that would jeopardise the prospect of peace".
Trump insisted the move did not prejudge final talks, saying it simply reflected the reality that west Jerusalem is and will continue to be part of Israel under any settlement.
"The United States would support a two-state solution if agreed to by both sides," he said.