WATCH: Holocaust-denying Illinois Republican hopeful rails against 'Jews-media'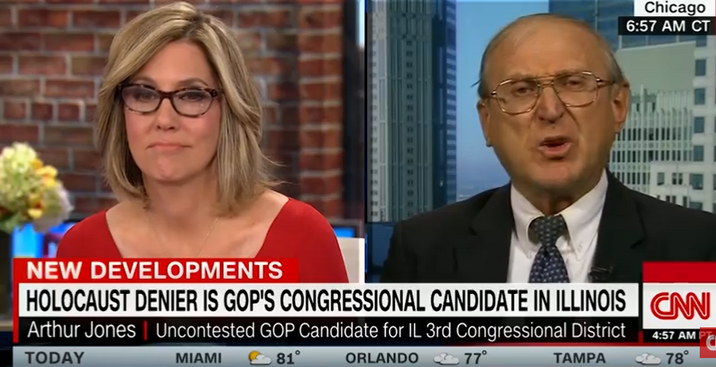 Arthur Jones is currently unopposed in the race to become the Republican candidate in Illinois' 3rd district
An unabashed Holocaust denier and anti-Semite who stands a good chance of winning pre-selection as a Republican candidate for Congress gave a stunning interview to CNN on Thursday.
Arthur Jones is currently unopposed in the race to become the Republican Party candidate in Illinois' 3rd Congressional District, an area that includes parts of northern Chicago.
While he has the support of at least 603 voters -- the amount of signatures required to be eligible as candidate -- Republican leaders have been swift to disavow Jones and say they will not let the 70-year-old Vietnam veteran win, with a slew of local officials telling i24NEWS they may be forced to support an independent if he triumphs.
At the outset of Thursday's CNN interview, Jones was challenged by host Alisyn Camerota off the bat with the assertion that "you are a Nazi."
Jones countered "well I do not belong to any formal National Socialist organization anymore and I haven't belonged to one since about 1990, okay."
Camerota then listed conspiracy theories and anti-Semitic propaganda found on his website, which she called "vile and rancid."
"I disagree with you. It's not vile and rancid, it's the truth," Jones replied. "There's nothing on that website that's not true. I personally put that stuff on there, I personally picked off the articles on there, because they're true."
"You Jews-media, I can't help it if you don't want to except the truth, you Jews-media, you've gone absolutely nuts ... you think Adolf Hitler has revived from the dead or something," he said, adding that "the cursed two-party, Jew-party, queer-party system can't stand it."
He also brushed aside Camerota's obvious disgust that he would deny the Holocaust.
"Yes I deny the Holocaust, it's an extortion racket pure and simple," Jones yelled, saying "the Jews" use the Holocaust to "suck us into one war after another in the Middle East."
When it was pointed out to him that his district would be home to many Jewish residents, Jones acknowledged that he would have to represent "a handful of Jewish Zionists," but that the "majority" of the residents " are white Christian patriots, and I might add black Christian patriots, Latino christian patriots."
Jones' candidacy has horrified local Republicans, who are racing to find a way to thwart his bid.
"Going forward, the Illinois Republican Party will explore all options to oppose Mr. Jones' candidacy -- whether that be supporting an independent candidate for IL-03 after the primary, encouraging a write-in campaign, and potentially other options," said Aaron DeGroot, a spokesman for the Illinois GOP.
"Nazis have no place in our nation's democracy, and to that end, the we will continue to vehemently oppose everything Mr. Jones stands for."
Chris Cleveland, chairman of the Chicago Republican Party, said that "anyone can run for office in America, and sometimes that means that some truly abhorrent characters get on the ballot."
"This candidate does not represent the views of Republicans or of the party, and we say, in the strongest possible terms, that we want nothing to do with him. He should drop out of the race."