'Trump just cuts through it...it's refreshing,' Netanyahu says in US interview
Netanyahu gives an interview to "Life, Liberty & Levin"
Screenshot of Youtube video
Netanyahu also said his relationship with Trump was unique from the very start
Israeli Prime Minister Benjamin Netanyahu lavished praise on US President Donald Trump in a television interview on a Fox News program recorded during his visit to Washington last week. 
Speaking with right-wing radio personality Mark Levin on Fox's "Life, Liberty & Levin", Netanyahu said he shared "a certain chemistry" with Trump, and said he appreciated the US leader for his "refreshing" ability to "cut through" what he alluded to be "bullshit".
"The president likes to cut through, I don't want to call it noise, but you know, there are two initials in English, he just cuts right through it. It's refreshing. When we talk about serious things, he gets right to the point," he said.
Describing his relationship with Trump as "very unique, very personal", Netanyahu said the two leaders had a "direct and very positive relationship from the get-go." 
During the interview, the Prime Minister boasted Israel's strong financial growth in recent years and Israel's prowess in security and innovation -- which he said had contributed to its diplomatic achievements.
"Our intelligence prevents dozens of terrorists attacks around the world, of course countries will want to cooperate with us," he said, adding Israel's strength in the technology sector also makes countries more willing to normalize their terms.
Making his point, Netanyahu said Israel is improving ties with "almost all countries" while naming North Korea and Iran as notable exceptions.
At the same time, he reiterated Iran as posing the greatest strategic security threat facing Israel.
"This sponsor of global terrorism is not only trying to develop a land empire, but they also want to develop nuclear weapons. And I think that needs to be stopped," he said.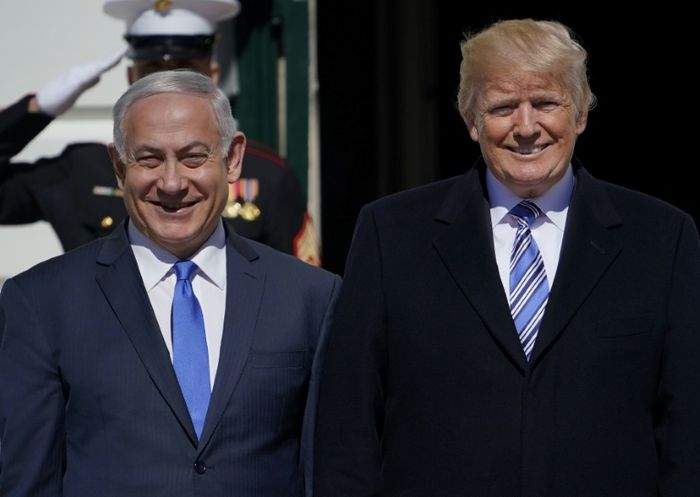 Asked to explain how he thinks an economy grows, Netanyahu answered saying he thinks the success of "businesses and entrepreneurs" is key, using a metaphor inspired from his military service.
"On the first day of my paratroopers training the commander asked us to pick up the guy next to us and run. The guy next to me was about my size and I managed to walk a few steps. "
"Another guy, who was small, had to pick up the biggest in the company and he collapsed. A third guy picked up a smaller one and run. That's how it works with the public and private sectors of the economy: the private sector must be strong to saddle a light public sector for it to work," he said.
Netanyahu described taking the freedom to walk around in the streets during his visit to the United States to participate to AIPAC and being positively impressed at the people's reactions.
"People saw us and clapped," he said, before adding the United States and Israel are "from the same civilization."
You need to be logged in in order to post comments. Sign up or log in
funny how good a relationship can be when the US be president doesn't hate Jews as much as mooscum and Nazis do