Trump ousts top diplomat Tillerson, replacing him with CIA chief Pompeo
Tillerson was 'unaware' of reason behind sacking and did not speak to Trump beforehand, a top official said
Rex Tillerson bowed out of his post as top US diplomat on Tuesday by listing his achievements on North Korea and Afghanistan and appearing to confirm that he was indeed sacked via a presidential tweet.
Just after dawn on Tuesday President Donald Trump announced Tillerson's dismissal and named CIA chief Mike Pompeo his successor, ending a rocky tenure by the Texas oilman who had been sidelined on the world stage by the mercurial president.
Mike Pompeo, Director of the CIA, will become our new Secretary of State. He will do a fantastic job!" Trump tweeted, "Thank you to Rex Tillerson for his service! Gina Haspel will become the new Director of the CIA, and the first woman so chosen. Congratulations to all!"
Addressing reporters on Tuesday afternoon, Tillerson revealed he had only been called personally by Trump in "the afternoon," hours after finding out via Twitter that he had been dumped from the cabinet.
Tillerson also said US efforts to pressure North Korea had worked better than expected and revealed he would pass authority to his deputy at midnight, but warned that Washington must do more to respond to Russia's "troubling behavior and actions."
The former oil executive said he would remain at the department until March 31 to conclude an administrative handover, but that Deputy Secretary John Sullivan would take charge.
At least until the call from Trump, Tillerson, who returned before dawn from a curtailed trip to Africa, had not been given a reason for his ouster, according to a top aide.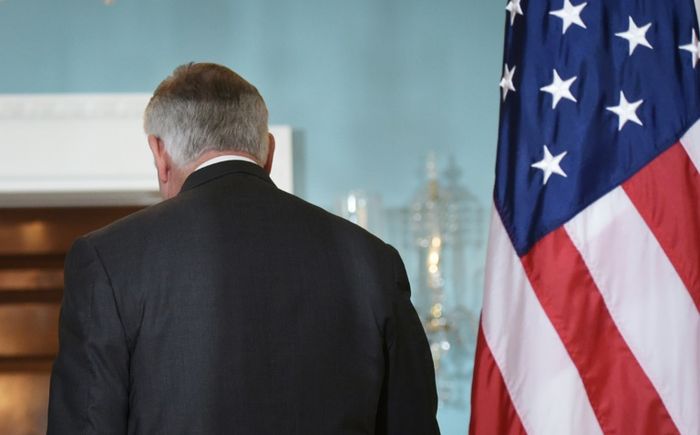 "The secretary did not speak to the president this morning and is unaware of the reason," a statement attributed to Undersecretary of State Steve Goldstein said.
"The secretary had every intention of remaining because of the tangible progress made on critical national security issues. He established and enjoyed relationships with his counterparts," Goldstein said.
But the comments by the undersecretary regarding Tillterson's removal turned out to cost Goldstein -- within hours he was turfed from his position for contradicting the White House version of the events.
Trump, by contrast, had portrayed the decision as somewhat mutual and long in the making, saying: "Rex and I have been talking about this for a long time."
He had scant words of praise for Tillerson, who had long been rumored to be about to be pushed out.
"A great deal has been accomplished over the last fourteen months, and I wish him and his family well," Trump said, thanking Tillerson "for his service."
But former speechwriter for President George W. Bush and the current senior editor at The Atlantic, David Frum suggested that the final straw came as the former secretary, in contrast to his chief, backed up British Prime Minister Theresa May, who stated yesterday that it was 'highly likely' Russia was responsible for the poison attack on the ex ex-MI6 agent in Salisbury last week.
"He has not demonstrated solidarity with the British ally. He made it clear that he is unconvinced by the same evidence that was presented to Prime Minister Theresa May. He is undercutting the British prime minister. Rex Tillerson said he was convinced of the evidence, and today of course he is out of a job," Frum told i24NEWS. 
Frum also explained that Tillerson's replacement falls much more in line with Trump's views and will be more obsequious than his predecessor. 
"Mike Pompeo has more conventional Republican hardline views than Tillerson. There is a worry that Pompeo is much more adaptive to the personality of Donald Trump. Tillerson had a core of dignity and independence from Donald Trump. He famously never retracted his description of the president as a 'moron'."
New broom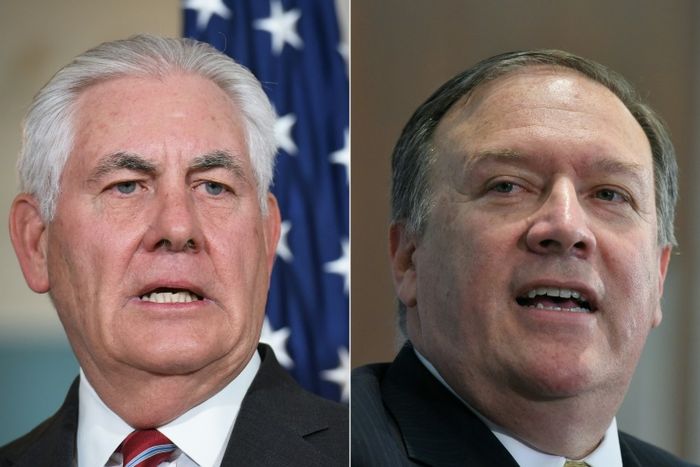 Addressing reporters before leaving on a trip to California, Trump spoke openly of his disagreements with the former Exxon chief -- including over the Iran nuclear deal -- as he explained his decision to replace him.
"We got along actually quite well but we disagreed on things," Trump said. "When you look at the Iran deal, I thought it was terrible, he thought it was okay. I wanted to either break it or do something, he felt a little differently. So we were not really thinking the same."
By contrast, Trump lavished praise on his new top diplomat Mike Pompeo, a former US army officer and congressman who led the CIA for nearly 14 months, saying he would do a "fantastic job!"
"He will continue our program of restoring America's standing in the world, strengthening our alliances, confronting our adversaries, and seeking the denuclearization of the Korean Peninsula," Trump added, calling him "the right person for the job at this critical juncture."
A senior White House official said the president wanted to reshuffle his team with a view to launching high-stakes nuclear talks with North Korea, following last week's spectacular announcement of a meeting between Trump and Kim Jong Un.
Trump called for Pompeo to be swiftly confirmed in the role -- as his administration heads into the high-stakes talks.
Pompeo's replacement at the CIA Gina Haspel is the first woman to hold the post as arguably the world's most powerful spy.
Pomepo issued a statement thanking Trump for opportunity to serve as the country's top diplomat: "His leadership has made America safer and I look forward to representing him and the American people to the rest of the world to further America's prosperity," he said.
Pompeo weighed in earlier this week on Trump's surprise decision to engage North Korea's Kim Jong Un in momentous nuclear talks, portraying Pyongyang as buckling under the pressure of US-led international sanctions and insisting there would be no let-up for the duration of the negotiations.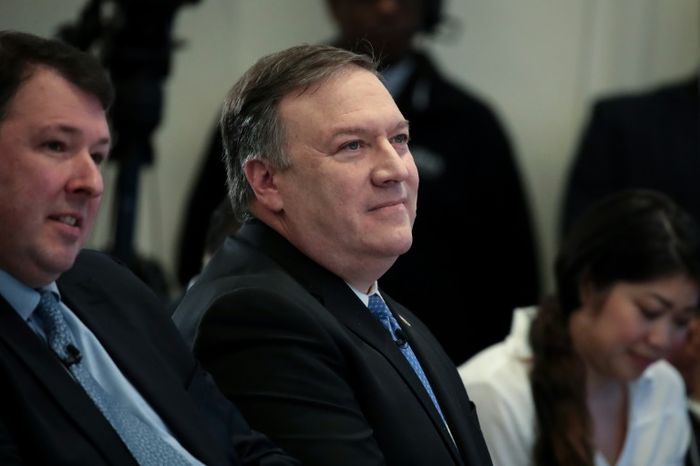 "Never before have we had the North Koreans in a position where their economy was at such risk, where their leadership was under such pressure," he said on Fox News Sunday.
"Make no mistake: while these negotiations are going on, there will be no concessions made," he said.
The Sunday talk show appearances by Pompeo and others served to answer critics who warn that the talks, entered into by an impulsive, inexperienced president, carry high risks.
If they fail, the two nuclear-armed states could then be left with few options short of military confrontation, experts on the years-long impasse with North Korea say.
"Trump's personnel decisions signal that he is now super confident of his own abilities to handle the highest level diplomacy on his own -- that's not a confidence that is broadly shared by anybody  outside of his immediate family. The thing to really be worried about is that if a summit fails, what's the exit, because there is no higher authority to restore peace if the president and the dictator fall out," David Frum told i24NEWS. 
Calling me a moron?
Tillerson, who said he would return to "private life," has had a rocky tenure as the top US diplomat.
He was repeatedly forced to deny he had fallen out with Trump -- vowing to remain in the post despite a sensational report that he once dubbed the president a "moron."
A respected figure in the oil business, the 65-year-old Texan's tenure at the State Department drew scorn from Trump's opponents, from former diplomats and from the Washington policy elite.
During his time in the post, he was faced with an extraordinary array of foreign policy challenges, from North Korean nuclear threats to Russian subversion to attacks on US diplomats in Cuba.
But his efforts were often overshadowed by Trump's un-diplomatic style and his streams of taunting tweets stirring international tensions.