NYU opposes student organizations' vow to boycott pro-Israel campus groups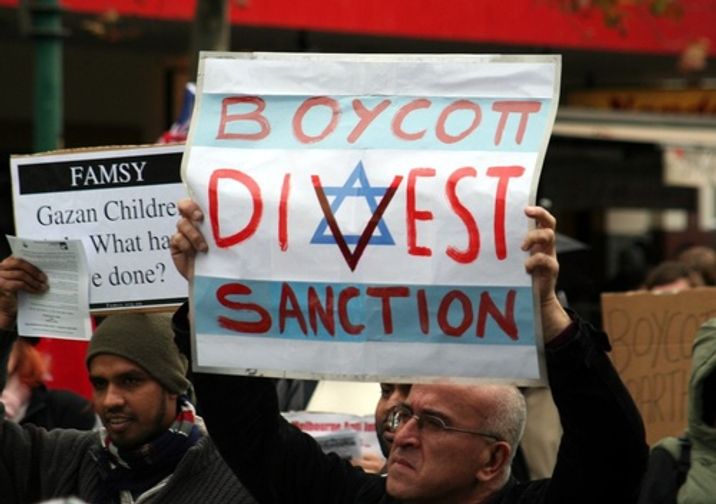 A Boycott, Divestment and Sanctions (BDS) protest against Israel in Melbourne, Australia, on June 5, 2010
Mohamed Ouda via Wikimedia Commons
NYU said it encourages 'constructive dialogue' between students and student groups with differing opinions
New York University (NYU) expressed its opposition to any boycott of particular student groups, after more than fifty campus organizations vowed to spurn pro-Israel groups.
"The University opposes any kind of boycott or official refusal by some student groups to interact with other student groups because of differing points of view. It is at odds with our traditions and values, especially our core belief in the free exchange of ideas," NYU spokesman John Beckman said in a statement on Monday.
The University was responding to a resolution signed by 51 student organizations pledging not to co-sponsor any events with two campus Israel advocacy groups --  Realize Israel and TorchPAC — as well as eight off-campus groups, including Birthright-Taglit, the American-Israeli Public Affairs Committee (AIPAC) and the Anti-Defamation League (ADL).
The resolution, put forth by the NYU chapters of Jewish Voice for Peace and Students for Justice in Palestine, also vowed that signatories would boycott Israel and expressed support for the Boycott, Divestment and Sanctions (BDS) campaign.
In its response to the resolution, NYU said it encourages "constructive dialogue" between students and student groups with differing opinions.
"We would suggest that student groups proposing the boycott to find a pathway forward to engage in constructive dialogue. The University, as always, stands ready to facilitate this," the statement said.
The leaders of the two pro-Israel groups singled out by the petition on Friday told the Jewish Telegraphic Agency (JTA) that they were surprised by the momentum behind the resolution, which was signed by such groups as the African Student Union, the Black Students Union, College Libertarians, the Mexican Student Association and the Muslim Students Association.
Adela Cojab, President of the Realize Israel student group, told JTA that the atmosphere surrounding the subject of Israel at NYU was "one of animosity."
This is not the first time an NYU student group has expressed support for the Boycott, Divestment and Sanctions (BDS) movement against Israel.
In 2106, the University's Graduate Student Organizing Committee (GSOC) -- a labor union which represents the rights of approximately 2,000 graduate student research assistants and workers of NYU -- passed a motion to support BDS and requested that NYU end its ties with Israel's Tel Aviv University.
The University rejected the motion, which was chalked up to nothing more than a symbolic victory for the BDS campaign pointing to a trend of top Universities increasingly aligning themselves with the movement.
You need to be logged in in order to post comments. Sign up or log in
Albany must punish any organization private or public supporting antisemitism. Where is Cuomo?
American Jews for > 80 years have not missed an opportunity to miss an opportunity to defend Jews of the world. Shameful.