CUFI head to i24NEWS: 'Trump earned political immortality with Jerusalem decree'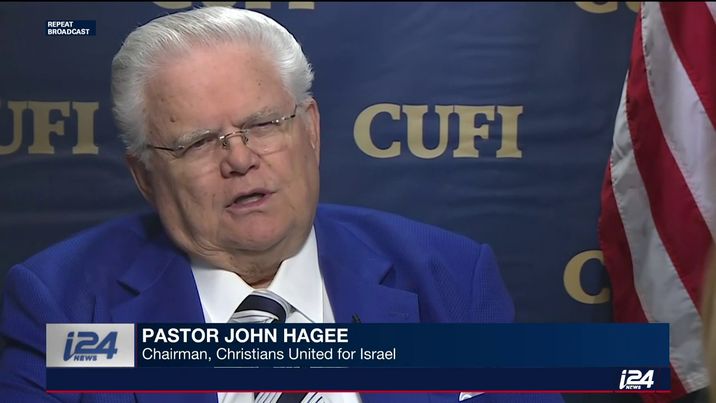 CHristians United For Israel (CUFI) founder and president Pastor John Hagee
i24NEWS
John Hagee, the US pastor who founded Christians United for Israel (CUFI), the largest pro-Israel grassroots organization in America, says that President Donald Trump has stepped into political immortality with his decision to recognize Jerusalem as the capital of Israel and move the US embassy to the holy city.
Hagee and some 5,000 other members and supporters of the organization gathered Monday for the 13th annual CUFI summit in Washington D.C., in celebration of Trump's political achievements on US-Israel policy, which the powerful Evangelical lobby group has helped push through Congress.
In an interview with i24NEWS, Hagee likened Trump's impression on the history of Israel to that of former president Harry Truman, under whom the United States became the first nation to recognize the newly formed State of Israel in 1948.
"[I] told president Trump that he was in the position that Harry Truman found himself in 1948," Hagee said of his discussions with Trump in the lead-up to his landmark declaration in December 2017 recognizing Jerusalem as the capital of Israel.
"When Israel declared themselves to be a state, Harry Truman recognized the existence of the State of Israel within 11 minutes. He later apologized for taking so long...Harry Truman made the decision, he stepped into political immortality," Hagee said.
"One hundred years from now [Trump] will be remembered in Israel and he will be remembered by the Evangelicals. He made a promise, and he kept that promise," Hagee said.
Indeed, the support of America's pro-Israel Evangelical Christians was a major factor in Trump's election in 2016 and has undoubtedly helped to shape his administration's agenda -- particularly regarding Israel.
CUFI, which counts 4.3 million members from all 50 American states, touts itself as the largest pro-Israel grassroots organization which "strive[s] to act as a defensive shield against anti-Israel lies, boycotts, false theology, and political threats that seek to delegitimize Israel's existence and weaken the close relationship between Israel and the United States."
The organization actively lobbies Congress on pro-Israel policies, and counts among its victories this year the passing of the Taylor Force Act, which penalizes the Palestinian Authority for paying pensions to terrorists.
CUFI members sent more than one million emails to Congress in support of the act, named for an American university student who was murdered in a terrorist attack in Jaffa in 2016.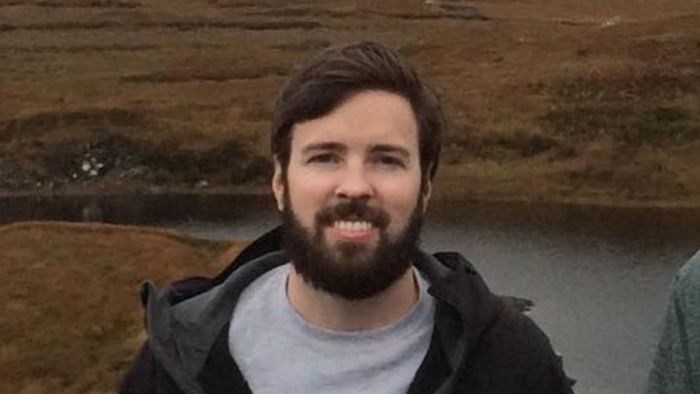 Hagee told i24NEWS that CUFI would next like to see a "total restructuring" of the United Nations Relief and Works Agency (UNRWA), the UN agency dedicated exclusively to providing aid to some 5.3 million registered Palestinian refugees across the Middle East.
"We would like to see UNRWA restructured. UNRWA has produced what really amounts to a colossal fraud in the United Nations in fabricating the amount of refugees that came out of the original Palestinian families," Hagee said.
Critics of UNRWA accuse it of perpetuating the plight of Palestinians by allowing the descendants of first-generation Palestinian refugees -- those who fled what is today Israel when it was established in 1948 -- to maintain refugee status in their host countries.
For the Palestinians, the right for descendants to return to homes they either fled or were forced out of during Israel's war for independence is a prerequisite for any peace agreement with Israel, but it is a demand the Jewish state has rejected out of hand.
"We would like very much for UNRWA to be totally restructured so that we do support those true refugees who lost their homes...but not descendants to the fourth and fifth generation," Hagee told i24NEWS.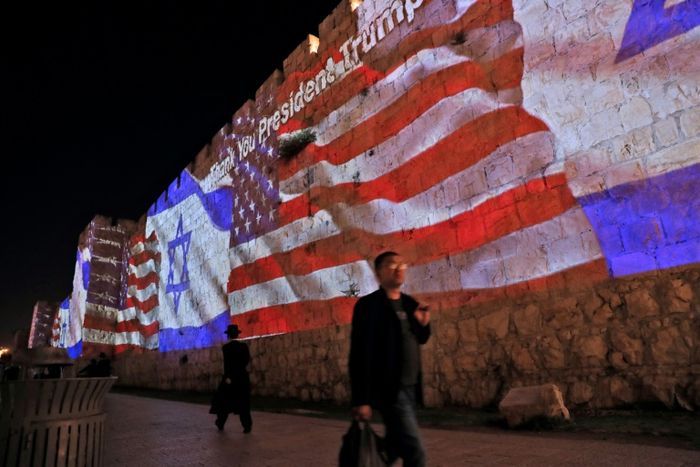 Though some Israeli and US lawmakers have called on Trump to follow his backing of Israel's claim over Jerusalem with a similar declaration recognizing Israel's sovereignty over the Golan Heights, Hagee says the matter is not on CUFI's agenda.
The Golan Heights was captured by Israel from Syria in the 1967 Six Day War, and annexed by Israel in 1981 in a move not recognized by the international community.
"CUFI's position...is that the Golan Heights belongs to Israel. They won that in the Six Day War. They don't have to beg other nations to grant them what they won in a war that someone else started," Hagee told i24NEWS.
The strategic plateau has been seen as an integral part of Israel's security since war erupted in neighboring Syria in 2011, with Israel concerned that pro-Iranian have used the turmoil and instability in Syria as an opportunity to stake out a permanent military presence just over the border.
CUFI, while seeking to distinguish itself from dispensationalism, which holds that the modern state of Israel has a central role in bringing about the second coming of Jesus Christ, is founded on biblical teachings that God will bless those who bless the Jews and curses those who curse the Jews, noting that Christian faith could not exist with Judaism.
Pastor John Hagee was interviewed by i24NEWS' Michelle Makori, host of CLEARCUT.
Text and editing by i24NEWS news editor Emily Gatt.
You need to be logged in in order to post comments. Sign up or log in
It's so uplifting, to know israel got such a great support in the USA., respect to you.