Huawei exec faces fraud charges in US: Canada bail hearing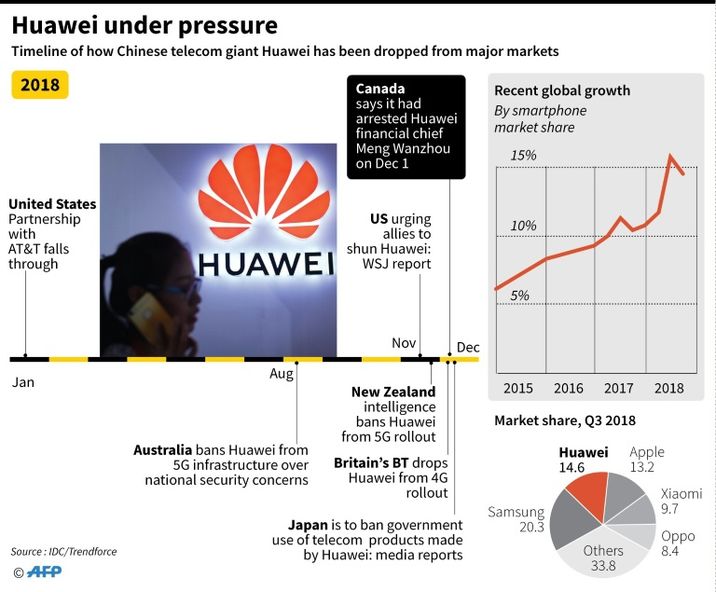 Huawei under pressure
John SAEKI (AFP)
US authorities have reportedly been tracking the practices of the second largest smartphone maker since 2016
Chinese telecom giant Huawei's chief financial officer, arrested in Canada, faces US fraud charges for allegedly lying to banks about the use of a covert subsidiary to sell to Iran in breach of sanctions, a bail hearing heard Friday.
Meng Wanzhou is accused of "conspiracy to defraud multiple financial institutions" and if convicted faces more than 30 years in prison, a Canadian government lawyer said, in asking the court to deny her bail request.
The lawyer said that Meng had personally denied to American bankers any direct connections between Huawei and SkyCom, when in fact "SkyCom is Huawei." SkyCom's alleged sanctions breaches occurred from 2009 to 2014.
He suggested that Meng has shown a pattern of avoiding the United States since becoming aware of the investigation into the matter, has no ties to Canada and has access to vast wealth and connections -- and thus poses a flight risk.
Meng was arrested in Vancouver on December 1 while transferring planes on a trip from Hong Kong to Mexico, at the request of US authorities seeking her extradition.
The arrest came on the day that the United States and China agreed at the G-20 meeting in Argentina to have a 90-day "ceasefire" to halt the imposition of further trade tariffs that have resulted in billions of dollars of duties on each other's goods.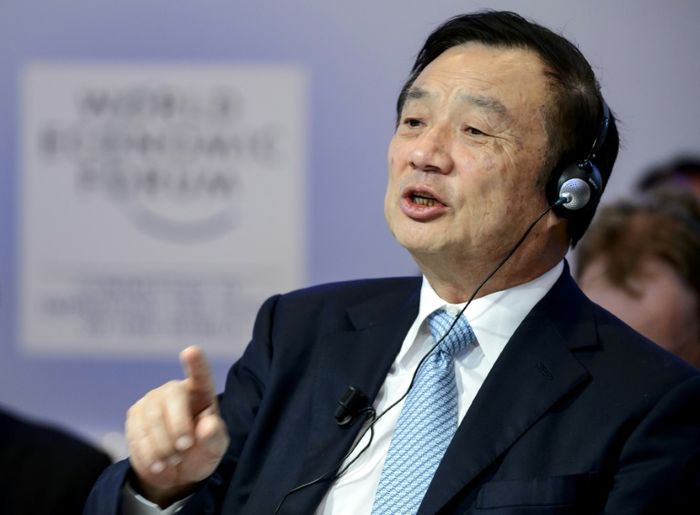 China on Thursday urged Canada and the United States to "clarify" the reason of the arrest due to a publication ban that was sought by Meng, whose father, Huawei founder Ren Zhengfei, is a former Chinese People's Liberation Army engineer.
Huawei, which overtook Apple as the world's number two smartphone maker this year, said it was unaware of any wrongdoing by Meng and was provided "very little information" about the charges.
"Huawei complies with all applicable laws and regulations where it operates, including applicable export control and sanction laws and regulations of the UN, US and EU," the company said in a statement.
At the same time, China said on Thursday that it would "immediately" implement measures agreed under a trade war truce with the United States.
"China will immediately implement the consensus both sides already reached on agricultural products, energy, autos and other specific items," commerce ministry spokesman Gao Feng told reporters.
US authorities have reportedly been tracking the practices of the second largest smartphone maker in the world since 2016, according to Reuters, after it allegedly shipped US-originated goods to Iran and other countries sanctioned by the United States.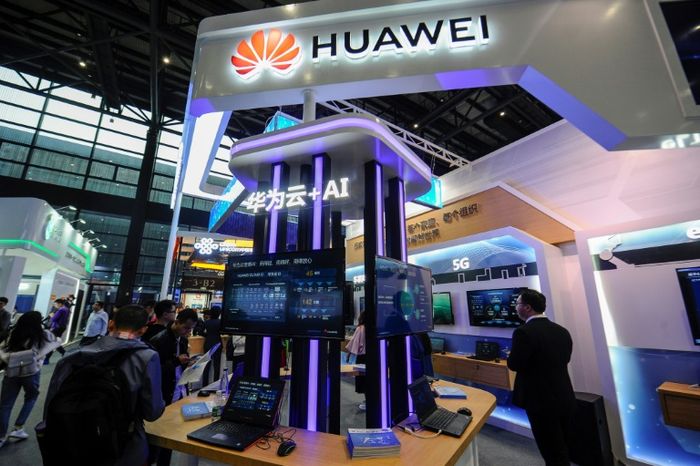 U.S. Senator Ben Sasse praised the move and said that it was "for breaking U.S. sanctions against Iran." He added: "Sometimes Chinese aggression is explicitly state-sponsored and sometimes it's laundered through many of Beijing's so-called 'private' sector entities."
The Chinese embassy in Ottawa firmly condemned the arrest while Chinese media suggested the US was resorting to geopolitical means to combat American companies were growing weaker in the face of Chinese competition.
Meng served in 2008 on the board of Skycom, which had sought to sell embargoed Hewlett Packard equipment to Iran's largest mobile phone operator, Reuters reported.
The day of the arrest, Britain's BT Group announced that it would drop Huawei's equipment from the core of its existing mobile operations and central parts of upcoming network. The decision seems related to concerns voiced by the US over potential Beijing espionage capabilities.
In May, the Pentagon said that devices from Huawei and ZTE posed an "unacceptable" security risk. Personnel on US military bases are banned from buying ZTE and Huawei equipment.
Over the summer, Australia barred Huawei from providing 5G technology for wireless networks in the country over espionage fears.
New Zealand followed suit in November, but said the issue was a technological one.
U.S. stock futures and Asian shares plummeted as news of the arrest threatened to plunge the the powers into a deeper trade war in which the United States' seeks to maintain its traditional role as technological leader by strengthening IP controls against China.