Bader Ginsburg poster vandalized with swastika, anti-Semitic slur in NYC subway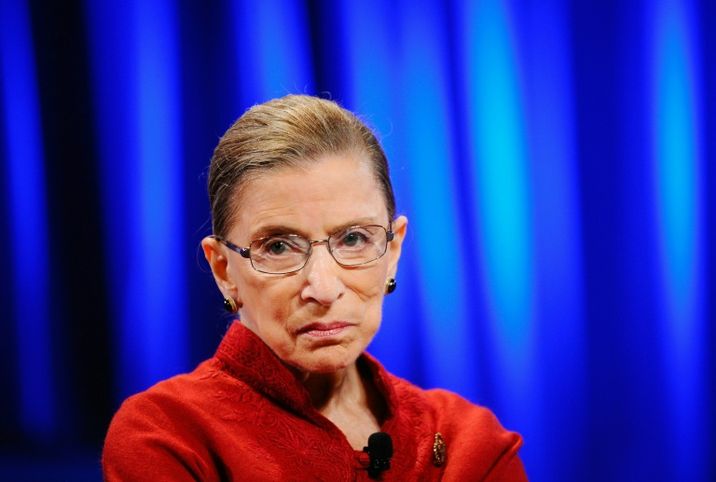 Justice Ruth Bader Ginsburg, pictured in 2010, said her comments on Donald Trump's candidacy were "ill-advised"
Kevork Djansezian (Getty/AFP/File)
Born in Brooklyn into a Jewish family, Ruth Bader Ginsburg became the second female Supreme Court Justice
A poster of Ruth Bader Ginsburg promoting her latest book was unmistakably vandalized at a New York City subway stop this week with anti-Semitic writing that read,"Die, Jew bitch!" accompanied by a swastika.
The poster was an advertisement for the latest book on the 85-year-old Supreme Court Justice entitled "The Unstoppable Ruth Bader Ginsburg: American Icon.," featured at the Nassau Avenue subway stop on the G line in Brooklyn's popular Polish-hipster neighborhood.
Ruth Bader Ginsburg poster in Brooklyn vandalized with the words 'Die, Jew bitch' and a swastika https://t.co/9Doy7drw39 pic.twitter.com/y9Wc0MuIK2

— JTA | Jewish news (@JTAnews) March 14, 2019
The New York Police Department (NYPD) said it was investigating the incident and using the surveillance video to assist in tracking down the perpetrator.
The New York City Transit Authority said the "offensive imagery" had been removed after its discovery on Tuesday.
"Again, we regret that our customers were exposed to this hate speech," the agency said.
Governor Andrew Cuomo denounced the incident, directing state police provide additional resources in the second straight week a hate symbol was scrawled on a New York City platform.
New York City Mayor Bill de Blasio said in a tweet that he promised to find the party "responsible for this anti-Semitic trash and ensure they face consequences for trying to spread hate in New York City."
Just last month de Blasio spoke at a synagogue in Brooklyn, stressing the importance of combating anti-Semitism.
At the same event, NYPD Chief of Patrol Rodney Harrison described how anti-Semitism has contributed to a spike in hate crimes around the city.
Ruth Bader Ginsburg represents the very best of our city.

We'll find whoever is responsible for this anti-Semitic trash and ensure they face consequences for trying to spread hate in New York City. If you have any information on this despicable act, please contact the NYPD. https://t.co/qff5nV7OE1

— Mayor Bill de Blasio (@NYCMayor) March 13, 2019
He called the desecration of the Ginsburg poster "abhorrent."
The court's oldest justice, Ginsburg -- fondly known as "The Notorious RBG," a riff on slain rapper The Notorious B.I.G. -- is a liberal stalwart who has said she will not retire as long as she feels she can do the work.
Born in Brooklyn, New York, into a Jewish family, she attended Cornell University and married a classmate, Martin Ginsburg, right after graduation before finishing at the top of her class at Columbia University's Law School. 
Partly due to the barriers she faced, she became a stubborn advocate for women's equal rights, becoming the second woman ever to serve on the court, after Sandra Day O'Connor.
She has remained very proud of her Jewish identity. She was awarded the Genesis lifetime achievement award in Tel Aviv earlier this year. At the ceremony, Israel's former Supreme Court President Aharon Barak, called her "one of the great legal minds of our time; an outstanding Jewish jurist whose fearless pursuit of human rights, equality and justice for all stems from her Jewish values."
Her husband died in 2010, and despite her age, she has missed few days of work at the high court. She works out regularly, and is often seen at the Supreme Court gym in a sweatshirt emblazoned with the words "Super Diva."
Her health and impressive stamina keep her supporters transfixed.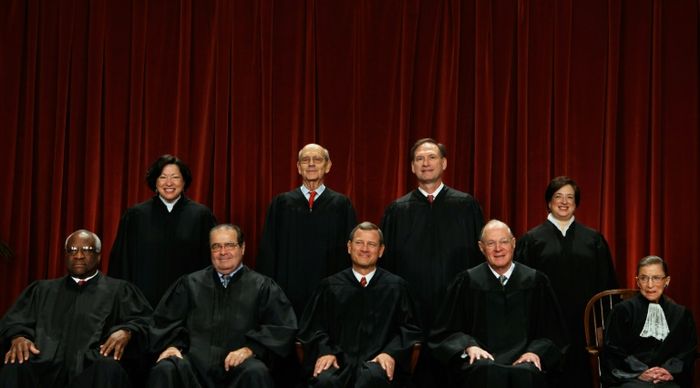 She was treated for colon cancer in 1999, and a decade later, pancreatic cancer that was caught at an early stage.
In August, she broke three ribs in a fall in her office, and was hospitalized overnight for observation.
She was back at work as soon as the court opened its session at the beginning of September.
You need to be logged in in order to post comments. Sign up or log in
G_d bless supreme court judge Ginsberg. She makes us all very proud. And makes these haters feel miserable.