14-year-old Texas student arrested when homemade clock is mistaken for a bomb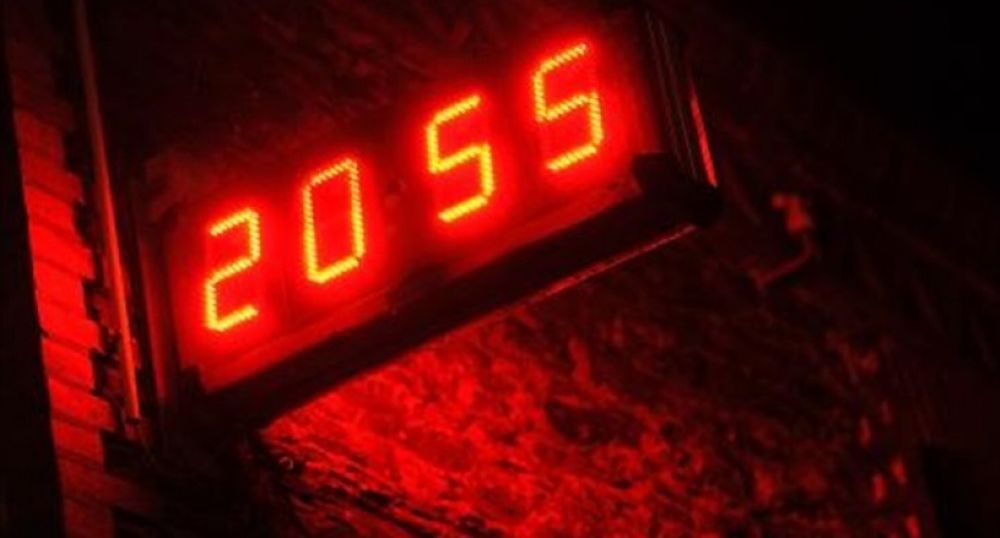 Fathers says son accused because of Muslim background; Obama invites teen to visit the White House
A 14-year-old Texas student was arrested Monday when a teacher mistook a homemade clock the boy had brought to class for a bomb, American newspaper The Dallas Morning News reported.
The student, Ahmed Mohamed, loves to tinker with mechanics at home, building radios and fixing his go-kart, and according to The Dallas Morning News he was hoping to impress his engineering teacher with his creation.
Instead, the boy was led from school in handcuffs, missing a student council meeting, and is reportedly facing a three-day suspension.
While police have acknowledged that young Ahmed had told everyone from the beginning that it was a clock, police may still charge him with making a hoax bomb.
Ahmed's father, Mohamed Elhassan Mohamed, is furious. He claims that Ahmed's teachers reacted the way they did because of their family's Muslim background. The Council on American-Islamic Relations has also begun investigating the incident.
According to The Dallas Morning News, Ahmed was involved in a robotics club in middle school, and upon reaching high school began looking for something similar.
"Here in high school, none of the teachers know what I can do," Ahmed said in an interview with the newspaper.
Ahmed said that it took him only about 20 minutes to build the clock which features a circuit board, power supply and digital display placed within case with a tiger hologram on the front.
When he showed it to his engineering teacher however, the response was less than enthusiastic.
"He was like, 'That's really nice,'" Ahmed said. "'I would advise you not to show any other teachers.'"
Later in the day, the clock grabbed the attention of another teacher when the alarm began beeping in class. At the end of the class Ahmed showed her what had caused the distraction.
"She was like, it looks like a bomb," said Ahmed.
"I told her, 'It doesn't look like a bomb to me.'"
The teacher confiscated the clock and shortly after Ahmed was pulled from his sixth period class by the principal and a police officer who brought him to a room with four additional police officers.
Ahmed told The Dallas Morning News that an officer he'd never seen before remarked: "Yup. That's who I thought it was."
"They were like, 'So you tried to make a bomb?'" Ahmed said.
"I told them no, I was trying to make a clock."
"He said, 'It looks like a movie bomb to me.'"
Police spokesman James McLellan said that Ahmed claimed from the beginning that his creation was a clock, and police do not believe it to be dangerous, however they think there is more to Ahmed's story, said The Dallas Morning News.
"We have no information that he claimed it was a bomb," McLellan said. "He kept maintaining it was a clock, but there was no broader explanation."
When asked to elaborate the spokesman said: "It could reasonably be mistaken as a device if left in a bathroom or under a car. The concern was, what was this thing built for? Do we take him into custody?"
Police took Ahmed to juvenile detention where they collected his finger prints and then released him to his parents.
Ahmed's father, who immigrated to the United States from the Sudan, said 'Because his name is Mohamed and because of Sept. 11, I think my son got mistreated."
"He just wants to invent good things for mankind," he said.
Ahmed has vowed that he will never to bring any inventions to school again.
Obama invites Ahmed to the White House
Shortly after Ahmed's story began circulating the web and social media, the White House posted a tweet written by President Obama on their official Facebook page, inviting the 14-year-old to visit the Nation's capitol. Obama said he should bring the clock with him to showcase his skills.
"Cool clock, Ahmed. Want to bring it to the White House? We should inspire more kids like you to like science. It's what makes America great," the tweet read. The post also included the hashtag #IStandWithAhmed.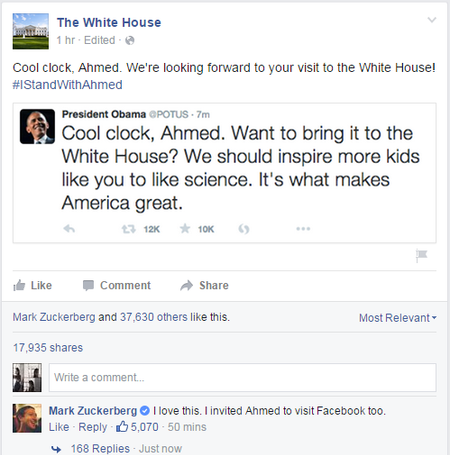 Facebook founder Mark Zuckerberg replied to the White House's post saying that he invited Ahmed to visit Facebook as well.
This article received 1 comments