'Religious extremists' in deadly gun attacks in Kazakhstan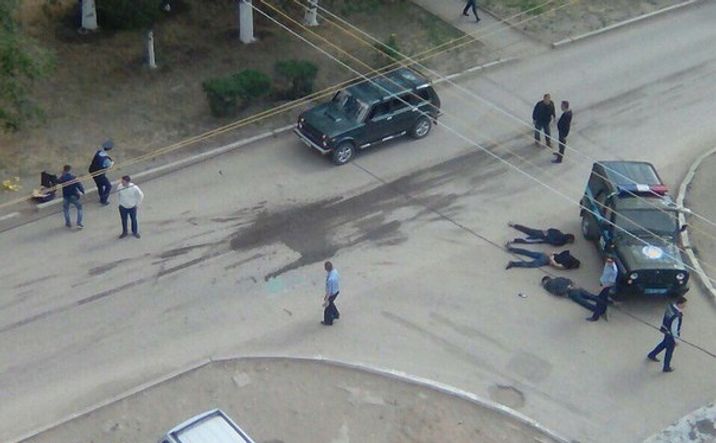 Three suspected Islamist gunmen were killed in a shootout with police in Aktobe, Kazakhstan on June 5, 2016
vk.com/aktobelife
Manhunt on for 'over 20 religious radicals' underway after attack on military base
Armed men suspected of being religious extremists went on the rampage in a town in Kazakhstan on Sunday, killing two soldiers and a civilian, the interior ministry said.
Police were clearing people from shopping malls and markets in the western town of Aktobe after the attacks on weapons stores, a military base and a police station.
A civilian shop owner and two soldiers at the base were shot dead, and three gunmen were also killed in a shootout with police in the Central Asian country.
Several assailants were still on the run and police have locked down the neighborhood where the shootings took place.
Local media reports suggested that there were between 20 to 30 gunman engaged in the shootout.
"One officer and one soldier was killed at the military base trying to ward off the attack. Nine soldiers have been injured,"  ministry spokesman Almas Sadubayev said. 
"Several criminals have been blocked in, and some were able to flee," he said, adding that the attackers were suspected religious radicals.
"There is a counterterrorist operation in the city, entertainment centers and places of mass gathering," he said.
The website Tengrinews.kz put the number of casualties higher, citing medical sources as saying that some 20 people with gunshot wounds were taken to the hospital.
Local newspaper Diapazon said the gunmen, in their mid to late 20s, also attacked a police station in the city.
Police closed off the entire neighborhood and were evacuating people from shopping malls and markets.
Aktobe is a city of about 400,000 in western Kazakhstan, about 60 kilometres from the Russian border.