Pope Francis praises Mongolia for religious tolerance, nuclear-free policy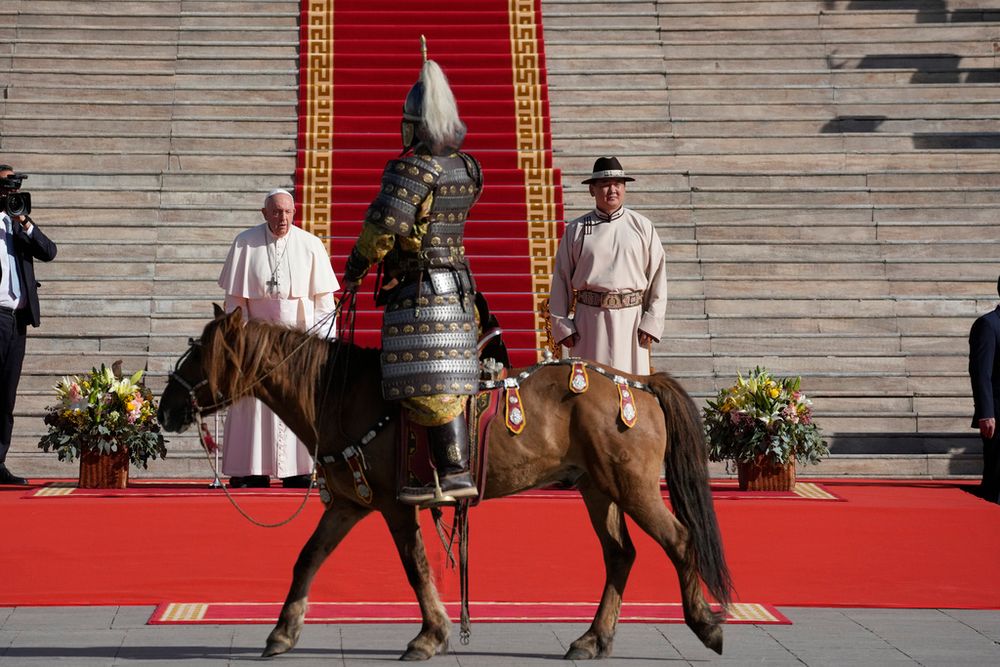 The trip of the Catholic leaders has been regarded as having a geopolitical aim for the Vatican, with recent efforts to reach both Russia and China
Pope Francis praised the "wisdom" of the Mongolian people Saturday, while warning the young Asian democracy of corruption and environmental ruin.
It was the first papal visit to the Asian nation sandwiched between China and Russia. It included an official welcome ceremony with a phalanx of Mongolian horsemen and a massive bronze statue of Genghis Khan.
In a meeting with Mongolian President Ukhnaa Khurelsukh, Pope Francis called himself a "pilgrim of friendship" and extolled the virtues of the country, including its "ranchers and planters respectful of the delicate balances of the ecosystem." The visit comes at a time that the Vatican seeks to improve relations with both of Mongolia's neighbors.
Francis also praised Mongolia for its religious tolerance and nuclear-free policy, but warned that corruption was "the fruit of a utilitarian and unscrupulous mentality that has impoverished whole countries," adding that religion would "safeguard against the insidious threat of corruption."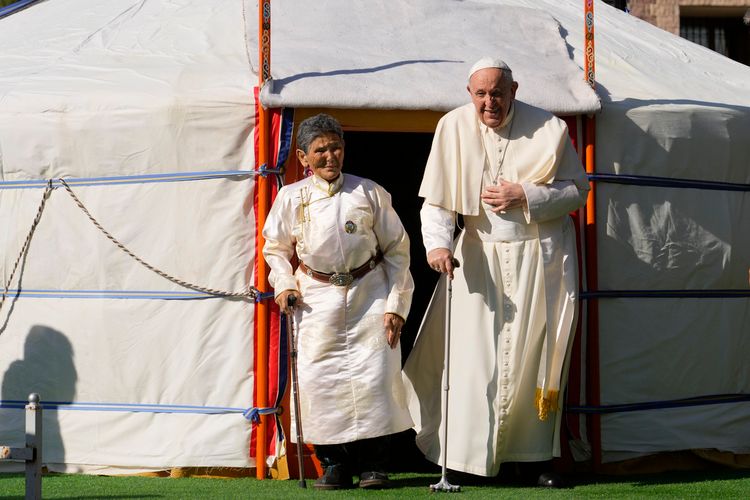 Mongolia has suffered from corruption and environmental degradation in recent years, with its capital being ranked one of the world's worst in air quality. A large amount of the country is also at risk of desertification due to climate change, overgrazing and mining.
The trip has been regarded as having a geopolitical aim for the Vatican, with recent efforts to reach both Russia and China.
In a comment that appeared directed at China, the pope told a gathering that governments have "nothing to fear" from the Church. The Holy See renewed a deal last year with Beijing that allows both sides a say in appointing Chinese bishops.
Earlier this year, the pontiff said the Vatican was involved in a secret peace mission between Russia and Ukraine, as well as assisting in efforts to repatriate Ukrainian children who were taken by the Russian invading forces.
This article received 0 comments