Syria's President Assad arrives in China to meet leader Xi Jinping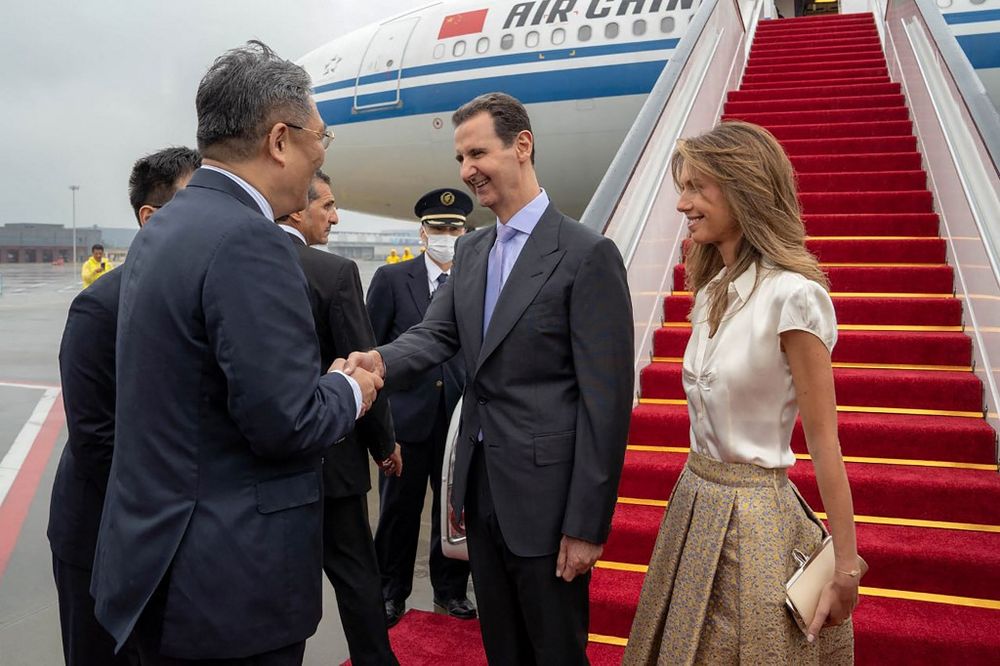 The visit comes as Damascus continues to seek its way out of diplomatic isolation
Syrian President Bashar al-Assad and his wife arrived on Thursday in the city of Hangzhou, where he is to meet Chinese leader Xi Jinping on Friday.
This is Assad's first visit to China since the start of the war in Syria over a decade ago.
Assad is accompanied by a "political and economic delegation". The upcoming meetings in Hangzhou and Beijing will reportedly focus on China's role in Syria's reconstruction after 12 years of conflict.
Assad will also attend the opening of the Asian Games in Hangzhou on Saturday, alongside other world leaders like the Cambodian King Norodom Sihamoni, Kuwait's crown prince Sheikh Meshal Al Ahmed Al Jaber, and the Nepali Prime Minister Pushpa Kamal Dahal.
China is the third non-Arab country to host Assad since the start of the war in Syria that has killed over 500,000 people and displaced millions. Previously, Assad met Russian President Vladimit Putin in Moscow in March. He also visited Tehran in May 2022.
Beijing has consistently backed Damascus in the international arena. The Chinese delegation has blocked UN sanctions against Assad on eight occasions, and voted against the creation of an independent body that would assess the fate of over 130,000 Syrians missing in the conflict.
Assad's visit highlights not only his quest out of diplomatic isolation, but also Beijing's ambitions in the Middle East. Syria was readmitted into the Arab League in May after its suspension in 2011, which marked a major comeback for Damascus.
Apart from the prospects of the multibillion-dollar reconstruction projects in Syria, China is expanding its regional influence through its Belt and Roads project, which is now facing a challenge from the recently announced U.S.-led corridor that will stretch from India through the Middle East to Europe.
Earlier this year, China brokered the Saudi-Iran rapprochement, and announced its readiness to mediate Israel-Palestine peace talks. Following this statement, the Palestinian Authority President Mahmoud Abbas paid a visit to Beijing in June. In August, the BRICS organization, where China plays a prominent role, also invited Saudi Arabia, UAE and Iran to become its new members.
This article received 0 comments