From Hong Kong to Israel: Holocaust education in the far-east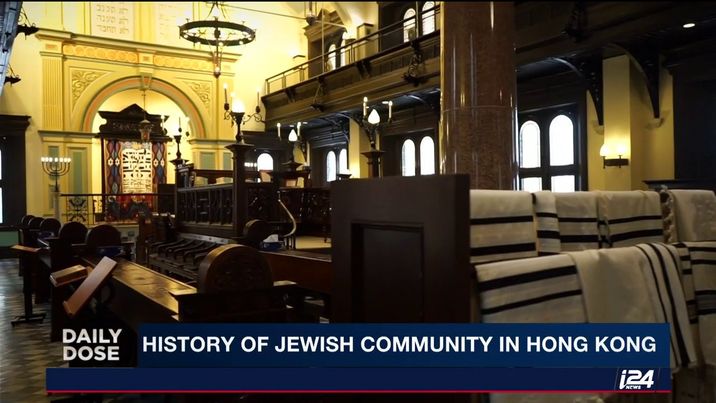 In recent years, Hong Kong has set up the Holocaust Memorial and Tolerance Centre
Nathan Minsberg/i24NEWS
During World War II, tens of thousands of European Jews, fleeing Nazi persecution, took refuge in Shanghai
Hong Kong, the South-East Asian metropolis perched on the eastern side of the Pearl River, has long been a historically a significant trading center. Hong Kong is also the unexpected home to a thriving Jewish community, with a rich history and flourishing ties with Israel.
The Jewish community in Hong Kong was founded in the mid-19th century by Iraqi Jews, the descendants of those expelled from Spain and Portugal during the inquisition.
During the Second World War, tens of thousands of European Jews, fleeing Nazi persecution, took refuge in Shanghai, one of few cities in the world that didn't require a visa. Hong Kong became a transit zone for refugees on their way to Australia, North American and Israel.
The Jewish population of Hong Kong, totaled 60 in 1882. Today it numbers 6,000 and is the largest such in South-East Asia, with four congregations, schools, a community center, restaurants, and cemetery, all made possible by the respectful embrace of the Chinese population.
The Sassoon family who opened the Ohel Leah Synagogue, in 1902, were leaders of the Opium trade and developed the city through business and philanthropy, opening schools and hospitals.
Equally, The Kadoorie family name is stamped on countless landmarks across the city, such as the Star Ferry, Peak Tram and the China Light and Power station.
The Peninsula Hotel in Tsim Tsa Tsui, owned by the Kadoorie family, at one point in time housed Jewish refugees who were arriving from Shanghai.
Matthew Nathan, Hong Kong's only Jewish governor, appointed in 1903, is credited with establishing urban planning and reconstruction policies, building accesses to the Kowloon Peninsula.
Although Hong Kong and greater China were heavily affected by WW2, academic curriculums and social conversations widely lack detailed information on the Holocaust.
The Hong Kong Holocaust and Tolerance Centre, the only of its kind in China, was set up by members of the local Jewish community to promote tolerance and advance Holocaust education in the far-east metropolis.
"We were formed really with the basic mission to advance education about the Holocaust in Hong Kong as well as the region around Hong Kong, and to promote tolerance among different people," Glen Steinman, Co-Chairman, Hong Kong Holocaust and Tolerance Center, tells i24NEWS.
"Growing up in metropolitan New York, my mother's experience as a survivor was deeply impactful, I always felt that her legacy and that of so many countless others who went through the Shoah needs to be honored and remembered," says Steinman, who has been a member of Hong Kong's Jewish community for over 40 years.
At Hong Kong's Education University, a tailored workshop ahead of Holocaust Remembrance Day aims to raise awareness of the tragedy among future educators.
"We want to help train the educators on how to teach their own students about the Holocaust," Steinman says of the workshop.
Elevating the unique civic partnership beyond trade and politics, Jews and Chinese together are combating ignorance through education.
"Understanding and tolerance is important and that's why the government is starting to gain more momentum on this," Simon K. Li, Director of Education, Hong Kong Holocaust and Tolerance Center, tells i24NEWS.
"One very important lesson in my opinion is not to be a bystander…it's too easy you know just to turn an eye away," he says.
Graphic details of ghetto life and concentration camps aims to increase knowledge to an audience, otherwise unfamiliar with the genocidal atrocities committed to Jews in World War II.
Hiu Tung Chan says she felt "emotionally touched" after participating in the lecture.
A visit by the grandson of Chiune Sugihara, a Japanese official who become a Righteous Among Nations, is relatable to students of the former British Colony, which was under Japanese occupation between 1941 and 1945.
Hong Kong, a leading financial hub, has long been a strategic component of China's grand Road and Belt initiative and vital in bridging East and West in commerce and culture.
"There is a huge interest from Hong Kong and Mainland investors in Israeli technology," Ahuva Spieler, Consulate General of Israel in Hong Kong & Macau, tells i24NEWS of the city's flourishing ties with the Jewish State.
"It's a vision, that both Hong Kong and Israel are part of, we are on the road!"
With a constant arrival of expatriate residents, diversity and pluralism have facilitated a union of faiths and nations in Hong Kong.
Nathan Minsberg is a producer at i24NEWS