Israel sends veterinarians to aid flood-hit Tbilisi zoo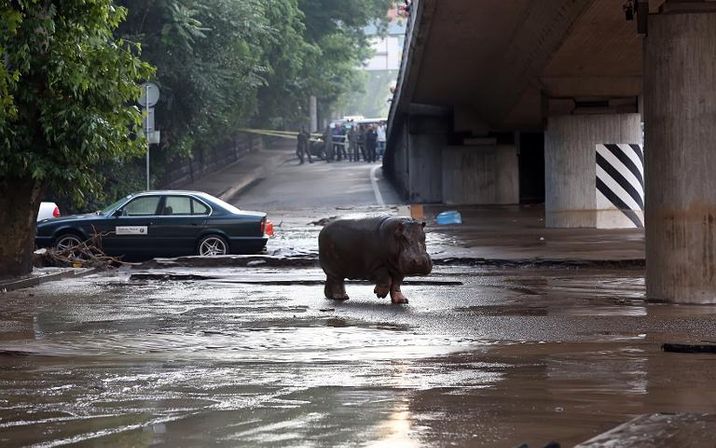 Un hippopotame qui s'est échappé du zoo traverse une rue inondée à Tbilissi, le 14 juin 2015
BESO GULASHVILI (AFP)
After damage to enclosures sent lions, tigers and a hippo to roam the urban jungle
Israel is sending two senior veterinarians to the Georgian capital of Tbilisi to assist local zookeepers in coping with the aftermath of devastating floods that damaged the animals' enclosures and sent lions, tigers, bears and, most notably, a hippopotamus to roam the urban jungle.
Dr. Nili Avni Magen and Dr. Yigal Horowitz, both of whom work at Jerusalem's Biblical Zoo, will spend a week in the flood-hit locale.
Georgian authorities expressed their gratitude to Israel for the aid.
Some of the escaped zoo animals are still on the loose as of Monday.
The government of the ex-Soviet republic said the death toll after the Vere river burst its banks on Sunday following hours of torrential rain stood at 12 on Monday morning. It is understood at least one zookeeper was among the fatalities.
Many animals including penguins drowned in the muddy waters. Others escaped and were either recaptured or shot dead by police.
The hunt was still going on for the animals Monday, Tbilisi zoo spokeswoman Mzia Sharashidze told journalists.
"The search for animals is still underway," she said, adding that some 300 had died.
Some animals including two bear cubs were found kilometers away from the zoo and returned to their enclosures on Monday.