Jerusalem artist's collective turns city's tumultuous political history into space for creative expression
Jerusalem is a city of two faces. For those who see it from the outside, it is a city three times holy and grazed by a conflict that each time wears away a little bit of its splendor. But for Jerusalemites, the city has its own rhythm, a slower tempo, which makes the heart of all of Israel beat.
Israeli folk music has always reflected the diversity of cultures present there and from elsewhere, and the city of Jerusalem has, from the very beginnings of the Jewish State, inspired musicians who came to settle on this land.
"Israeli music [today] is not really Israeli music because we are Hebrew. The Israeli music of the last 70 years is Israeli because each one of us came from a different country and took with him the roots of his family, the roots of his country, and brought movements of music to Israel. To call folk music something Israeli depends on which culture you look at," says Eldad Levi, director of the Hebrew Music Museum in Jerusalem.
The various influences -- Klezmer from the Ashkenazi tradition in Central Europe, Mizrahi music from North Africa and the Arab world, and sounds from Iran and the Balkans -- contribute to forming a unique Israeli musical identity, which served at the beginning of Zionism to express the dreams and hopes of a new generation and which today sings of mixing and tolerance.
"Today I think [that the Israeli identity in the music] is not really important," says Michael Greilsammer, a Franco-Israeli violinist inspired by reggae, Irish and world music. "I'm Israeli ... but in my music, you find more the identity of Jerusalem because I was born here. It is more about being from Jerusalem and to be [the product of a mixing], that's the Israeli identity."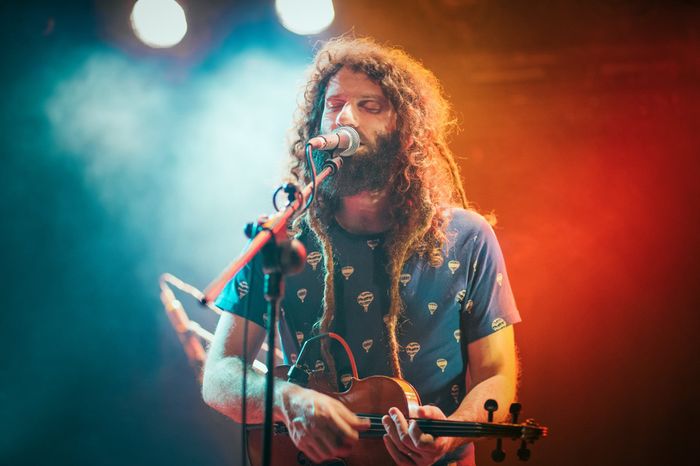 Discussing the concept of cultural "mixing" in his music, Greilsammer says: "The violin is a Jewish instrument but I also see a bridge between Jewish and Irish violin. I understood from the beginning that Irish music and reggae music are music created during times of oppression. They helped people to create a social bond: going out, drinking together, and especially dancing together."
It's something he hopes his music can emulate by "creating a unity regardless of age, religion or identity."
- The challenge of finding a common subject -
Michael's parents are Franco-Belgian while his grandparents hailed from Biesheimm in the Alsace region of France. He has a strong connection to the French language, as evidenced by his cover of French folk artist Louise Attaque's "J't'emmene Au Vent", which reached nearly 8 million views on Youtube.
Despite his multiple identity -- Israeli, musician, French, and Belgian -- Michael Greilsammer remains particularly attached to his Jerusalemite roots.
"Some people see Jerusalem as a place of conflict or problem, but for us it's everyday life and it's a challenge to find out how we live together," he says. "As artists it would be easier for us to live elsewhere because everyday life is not easy here, but what I find exciting is the challenge of finding a common subject, and each time we come to speak to it between Israeli and Jewish Arabs or Orthodox and secular ... you feel that you have done something good."
​
Michael's sentiments echo those of Gilli Levy, artistic director of the Hamiffal ("Factory") project, which transformed an old abandoned building in the heart of Jerusalem into a cultural center, where Michael was invited to perform as a musician who "captures the sounds of Jerusalem."
"We want pretty much to keep the spirit of Jerusalem but not in a way that segregates. In Jerusalem there are three main groups that are very different from one another. You have the Palestinians, the Orthodox, and the traditional secular side. And it is all sort of half combine but also very distinguished," Levy says.
"When you are walking around the streets you are always surrounded by people who are not like you. It could be intimidating for some people, but also a good starting point for any artistic project if you just want to expend boundaries," he adds.
- Everyday art -
Hamiffal is an artist's collective in a 140-year-old house. The house was given to them in 2016 by the municipality of Jerusalem for the purpose of creating a pop-up cultural center, which was supposed to run for a two-month period. A year later, Hamiffal still exists with some 100 artists collaborating and working together in all fields of art and culture -- from the visual arts to cinema, conferences or musical performances.
The concept of the project is to allow artists develop their own interpretation of the space to rebuild the building. Prior to the creation of the State of Israel in 1948, the building was owned by a famous aristocratic Palestinian Arab family named Lorenzo Sarafin. The house was later inhabited by Jewish families and then turned into a school before it sat abandoned for more than ten years.
"There was an attempt to collaborate [with the first owner] in order to figure out and tell us what they think should happen here. That was the idea. A sort of poetic justice," Levy says.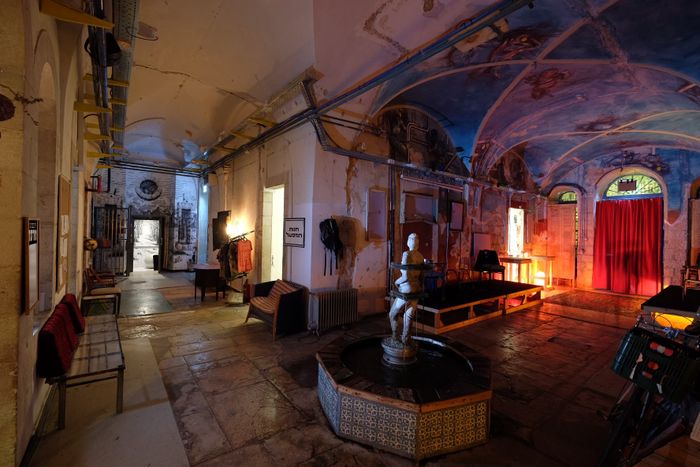 Indeed, the history of such spaces are a part of the history of Jerusalem. He explains that after 1948, the houses of Palestinians who fled the war officially became property of the Israeli government. After this date, it was impossible for those families to return and many properties in Jerusalem and throughout the country owned by the state were acquired this way.
Levy says that despite artists' shared desire to break apart segregationist conceptions and prejudices related to the conflict, one can not ignore -- even in art -- political questions in Jerusalem. For him, art is not a luxury but "a daily important thing that you must do in order to survive. This is the alternative way for the other aggressive and hateful sort of things that are going on in the city."
Nevertheless, he adds that "even if I have a Palestinian friend coming here I don't want to make it like a peace summit because people want to get together organically. This is what is so twisted about it: that we need to give it title when an Israeli person and a Palestinian person get together to have a drink together. Does it mean it is a peace conference? It is not a peace conference, it is just a natural thing."
One thing that can not be more than natural indeed when one lives in this city three times holy. From art to folk music, to Michael Greilsammer or to all artists inspired by the city, Jerusalem occupies this unique place in the soul of those who frequent it from within.
"[Jerusalem] is the mother. There is for sure a special movement in music for Jerusalem: the movement of the feeling of joy, of sorrow or the movement of silence represent Jerusalem. We don't know how to listen to them but they are [present]. You just need to stop and listen and make a place and it will rise up," adds the director of the Museum of Hebrew Music in Jerusalem.
Nathalie Boehler is a journalist and web editor for i24NEWS.