Synagogues put up for sale as migration, security fears increase in Europe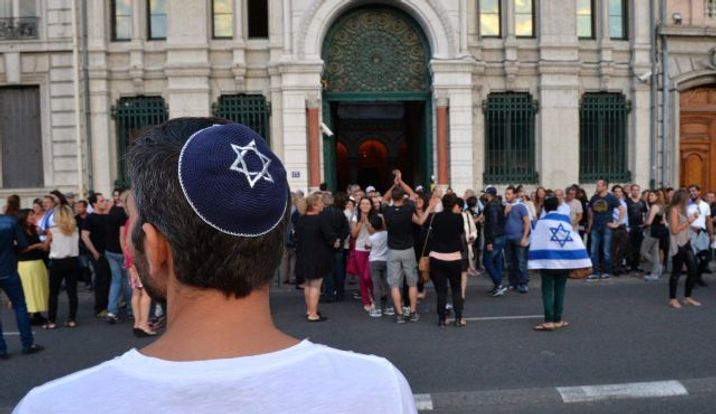 A man wearing a kippa outside Lyon's synagogue (illustration)
AFP
A string of synagogue closures points to shifting demographics on the continent
Three synagogues in Europe have recently been put up for sale, the Jerusalem Post reports, pointing towards emerging trends on the continent caused by migration and security fears.
The Jerusalem Post referred to an advertisement in another Israeli newspaper that listed a synagogue in the Brussels neighborhood of Schaarbeek for sale, with the paper reporting that another synagogue in the city was also up for sale.
According to Brussels' Chief Rabbi Avraham Gigi, who spoke to the Jerusalem Post, the sales are the result of the city's changing face: "The Jews left, and the Arabs came," he told the paper. "Regular worshipers had to come from a distance and it was not comfortable, so they bought a large [building] in the city center."
Julien Klener, a prominent member of Belgium's Jewish community, also spoke with the Jerusalem Post about the sales and pointed to similar factors, saying that the security issues in parts of Brussels are "obvious."
Much of the investigation into the Paris attacks last November centered on Brussels, with numerous ties to terror activities uncovered in some of the city's more disadvantaged neighborhoods.
Belgium has the highest per-capita number of nationals who have traveled to fight with the Islamic State in Syria and Iraq, officials and analysts have said, leading to concerns that it is becoming a heart of radicalism in Europe.
In 2014 a 29-year-old French national of Algerian origin, Mehdi Nemmouche, killed four people in a shooting attack at the Jewish Museum in Brussels.
A third synagogue in Cork, Ireland, is also on the market, the Jerusalem Post reports. However, the closure is simply due to an already small community dwindling to an unsustainable size.
Read more: Ahead of Holocaust day, Netanyahu warns of European anti-semitism