Hezbollah flag banned from annual anti-Israel march in Berlin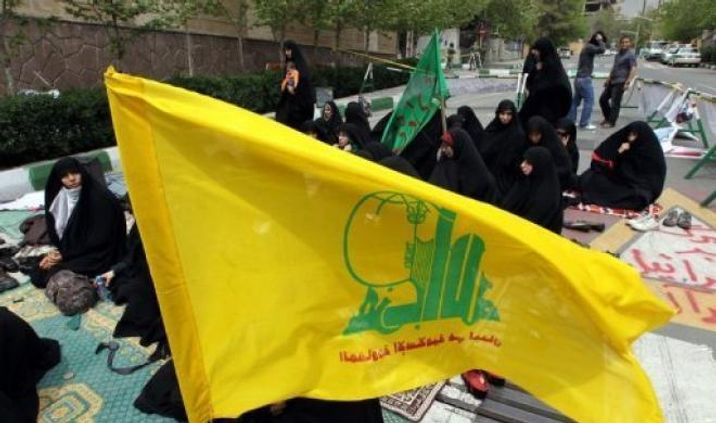 Militants du Hezbollah
AFP
Berlin decided that displaying yellow flag featuring raised assault rifle is considered 'incitement to hate'
The Hezbollah flag will be banned from an upcoming anti-Israel march in Berlin, the Jewish Telegraphic Agency reported.
The Berlin State Senate decided that displaying the yellow flag featuring a raised assault rifle at Saturday's demonstration is considered "incitement to hate."
Additionally, a police spokesman told the JTA that Hezbollah symbols will not be allowed on signs, posters clothing or other objects.
"The display of these flags and symbols can be tantamount to incitement to hate, in that they prompt people to chant hate slogans against a part of the population, namely Jewish fellow citizens," police spokesman Thomas Neuendorf said in a statement.
"In addition, such actions represent identification with and approval of Hezbollah and their acts that, in relation to the upcoming march and without current context, are not protected free speech," the statement added.
Berlin state interior minister Frank Henkel said that the Hezbollah flag has been deemed propaganda material that is not permitted to be displayed in public, said the JTA.
"Anyone who calls for the destruction of an entire people and promotes war and violence is abusing the right" of free assembly and speech, Henkel said in a written statement.  He added that experiences from past demonstrations supported the decision.
The decision was made based on a request from the American Jewish Committee in Berlin, said the JTA.
Head of the Berlin office of the AJC, Deidre Berger, hailed the decision but said that there is more to come in combating Hezbollah's message.
"We should not stop halfway," said Berger. "Germany should make every effort to have Hezbollah put on the EU terror list."
The United States, Canada, Australia and most recently the Arab League countries have listed Hezbollah as a "terrorist" group. The European Union has also blacklisted its powerful military wing, but has stopped short of naming the entire group a terror organization.
The demonstration is scheduled to mark Al-Quds Day, started in 1979 in Iran by then Supreme Leader Ayatollah Khomeini to protest the existence of the Jewish State.  The demonstration is held yearly, usually during or close to after the Muslim holy month of Ramadan and has grown to included demonstrations held in various cities around the world.
This year's demonstration in Berlin is to take place one street over from a main Berlin synagogue, said the JTA. In the request to ban the Hezbollah flag, the AJC also petitioned to have the demonstration moved to a new location but the request was denied. 
You need to be logged in in order to post comments. Sign up or log in
All terrorist organisations and symbols relating to these organisations should be banned in every civilised countries permanently, and not just at specific demonstrations, meetings or other functions.