France's Le Pen vows to ban 'all religious symbols,' including Jewish skull caps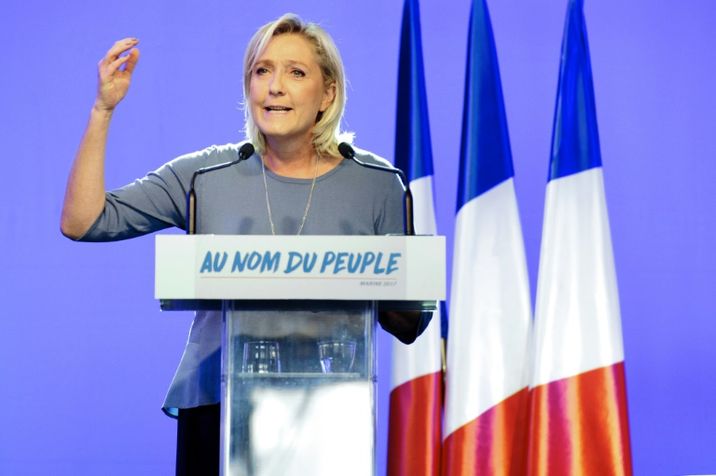 Marine Le Pen, president of the French far-right National Front party
Franck Pennant (AFP/File)
Leader of far-right National Front says ban part of 'sacrifice' necessary to fight radical Islam
The leader of the far-right French party National Front, Marine Le Pen, said on Sunday she would ban "all religious symbols" including Jewish skull caps, if elected president, seeing it as a "sacrifice" necessary to fight against radical Islam.
"I will prohibit overt signs in the public space," Le Pen said in an interview Sunday with France's BFMTV station. She said she would extend a 2004 law banning religious symbols in schools to all public spaces.
"I know it's a sacrifice, but I think the situation is too serious these days (...) I think every French person, including our Jewish compatriots, can understand that if we ask them for a sacrifice in order to help fight against the advance of this Islamic extremism (...) they will make the effort, they will understand, I am absolutely convinced because it will be in the best interests of the nation," she explained.
One of the world's most secular countries, France strongly separates religion and public life, arguing a common arena without religious connotations helps avoid sectarian conflicts and encourages equality.
The country has banned wearing conspicuous religious symbols in its public primary and secondary schools in what is also known as the "headscarf ban."
In August, Florian Philippot, Vice President of the National Front also called for a nationwide ban on all conspicuous religious symbols in public, including the Jewish skull cap.
"We would extend the 2004 law that was applied to the public schools, which at the time was subject of much debate," he said during an interview with France's RMC radio. "We realized that the ban in schools was excellent, and eased tensions. Now we want to enforce it throughout the public space."
The ban would encompass the street, public transportation, work places and universities.
The party has come under fire in the past for anti-Semitic remarks made by party founder Jean-Marie le Pen.
Jean-Marie was booted out of the party by his own daughter after a series of anti-Semitic and racist remarks that were deemed too damaging the party's image. In April of last year, Jean-Marie stated that Nazi gas chambers were a "detail of history" and defended war-time French leader Philippe Petain, who collaborated with Hitler's regime.
The proposed ban comes as around 30 French towns have banned burkini swimsuits, mostly along the sun-drenched southeast coast.
The burkini bans have triggered a fierce debate about the wearing of the full-body swimsuit, women's rights and the French state's strictly-guarded secularism.
The former president, Nicolas Sarkozy has described the burkini as a "provocation" and said that he would impose a nationwide ban if he is elected to lead the country next year.
The row comes as tensions run high following several attacks in France claimed by the Islamic State group, including last month's Nice massacre when a Tunisian ploughed a truck into crowds celebrating Bastille Day, killing 85 people.