Israel-edit-a-thon at Wikipedia Germany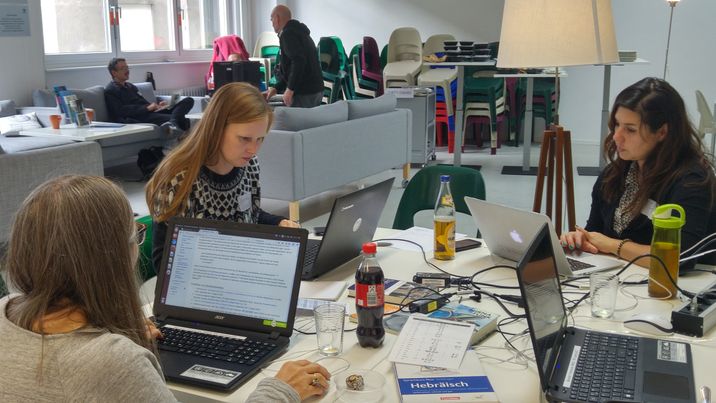 Israel-edit-a-thon at Wikipedia Germany
Polina Garaev
Wikimedia event aims to expose Germans to Israeli culture in all its diversity
Sebastian Wallroth, a Wikipedia editor with a 13-years-long track record, usually writes about his hometown in eastern Germany: Frankfurt (Oder). Occasionally he also takes an interest in the region's Jewish history. But when Wikipedia Germany invited contributors to take part in a day-long edit-a-thon devoted to Israel, he found himself spending hours writing about Israel's pop sensation Omer Adam.
"I never heard of him before, but he's a pretty interesting guy," admits Wallroth as he sits in the Berlin headquarters of the Wikimedia movement, where seasoned editors gathered on Sunday to eat hummus and write entries introducing new aspects of Israeli culture to the German-speaking public.
"Omer Adam has a lot of public influence in Israel, especially in the gay community, but nobody in Germany has heard about him. So maybe I can start a wave here as well," Wallroth speculated.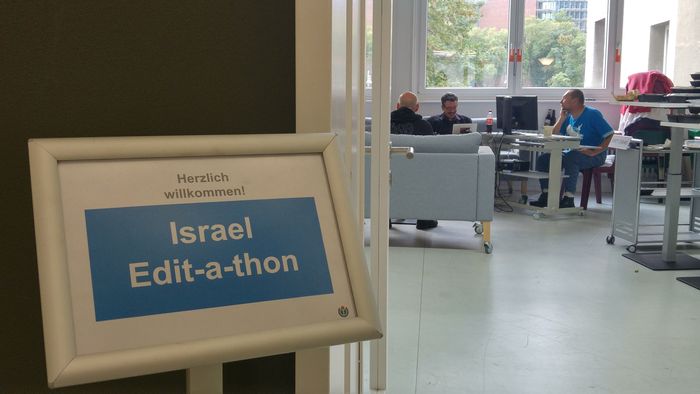 Israeli cultural phenomena, especially current ones, don't usually catch the attention of Germans, the event's organizers agree; Germans' view of Israel is formed mostly by watching the news.
"The media reception of Germany is often connected to politics," says Silvia Stieneker, a teacher and a veteran member of the Wikipedia community. "They think it's a country with a lot of military, war, terror, conflicts and religious Orthodox people, but we want to show how diverse Israel really is – its culture, music, food, tourism, science, arts and humanities, which are all things Germans hardly know of."
And Wikipedia, the most popular information source online, has the power to change that, they believe. "The Wikipedia entry is always the first result when searching something on Google, and it shows how important those articles are," explains Rocio Rocha, the event's co-organizer and linguistics student, who also researches online anti-Semitism.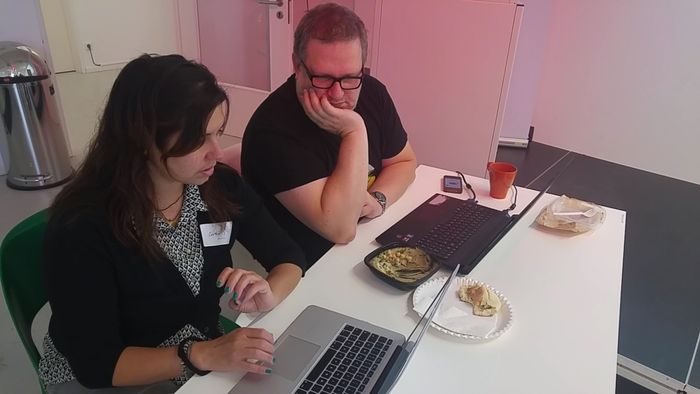 "If we want to shape opinions, we need to make sure that people get correct and objective information, and not information which is skewed by hatred," he says. "That's why this is an important instrument."
The understating of the importance of Wikipedia as a tool often forces editors to assume the role of policemen of sorts, to make sure that politically sensitive entries don't get hijacked to promote personal agendas.
"In the article about the BDS movement, for example, some people just wanted to make it look like any other NGO, which is not dangerous, and wanted to leave out all criticism of this movement," tells Stieneker. "But there were others that wanted to prevent that, and we really got into a fight."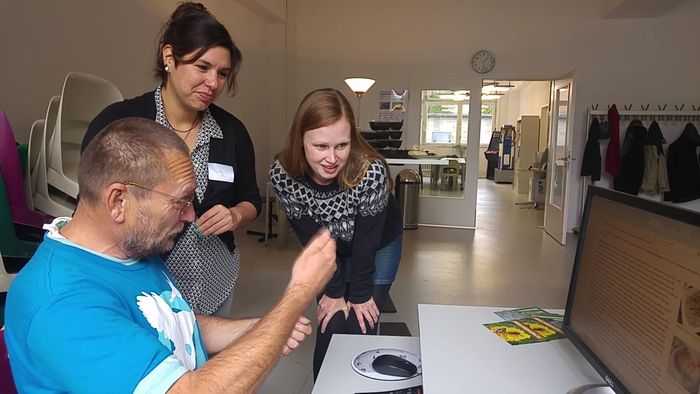 You can't write about something if you are too close to the topic, argues Wallroth, seeing his relative detachment from issues concerning Israel as an advantage. "To edit something on Wikipedia is to learn something, so now I am learned about Israel."
Many of the other participants, whose name tag featured their online handles more often than their given names, also lacked a special connection to Israel. For their entries, they could suggest their own topic or choose one from a list compiled by the organizers.
"We just set down in the kitchen and thought, what do we want to know about? What is missing from Wikipedia?" notes Rocha. "And after comparing it to the English and Hebrew Wikipedia, we found many topics that were not represented here in Germany. I am now really interested in those Bourekas films [a film genre from the 60's and 70's, poking fun at ethnic tensions in Israel], I really want to watch one."
At the end of the day, fifteen new Israel-related entries were added to the German Wikipedia, including articles about Israel's President Reuven Rivlin, iconic film star Ze'ev Revach, and typical Israeli dishes like jachnun, malawach and sufganiyah.
In the future, Stieneker and Rocha plan to establish an international exchange of Wikipedia contributors from Israel and Germany, to encourage cooperation and the sharing of knowledge. Until then, they hope to strengthen ties to Berlin's growing Israeli community, which is already facilitating a wider awareness among Germans.
"Before no one even knew what hummus was and now you can find it in every supermarket," Rocha pted. "People are talking about that and naturally there's a Wikipedia article on it, which shows how much it has incorporated itself into everyday life."
Polina Garaev is i24news' correspondent in Germany.