German court says synagogue torching not motivated by anti-Semitism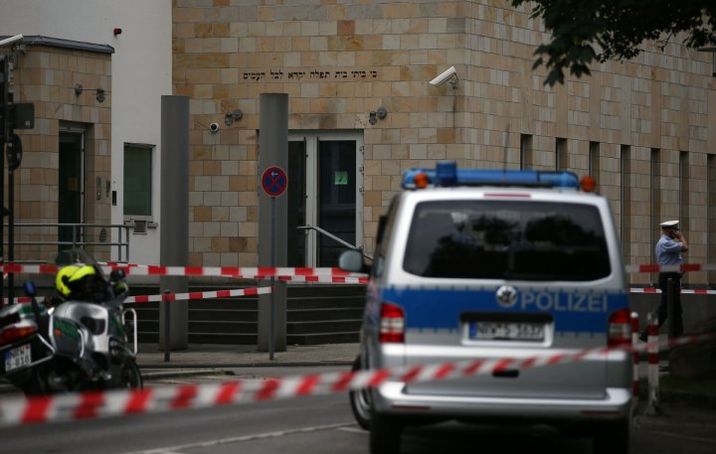 Policemen stand outside a synagogue in Wuppertal, western Germany, where three men attempted an arson attack.
OLIVER BERG/AFP
Court says it could not find any anti-Semitic motives in firebomb attack by three Palestinian men
A failed 2014 arson attack on a synagogue in the western German city of Wuppertal was not motivated by anti-Semitism, but a justified expression of criticism of Israel, a local German court confirmed on Friday, according to a report by the Jerusalem Post.
Three German Palestinians threw homemade Molotov cocktails at the Jewish house of prayer in July, 2014 to draw "attention to the Gaza conflict" with Israel. 
A local Wuppertal court panel said in a 2015 decision the defendants claim was credible, deciding that the attack was not motivated by anti-Semitism.
Three men, identified only as 31-year-old Mohamad E., 26 year-old Ismail A. and 20-year-old Mohammad A., were handed suspended sentences.
Wuppertal's Jewish community has roughly 2000 members, making up less than one percent of the city's population of nearly 344,000.
Volker Beck, a leading Green Party MP and outspoken supporter of Israel, harshly criticized the 2015 sentencing, saying the "attack on the synagogue was motivated by anti-Semitism," the Jerusalem Post wrote.
"This is a mistaken decision as far as the motives of the perpetrators are concerned," he said.
"What do Jews in Germany have to do with the Middle East conflict? Every bit as much as Christians, non-religious people or Muslims in Germany, namely, absolutely nothing," Beck said. 
"The ignorance of the judiciary toward anti-Semitism is for many Jews in Germany especially alarming, " he added.