France's Le Pen says kippah ban necessary to fight radical Islam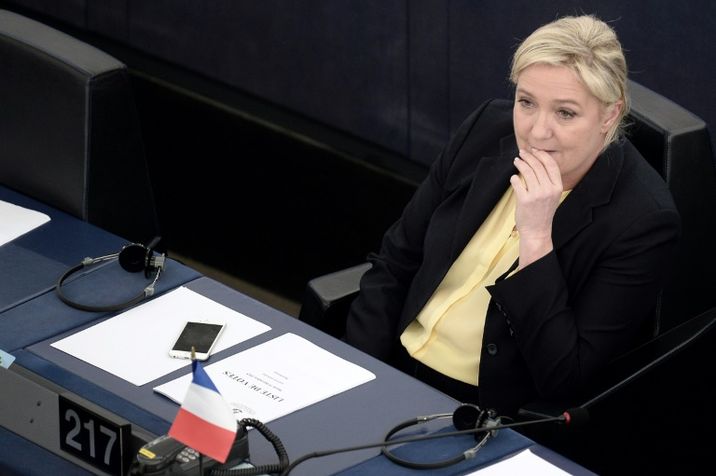 Marine Le Pen le 15 décembre 2015 au Parlement européen de Strasbourg
FREDERICK FLORIN (AFP/Archives)
National Front leader says 'patriotism is never racism', defends Trump's travel restrictions
French presidential candidate Marine Le Pen told Israeli television that banning French Jews from wearing a kippah in public would be a necessary step to fight radical Islam in France, the Times of Israel reports.
Speaking in an interview to Israel's Channel 2 News aired on Friday, the chair of the National Front party said a ban on religious clothing in public would have to include the cap worn by observant Jewish men.
The National Front's firm stance against immigration, particularly by Muslims, has been welcomed by many on those on the Right who believe the West's cultural foundations are threatened by an influx of foreigners and who believe it is locked in a clash of civilizations with Islam.
In the wake of terror attacks in France and elsewhere that specifically targeted Jews, the party has made overtures to the country's Jewish community and has voiced support for Israel. National Front Secretary-General Nicolas Bay visited Israel last month, meeting with the chairman of Likud Youth – the body that organizes activities for young people in Israel's ruling party.
"Honestly, the dangerous situation in which Jews in France live is such that those who walk with a kippah are in any case a minority, because they are afraid," Le Pen said. "But I mainly think the struggle against radical Islam should be a joint struggle and everyone should say, 'there, we are sacrificing something.' Maybe they will do with just wearing a hat, but it would be a step in the effort to stamp out radical Islam in France."
Le Pen also told Channel 2 News that "patriotism is never racism" and defended US President Donald Trump's temporary ban on entry of travelers from seven countries with predominately Muslim populations,.
She rejected criticism of Trump's move as an attack on Muslims, arguing that "there are dozens of Muslim countries in the world that are not on this list. . . On the other hand, the fact that there are 15 countries that prevent entry to Israelis is not troubling anyone."
Le Pen also dismissed criticism that the anti-immigrant parties gaining popularity in Europe and the world are racist.
"Loving the country, wanting to preserve the culture and identity, protecting the interests of the Americans in America, of the French in France of the Israelis in Israel seems to me perfectly legitimate," Times of Israel quoted her as saying.
Read more: 'Europe will wake up in 2017', Le Pen tells Germany right-wing congress