France's Fillon urged to step down as support hemorrhages from campaign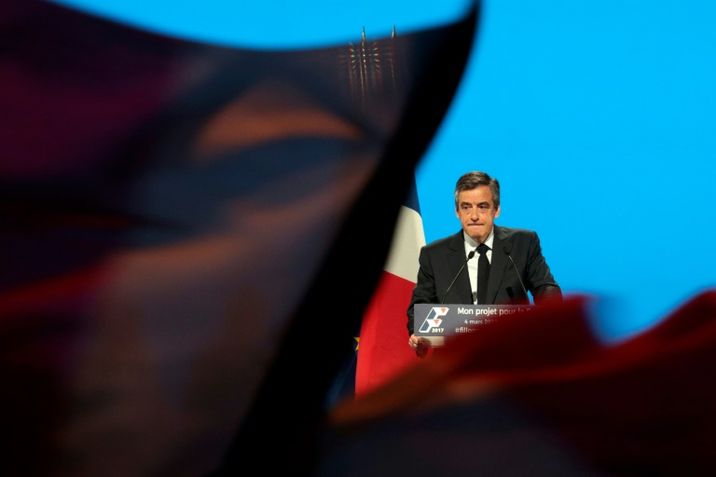 Fillon battles to keep his presidential bid afloat
GEOFFROY VAN DER HASSELT (AFP)
Fillon will attempt to regain the initiative by holding a major rally on Sunday near the Eiffel Tower
French conservative candidate Francois Fillon told supporters on Saturday they were victims of a bid to "intimidate" them as he battled to keep his presidential hopes alive.
Marking his 63rd birthday, Fillon struggled to turn the page on a nightmare week that saw a hemorrhage of support after he disclosed he would face charges over allegations he gave his family fake parliamentary jobs.
With some members of his own rightwing Republicans party urging him to drop out of the campaign, Fillon ruefully told 1,500 supporters at a rally north of Paris he had had "better" birthdays.
Without referring directly to his legal woes, he said: "They are trying to intimidate you. They are attacking me. But... what they are trying to kill is a desire for change."
Fillon has claimed that the accusations are politically motivated, even hinting he believes the ruling Socialist government is behind the investigation.
As he was giving his speech, his Republicans party announced that its political decision-making body would meet Monday evening -- a day earlier than planned -- "to evaluate the situation".
It also emerged that police raided the Fillons' country manor house near the northwestern town of Le Mans on Friday, looking for evidence. The couple's Paris apartment was searched on Thursday.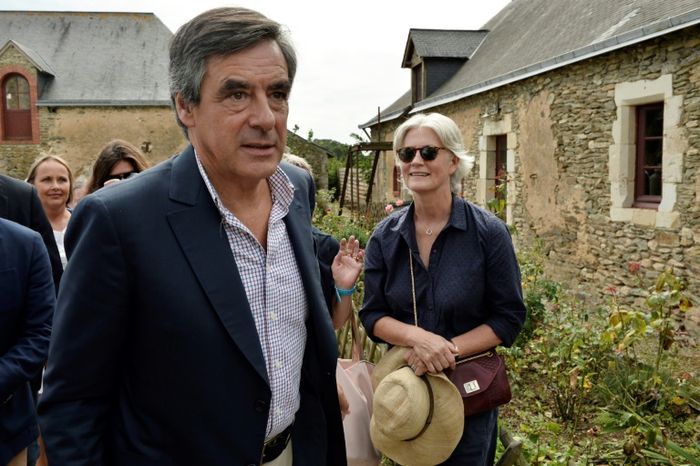 Fillon will attempt to regain the initiative by holding a major rally on Sunday near the Eiffel Tower.
The danger for the right is that he could be eliminated in the first round of the two-stage contest on April 23.
Opinion polls currently show that far-right leader Marine Le Pen and 39-year-old centrist Emmanuel Macron would progress to contest the runoff on May 7.
Fillon was the frontrunner until mid-January when the Canard Enchaine newspaper alleged he paid his British-born wife Penelope and two of their children nearly 900,000 euros ($950,000) as parliamentary assistants or advisers.
French lawmakers are allowed to employ family members, but investigators are searching for evidence of what work Fillon's wife did.
Walkouts                  
On Wednesday, Fillon revealed he would meet investigating magistrates on March 15 and be placed under formal investigation -- the equivalent under French law of being charged.
He had previously said he would step down if such a development happened. But, to the dismay of many of his aides, he angrily accused the judicial system of bias and vowed to fight on.
Among those who walked out were his foreign affairs point man and campaign spokesman, and the leader of the small centrist UDI party said it was withdrawing its backing.
On Saturday, five members of the European parliament from the Republicans also withdrew their support and called for another candidate to be quickly appointed.
With just seven weeks to go before polling day, the entourage of 71-year-old former premier Alain Juppe has said he is prepared to take over.
Fillon is a devout Catholic and his surprise win in the Republicans' primary was widely attributed to his conservative social views.
His campaign staff are hoping for a massive turnout on Sunday, helped by the organizing prowess of groups such as Manif Pour Tous, which staged a huge protest against gay marriage in October.
Juppe, who is more centrist than Fillon, is a former premier who was given a suspended jail sentence in 2004 over a party funding scandal.
He would only replace Fillon if the candidate makes the decision to pull out himself, "and the rightwing and center camps... have to be united behind him", a source in Juppe's camp told AFP.                  
Juppe popularity                   
A poll on Friday showed Juppe would vault into the lead if he stood.
Juppe would have 26.5 percent of votes, narrowly ahead of Macron on 25 percent, while Le Pen would slip to third place on 24 percent, according to the Odoxa-Dentsu Consulting survey of 943 people.
Le Pen, 48, campaigning on an anti-immigration and anti-EU platform, has sought to capitalise on the anti-establishment sentiment that propelled US President Donald Trump to power and led to the British vote to leave the European Union.
Polls currently show however that the leader National Front (FN) chief will be beaten in the second round by either the fast-rising Macron or the conservative candidate.