British Home Secretary warns Jews a 'desirable target' for Islamic State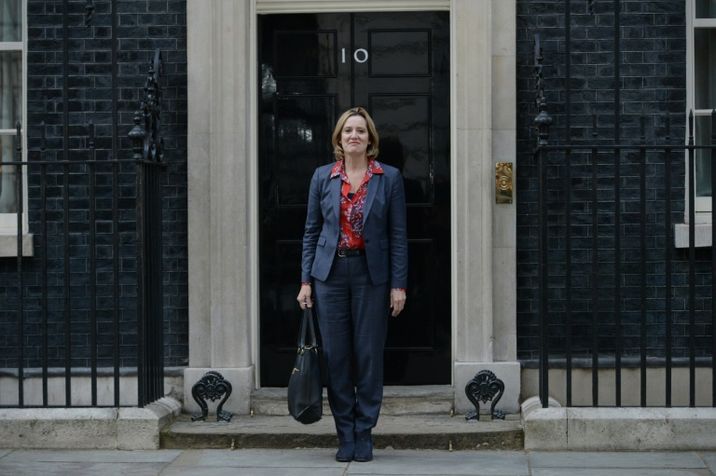 Newly appointed Home Secretary Amber Rudd leaves 10 Downing Street on July 13, 2016
Oli Scarff (AFP)
'If you are victimized we will defend you,' Amber Rudd tells Britain's Jewish community
The Jewish community is a "legitimate and desirable target" for Islamic State militants in Britain, Home Secretary Amber Rudd warned.
During a speech at the annual fund-raising dinner of the Community Security Trust (CST) in London Wednesday, Rudd told attendees, "The most significant threat to the UK and our interests comes from Daesh."
She went on to acknowledge that "We've seen terrorists target Jews specifically in recent years including in Paris, Brussels, Toulouse and Copenhagen."
"Just last month a 16-year-old girl was charged with terrorism offences in Denmark after she was caught planning to blow up a Jewish school. And Daesh literature continues to identify the Jewish community as a 'desirable and legitimate target'," she continued, using the Arabic acronym for the group.
However, she noted that Islamic extremists are not the only threat to the Jewish community and stressed the need to confront rising anti-Semitism and hate crimes.
She explained that in December she banned the neo-Nazi group "National Action," and reviewed the government's plan for tackling hate speech online.
"We are doing what we can to confine anti-Semitism to the history books," she said.
Deputy chairman of the CST Lloyd Dorfman backed the Home Secretary's statements, said the Times of Israel, explaining that "In the 10 years prior to 2016, there were only ever six separate months when the number of anti-Semitic incidents exceeded 100 in the month."
"By comparison, we recently completed eight consecutive months with over 100 incidents in each month, he continued, adding "As the process of leaving the EU unfolds, we must all be vigilant in guarding against attacks on faith, ethnic and national minorities." 
Rudd vowed that the government would continue to support the Jewish community, with her office pledging £13.4 million ($16.4 million, NIS 60 million) to fund security at synagogues, community sites, Jewish schools, and kindergartens.
"It's essential that you all feel safe where you live, work and spend your leisure time," she told the gathering. "If you feel threatened we will listen to you, and if you are victimized we will defend you."