Belgian university invites Palestinian terrorist to speak as part of BDS week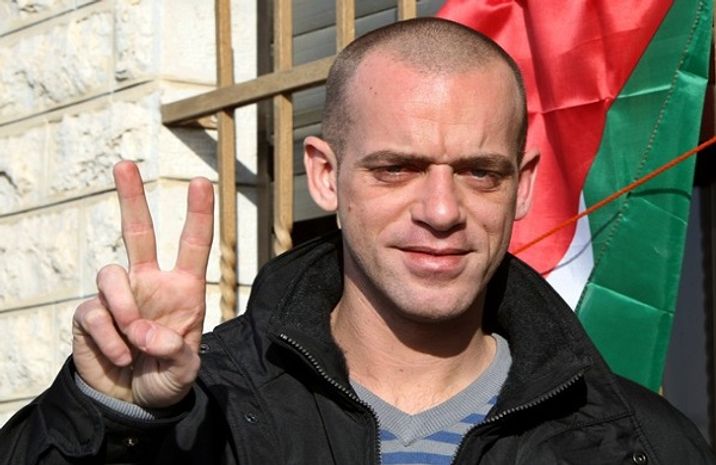 Salah Hamouri
Archives
Decision causes stir in Belgium's Jewish community, especially among Jewish students of Antwerp University
"Is it possible to invite Salah Abdeslam or Mehdi Nemmouche to leave prison?" Joel Rubinfeld, President of Belgian League Against Anti-Semitism said Tuesday as "Israel Apartheid Week" kicks off, part of the Boycott, Sanctions and Divestment movement.
The University of Antwerp in Belgium will host on Wednesday Palestinian terrorist Salah Hamouri, who will be speaking about "the issue of torture and human rights violations in Israeli Prisons."
Salah Hamouri is a French-Palestinian, linked to the Popular Front for the Liberation of Palestine (PFLP), who spent nearly seven years in an Israeli prison between 2005 and 2011 for attempting to assassinate Rabbi Ovadia Yosef, former chief rabbi of Israel and spiritual leader of the ultra-Orthodox Sephardic Shass party.
Hamouri was arrested by Israeli authorities in March 2005. After pleading guilty, he was finally sentenced in April 2008 to half the sentence he was incurring. He was released in December 2011 under a deal with Hamas to release captive Israeli soldier Gilad Shalit in exchange for nearly 1,000 Palestinian prisoners.
Hamouri's speech at the University of Antwerp for "Israel apartheid week" was organized by the extreme left-wing group COMAC, the youth movement of the Labor Party of Belgium, and was approved by the school's director, Herman Van Goethem.
The decision to host Hamouri has caused a stir in the Belgian Jewish community, especially for the Jewish students attending the university.
"I am very disappointed with the event, as the guest is a terrorist convicted of an assassination attempt, released before the end of his sentence,' Jessica Rosenblum, a student at the University of Antwerp, told i24NEWS. "An individual like Hamouri and the hate speech from organizations advocating the BDS movement have no place in Antwerp," she added, denouncing the use of freedom of expression in order to "delegitimize Israel."
'Freedom of expression'
The Association of Jewish Students at the University wrote a letter to the University director, detailing their outrage over the event, a copy of which was obtained by i24NEWS.
In his reply Van Goethem defended "freedom of expression", and said that the university he runs has the right to organize evenings with a "political" theme, especially to allow those who want to express their opinion on the concept of "Apartheid linked to the concept of the Jewish state" to be heard.
For him, Salah Hamouri's conviction for terrorism "cannot justify a refusal" to allow him to appear at the event.
Additionally, Hamouri "served his sentence of seven years and pleaded guilty as part of an agreement to reduce his sentence," Van Goethem said.
"Preventive censorship in the context of freedom of expression is fundamentally unacceptable," he added. "It will be an opportunity to ask critical questions and debate. I see no reason not to organize this evening."
"I sincerely hope that this debate, which I am sure will be a robust one, will facilitate a meeting of minds on a topic where, in my opinion, a far too great polarization prevails," concluded Van Goethem.
'Just invite Salah Abdeslam or Mehdi Nemmouche'
The president of the Belgian League against Anti-Semitism (LBCA), Joël Rubinfeld, contacted by i24NEWS, criticized the organizers' decision to invite Hamouri to give a talk.
"Would COMAC consider inviting Salah Abdeslam or Mehdi Nemmouche to leave the prison to infect the minds of our young academics?" he charged.
Rubinfeld also stressed the "inconceivable" idea of "giving a platform to a terrorist." "Are the organizers of this event not complicit in incitement to terror," he inquired.
The LBCA has told i24NEWS it put in a request with the the Ministry of the Interior to expel Salah Hamouri from Belgian territory.
"He was released as part of an exchange," André Gantman, a member of the Antwerp Municipal Council and former president of the Jewish association B'nai B'rith in Antwerp, told i24NEWS, referring to the Shalit deal.
"The problem is not a legal but a moral one," he said, adding that "Hamouri has never expressed any regrets."
For Gantman, the director Herman Van Goethem bears responsibility for this "inadmissible" event, effectively "allowing his university be violated a killer."
Echoing this sentiment, student Israel supporter Jenny Aharon told i24NEWS the "dialogue" argument is misleading. For her, the problem is not confronting opposing views, but "debating with a killer."
The university's spokesperson did not respond to i24NEWS' request for reaction.
Salomé Fitoussi is an i24NEWS reporter and editor