European rabbis: ruling on religious symbols shows faithful 'no longer welcome'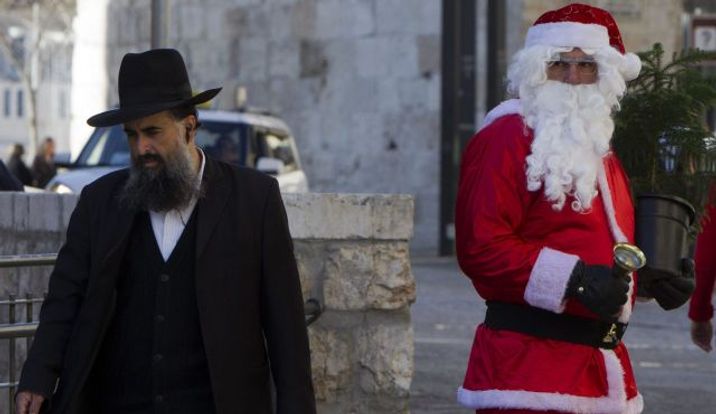 An ultra-Orthodox Jewish man walks past a man dressed up as Santa Claus
AFP
Council of European Rabbis says leaders must ensure 'Europe does not isolate religious minorities'
The main Orthodox rabbinical alliance in Europe on Tuesday said a European Union court ruling allowing employers to prohibit staff from wearing religious garb and symbols was a signal that "faith communities are no longer welcome", the Jewish Telegraph Agency (JTA) reports.
The EU's top court ruled that employers could enforce a ban as long as it was based on the company's internal rules requiring all employees to "dress neutrally" and cannot be based on the wishes of a customer, the ruling said.
"An internal rule of an undertaking which prohibits the visible wearing of any political, philosophical or religious sign does not constitute direct discrimination," the Luxembourg-based court said.
"This decision sends signals to all religious groups in Europe," Rabbi Pinchas Goldschmidt, the president of the Conference of European Rabbis, said in a statement on Tuesday. "With the rise of racially motivated incidents and today's decision, Europe is sending a clear message; its faith communities are no longer welcome. Political leaders need to act to ensure that Europe does not isolate religious minorities and remains a diverse and open continent."
The wearing of religious symbols, and especially Islamic symbols such as the headscarf, has become a hot button issue with the rise of populist sentiment across Europe, with some countries such as Austria considering a complete ban on the full-face veil in public.
The leader of the far-right French party National Front, Marine Le Pen, has said she would ban "all religious symbols" in public if elected president, seeing it as a "sacrifice" necessary to fight against radical Islam.