Berlin food festival highlights diversity of Jewish cuisine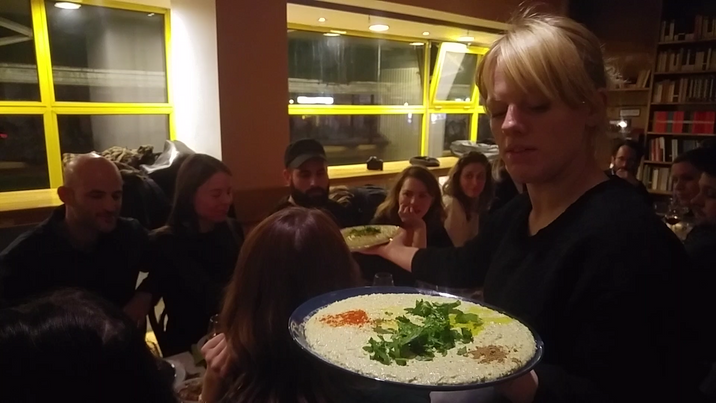 Jerusalemite Hummus served at the Yemenite Shabbat dinner
Polina Garaev
'Food is a great window into a culture, and it's a great entry point for people to ask questions and learn'
Tzimmes, Kreplach and chopped liver – this is what most people think of when they envision Jewish cooking. But Berlin's first Jewish Food Week aims to change that, introducing flavors ranging from Ethiopian Injera bread for breakfast to a Moroccan Shabbat dinner.
The event-packed NOSH BERLIN festival, which concluded on Sunday, was inspired by Berlin's multiculturalism, says founder Laurel Kratochvila, a Jewish-American owner of an authentic bagel shop in the German capital.
"We have all these communities here in Berlin, and when we say 'Jewish food,' we don't mean Ashkenazi food – we mean food of the diaspora. There is this misunderstanding – people thinking it's just Gefilte Fish or Hummus. So we thought of organizing a couple of workshops and maybe a Shabbat dinner, but it became a gathering of people that want to represent the diversity of modern Jewish cuisine."
Among the chefs to join forces with Kratochvila was Itay Novik, Israeli food stylist living in Berlin. He orchestrated a sold-out modern East European Shabbat dinner at Germany's oldest active synagogue, located in the trendy Prenzlauerberg borough.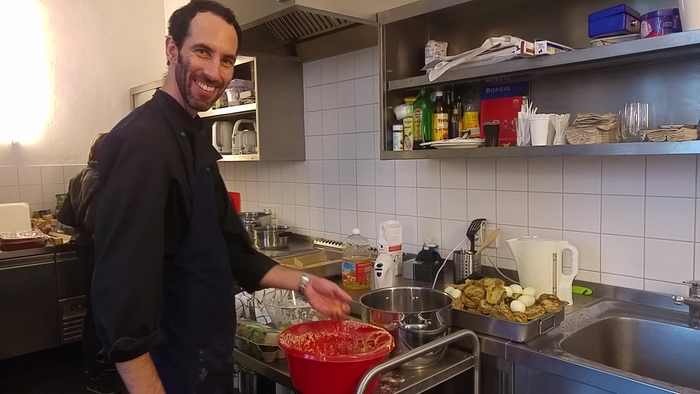 Serving classic dishes with a twist, like Salmon fillet with dill sauce and kompot jelly with pink plum whipped cream, Novik aimed to mend the poor reputation of Ashkenazi cooking.
"I don't cook like my grandmother did. I still stick to the tradition, but with my own interpretation," he told i24NEWS. "Everyone thinks it's so gray but it can also be colorful. It's all about fine tuning – you don't have to cook the ingredients until they look like all flavor was washed away."
While Novik's team was busy folding Kreplach dough and grinding enough eggplants to feed 90 people, in another part of town, well-known Israeli food writer, television host, restaurant critic and cook Gil Hovav was pouring bowls of steaming slow-cooked Yemenite soup, to be served alongside Kubaneh (overnight yeast-risen bread) and hard boiled eggs.
Berlin is only the latest stop in his travels around the world with partner American-Israeli food writer Adeena Sussman, organizing pop-up Yemenite dinners for unsuspecting foreigners.
"I just hope we won't burn them all," noted Hovav, planning to warn the 34 guests. "We are serving Schug [Yemenite Hot Sauce], Chilbeh [whipped fenugreek spread], beef soup – these are all spicy foods and they should be a bit careful. Yemenite food is just the complete opposite than Polish food."
The organizers hope that exposure to the stark variations in Jewish cuisine would teach guests – many of them non-Jewish Germans – something new about Israeli society and the Jewish diaspora.
"In Israel alone there are over a hundred immigrant groups and each has its own ethnic cooking tradition," noted Sussman. "So you'll find that a Yemenite chicken soup is totally different than an Ashkenazi chicken soup, which is totally different than an Indian Jewish chicken soup.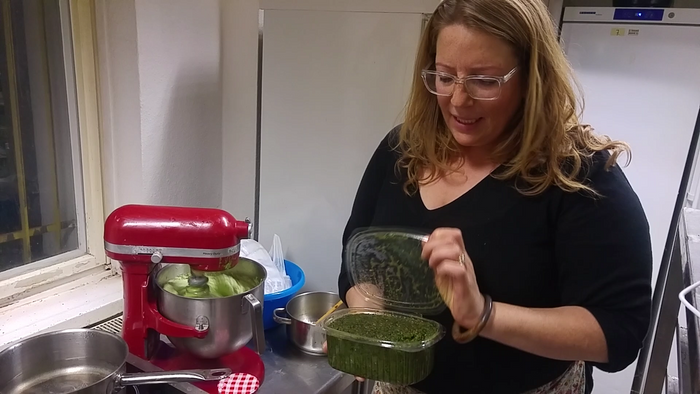 "Food is a great window into a culture, and it's a great entry point for people to ask questions and learn, for example, about the story of Yemenite immigrants to Israel or about the foundation of the state of Israel."
While Israeli restaurants have been emerging in recent years all across Berlin, as well as in other major cities worldwide, strictly Jewish food establishments are still hard to come by.
"What we are cooking here is Jewish food, it's not Israeli food," stressed Hovav. "The difference is that Jewish food is usually kosher, Israeli food is usually not. The Israeli food is also much more modern. We Israelis are notorious for being disobedient, so we tend to mix everything and do it our way, without any regard for rules. But Jewish food is very specific and it has its own tastes and beliefs."
Jewish cuisine is becoming more recognized for its own virtues, as opposed to just as a part of Jewish culture, argued Sussman, especially for its use of fresh seasonal ingredients and as the "original slow food," since it is often cooked overnight in preparation for Shabbat.
And yet few are expecting Jewish food to soon catch up with the popularity of Israeli cooking.
"Israeli food is sexy, it's fresh and light, and Ashkenazi food for the most part is based on austerity. It's a comfort food, but it doesn't have the same sex appeal as the Mediterranean dishes," explained Kratochvila.
"Globally I do see a bit of a revival, especially by younger people bringing back a certain kind of quality to this starchy kind of cooking. But at the same time, I like the old European cooking, and maybe it plays a different, nostalgic function, whereas the new Tel Aviv kitchen is more about breaching boundaries. I think there is space for both, and it's all a part of what is Jewish cooking today."
Polina Garaev is the i24NEWS correspondent in Germany.