Erdogan clinches victory in Turkey referendum as opposition cries foul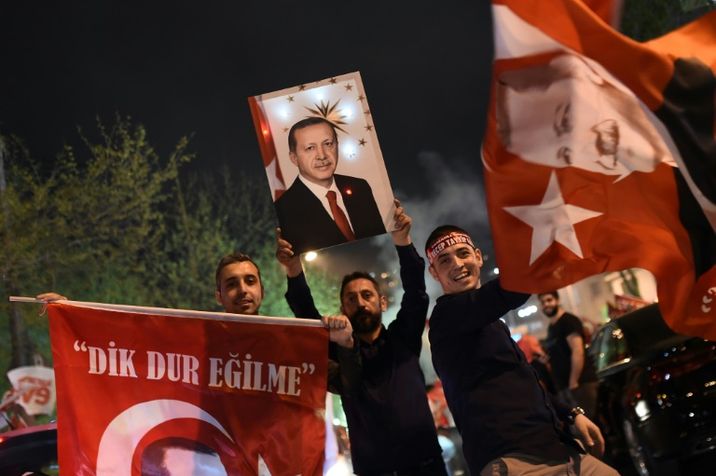 Des partisans du président turc Recep Tayyip Erdogan, le 16 avril 2017 à Istanbul
OZAN KOSE (AFP)
Voting showed Turkey deeply divided over the sweeping changes, with 'No' voted in the three biggest cities
Turkish President Recep Tayyip Erdogan narrowly won a historic referendum on Sunday that will tighten his grip on power, but the knife-edge result left the country bitterly divided and the opposition crying foul.
The sweeping constitutional changes approved in the vote create a presidential system that will grant Erdogan more power than any leader since modern Turkey's founder Mustafa Kemal Ataturk and his successor Ismet Inonu.
The 'Yes' campaign won 51.4 percent of the vote against 48.6 percent for 'No', the election commission said in figures quoted by state news agency Anadolu, in a count based on 99.5 percent of the ballot boxes.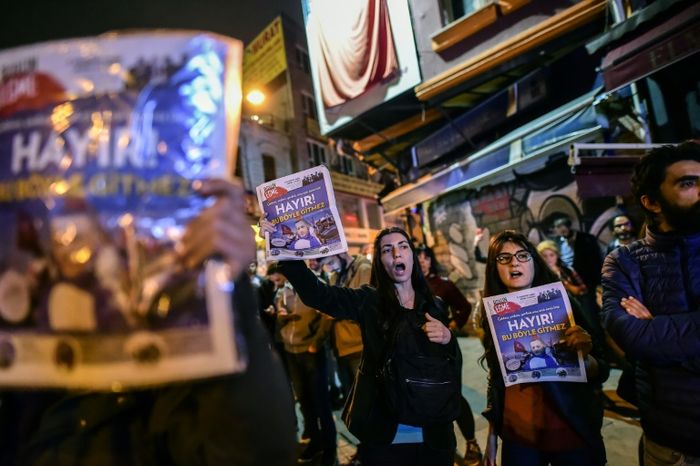 As huge crowds of flag-waving supporters celebrated on the streets, Erdogan praised Turkey for taking a "historic decision".
"With the people, we have realized the most important reform in our history," he added.
Supreme Election Board chief Sadi Guven confirmed that the 'Yes' camp had emerged victorious, but the opposition has vowed to challenge the outcome.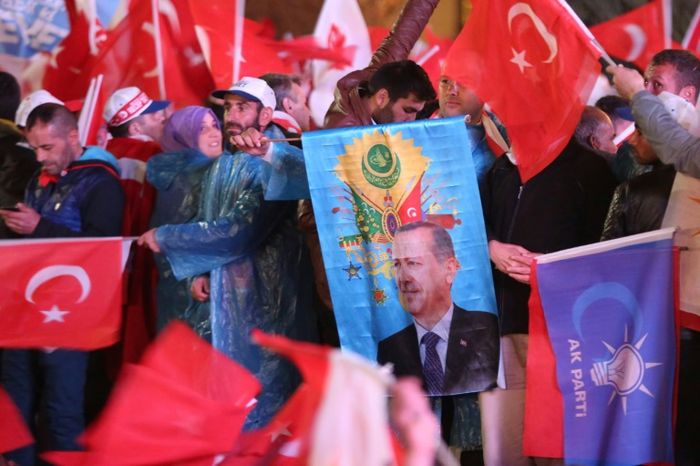 The referendum was held under a state of emergency that has seen 47,000 people arrested in an unprecedented crackdown after the failed military coup against Erdogan in July last year.
In a television interview on Friday Erdogan had predicted a far clearer victory saying polls showed a 55-60 percent share of the vote.
But voting patterns showed Turkey deeply divided over the changes, with the 'No' vote victorious in the country's three biggest cities.
Turkey's two main opposition parties said they would challenge the results over alleged violations.
The pro-Kurdish Peoples' Democratic Party (HDP) said it would challenge two-thirds of the votes, saying: "There is an indication of a 3-4 percentage point manipulation of the vote."
Republican People's Party (CHP) chief Kemal Kilicdaroglu said the actions of the election authorities "caused the referendum's legitimacy to be questioned".
A statement issued by European Commission head Jean-Claude Juncker and EU foreign affairs chief Federica Mogherini said that in view of the closeness of the result, the Turkish authorities need to seek the "broadest possible national consensus" for the changes.
Read more:
Tense Turkey decides its 'destiny' in vote on Erdogan powers
Turkey's Kurds vote in key referendum battleground
Sunday 16 April 2017
6:06 PM
"In view of the close referendum result and the far-reaching implications of the constitutional amendments, we also call on the Turkish authorities to seek the broadest possible national consensus in their implementation," says a statement issued by European Commission head Jean-Claude Juncker, EU foreign affairs chief Federica Mogherini and EU Enlargement Commissioner Johannes Hahn.
6:05 PM
EU urges Turkey to seek 'national consensus' after referendum
5:29 PM
Election chief confirms 'Yes' camp wins referendum.

"According to the results, it is the 'Yes' that has emerged" victorious, said Supreme Election Board (YSK) chief Sadi Guven, adding that final results would be issued in the next 11 days.
5:25 PM
Turkey opposition CHP chief questions legitimacy of referendum, say its open for debate
5:24 PM
Erdogan says new system of government to be enacted after Nov. 3, 2019 elections: Turkish media
4:50 PM
Erdogan says could hold referendum on bringing back death penalty
4:49 PM
Turkish President Recep Tayyip Erdogan on Sunday called on foreign powers to respect the outcome of the referendum granting him extra powers, after a campaign marked by bitter tensions with the European Union.

"We would like other countries and institutions to show respect to the decision of the nation," he said, calling allies to now show greater awareness of Turkey's "sensitivities" in the "fight against terror."
3:09 PM
The pro-Kurdish Peoples' Democratic Party (HDP) said that whatever the result, it would challenge two-thirds of the vote, saying: "There is an indication of a 3-4 percentage point manipulation of the vote."

The deputy head of the Republican People's Party (CHP), Bulent Tezcan, denounced "violations" by the election authorities while another CHP deputy head, Erdal Aksunger, said it could appeal up to 60 percent of the vote.
2:35 PM
President Erdogan congratulates heads of AK Party, MHP and BBP, declares referendum victory: Turkish media
2:20 PM
Main opposition party is demanding a recount of up to 60 percent of votes, Pro-Kurdish HDP reporting they have information that there is 3 to 4 percent voter fraud
2:11 PM
Though still in the lead, the 'Yes' camp didn't win as many votes as expected, says Deputy Prime Minister Veysi Kaynak to reporters in Turkey's capital, Ankara: Reuters
1:49 PM
The Turkish Prime Minister Binali Yıldırım is expected to make a statement at 2100 local time, 1900 GMT
1:48 PM
98.5 percent of the ballots counted with 51.49 percent 'Yes' and 48.51 percent 'No' reports Anadolu Agency
1:42 PM
With 92 percent of vote counted, results show 'yes' side lead narrows to 4 points: state media
1:35 PM
Ankara votes majority 'No' for the first time after 93 percent of votes counted, according to CNN Turk.



Turkey's three biggest cities Ankara, Istanbul, and Izmir have all voted with a 'No' majority.
1:31 PM
Last votes are being counted with 'Yes' just barely in the lead
1:19 PM
60 percent of Turks living abroad voted yes
1:17 PM
Polling group EuropeElects predicts that 'Yes' will win at about 51%
1:17 PM
In a tweet, former MP with main opposition party says the Supreme Election Council has stopped sharing ballot data with the party
1:14 PM
Majority of Turkish voters living in the UK have voted 'No" with only 19.53 percent 'Yes' votes
1:06 PM
'Yes' leads with 52.7% in Turkey referendum after 90% count of vote: state media
12:55 PM
Unofficial results of Turks voting from Germany show 63.61 percent said 'Yes' and 36.39 percent said No': Anadolu
12:35 PM
With 61 percent of the votes counted 58 percent are 'Yes' and 42 percent 'No'
12:33 PM
Deputy chair of opposition CHP accuses electoral board of allowing vote fraud after accepting unstamped ballots.

"The High Electoral Board has failed by allowing fraud in the referendum," CHP deputy chairman Bulent Tezcan told reporters at the party's headquarters in Ankara.
12:30 PM
Referendum supporters headed to the presidential palace to celebrate referendum vote: Turkish TV
12:18 PM
'Yes' now leads with 57.5% in Turkey referendum after 51% count of vote
12:16 PM
In Izmir, unofficial results revealed that the majority voted 'No' on the referendum with 64.73 percent and 35.27 voting 'Yes' while in Turkey's capital, Ankara, majority voted 'Yes' according to unofficial resutls: Anadolu
12:13 PM
There was 80 percent turnout on today's referendum vote and over 40 percent has now been counted; 59% 'Yes', 41 percent 'No'
12:11 PM
Turkey's election body has lifted its broadcast ban on voting: Anadolu
12:07 PM
With 40 percent of the vote counted 60 percent 'yes', 40 percent 'no'
11:52 AM
In a count based on 25 percent of the ballot boxes the 'Yes' campaign has won 63.2 percent of the vote while the 'No' campaign has mustered 36.8 percent, the election commission said in figures quoted by the NTV channel.

The result could still change as more ballot boxes are counted across the hugely diverse country following the close of polls at 1400 GMT.
11:51 AM
According to a Turkish opposition official. the electoral board decision to accept unstamped ballots will cause 'serious legitimacy problem,' reports Reuters
11:47 AM
'Yes' vote is leading in initial count for referendum on expanding Erdogan powers: TV
11:39 AM
Pro-government media reports that of 21% votes counted results show 64% voted yes, and 35% no
11:27 AM
Counting of votes has begun as Turks anxiously await results.
For the changes to be implemented the 'Yes' camp needs to win 50 percent plus one vote
11:25 AM
Polls now closed in Turkey's referendum; results expected late Sunday: AP
6:25 AM
The sale of alcohol has been banned across Turkey until midnight in order to maintain public order during the tightly contested referendum vote.
5:56 AM
Erdogan says referendum is vote for Turkey's future. "We carried out some referendums (in the past) but this referendum is a choice of change and transformation for a new administrative system in the Turkish Republic," he told reporters after casting his vote in an Istanbul school. "God willing, this evening our people will walk to the future by making the expected choice."
5:52 AM
Turkish president Recep Tayyip Erdogan cast his ballot in Istanbul, telling reporters "we have faith in the common sense of the Turkish people, results will hopefully show this," according to the Daily Sabah newspaper.
5:48 AM
Turkish Prime Minister Binali Yıldırım cast his vote in the western province of İzmir. Yıldırım said "no matter what the result is, we will welcome it. The decision that our people give is the best one," adding that he had carried out his duty as a citizen by voting," according to the Hurriyet newspaper.
5:43 AM
Turkish foreign minister Mevlut Cavusoglu slammed what he said were attempts by foreign countries to influence the referendum as he cast his vote in the southern province of Antalya. Cavusoglu said that unspecified foreign countries ''tried to tell the Turkish nation what to do. They took sides but today the decision belongs to our nation." While his comments were not directed at any country in particular, it comes after highly publicized spats with Germany and The Netherlands over campaigning.
5:40 AM
Two people were reported killed after clashes erupted at a polling station in Diyarbakir, in eastern Turkey, according to Turkish media outlets. CNN Turk reports that the Gendarmerie has launched an investigation into the incident, while military reinforcements have been sent to back up the troops.
2:34 AM
More than 33,500 police officers will be on duty in Istanbul alone on referendum day, according to Turkish media. Authorities in Istanbul on Friday detained five people suspected of planning an attack on polling day, following the arrest of 19 alleged Islamist extremists in the Aegean city of Izmir earlier in the week.
1:23 AM
First polling stations open in Diyarbakir and other cities of eastern Turkey at 0400 GMT, with voting in Istanbul, Ankara and other cities nationwide due to begin an hour later at 0500 GMT.