In Israel, US defense chief meets Netanyahu, Lieberman on Iran, Syria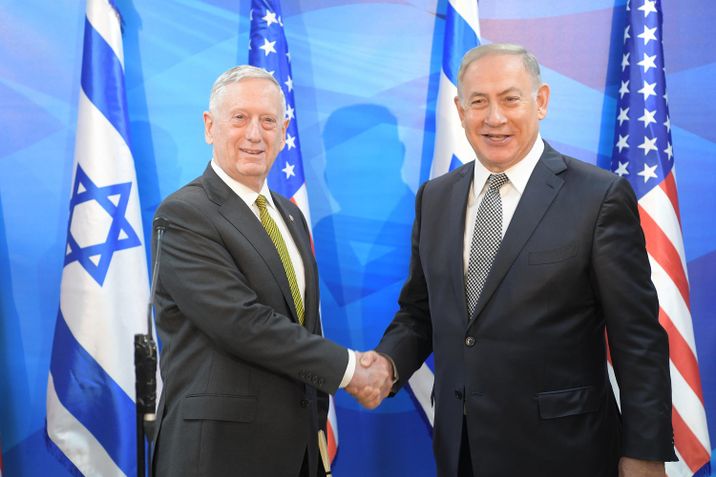 US Defense Secretary James Mattis and Israeli PM Benjamin Netanyahu, April 21, 2017
GPO
Mattis accuses Iran of using Hezbollah to prop up Syria's Assad; Lieberman says Iran center of 'axis of evil'
United States Defense James Mattis arrived in Israel on Thursday evening on the third day of a five day tour of the Middle East, where he will hold talks on the Syrian civil war, US policy on Iran, and the two countries' close strategic relations.
On his first visit to Israel in his current capacity, Mattis met with Defense Minister Avigdor Lieberman, Prime Minister Benjamin Netanyahu, and President Reuven Rivlin.
Mattis was greeted on Friday morning with an honor guard at the Israeli military headquarters in Tel Aviv, before retreating for closed-door talks with Lieberman.
Mattis then traveled to Jerusalem to meet with Prime Minister Benjamin Netanyahu, who welcomed what he said was "a great change in the direction of American policy."
"Israel has no better friend than America. America has no better friend than Israel. And this is a partnership based on common values in the deepest sense of the word," Netanyahu said.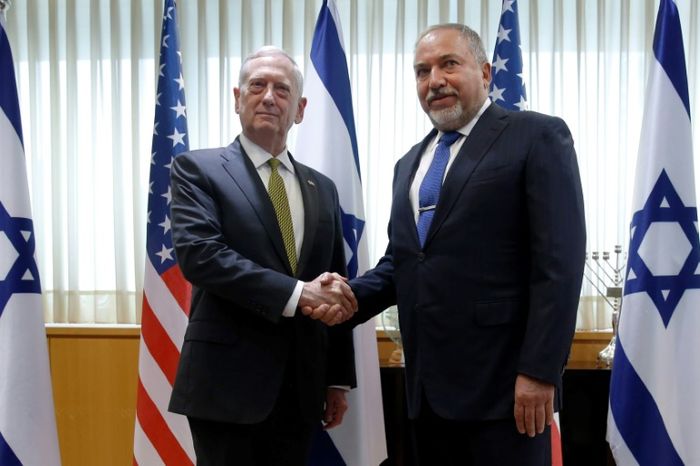 In a joint press conference with Lieberman following their meeting, Mattis said that Iran continues to threaten Israel with ballistic missiles, and accused Tehran of using the Lebanese terror group Hezbollah to prop up embattled Syrian president Bashar Al-Assad.
He also said that there is "no doubt" that Syria has retained some chemical weapons, but declined to comment on the number of weapons Washington believes Assad's regime has retained.
Lieberman, meanwhile, said that "the axis of evil between North Korea, Tehran, Damascus and Beirut" was a threat not just for Israel, "but for the entire world."
He said that the common link is "Iran, which tries to destabilize the Middle East," and that Israel and the US will work together to "overcome the treats and bring peace and stability to the region."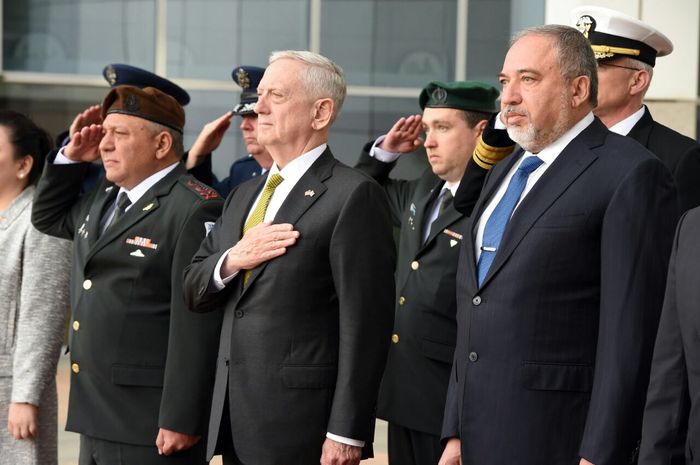 In Jerusalem, Netanyahu noted that Mattis' "very clear and forthright words [about Iran] follows very strong and forthright words on the part of President Trump and very forthright deeds against the use of chemical weapons by Iran's proxy, Syria. "
The Pentagon chief followed Netanyahu's remarks by reiterating the US's commitment to Israel's security and stability in the region.
"The two dangers that face Israel and all of the other nations in the region that are trying to maintain a stable and peaceful and prosperous region are those that I'm here to discuss."
Mattis, who is visiting Israel the same week as Holocaust Remembrance Day, said that "it's important that we remind ourselves that if good people don't band together then bad people can do a lot of damage in this world. And we're committed to stopping that and doing whatever it takes to pass on peace and freedom to the next generation."
Mattis is scheduled to participate in a wreath-laying ceremony at the World Holocaust Remembrance Center.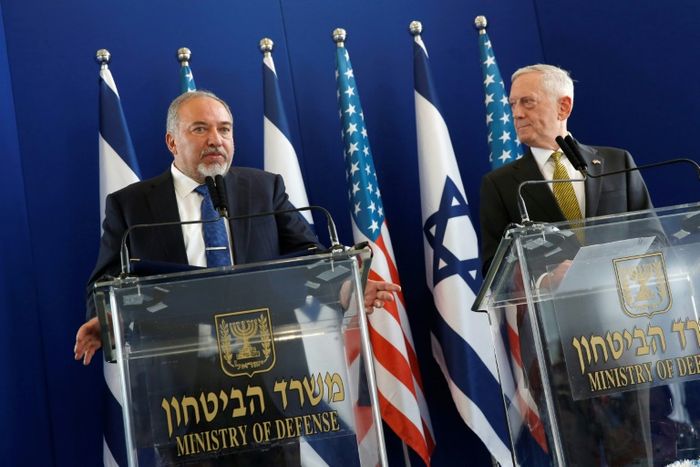 Israel is the third stop on Mattis' Mideast tour, following visits to Saudi Arabia and Egypt, where he held talks with president President Abdel Fattah al-Sisi.
Prior to his visit, a US defense official said that Mattis hopes to hear directly from Israeli leaders on their concerns and what they expect from the Trump administration.
Iran's influence is at the top of the list for Israel, a worry shared by the United States. Trump has denounced Iran's "harmful influence" in the Middle East.
Israel is closely watching Iran's presence in neighboring Syria, where it is backing President Bashar al-Assad.
Israeli enemy Hezbollah is also fighting with Assad in Syria. Israel fought a devastating war against the Iran-backed Lebanese Shiite movement in 2006.
Testy relations between former president Barack Obama and Netanyahu reached a low point over a 2015 nuclear deal between Iran and world powers, led by Washington.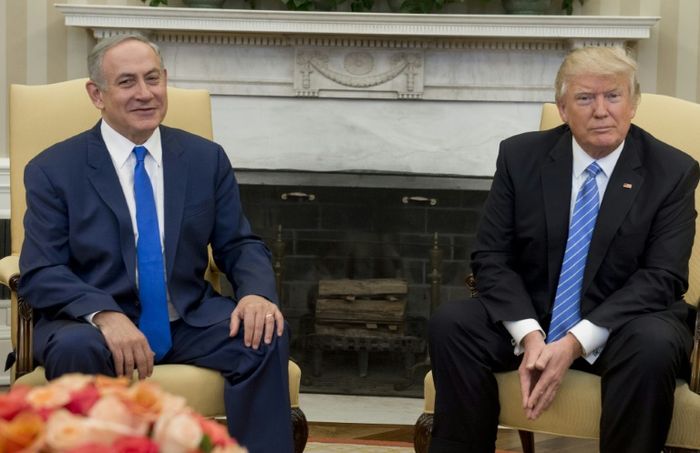 Obama pushed hard for the agreement, but Netanyahu fiercely opposed it, arguing it will not prevent Iran from obtaining nuclear weapons and that the lifting of sanctions would allow it to support proxy groups in the region.
Trump also harshly criticized the deal, and on Thursday said Iran was "not living up to the spirit" of the agreement, adding that the United States would set out its position on it soon.
Israel and the United States have long had close strategic ties, with Washington providing Israel more than $3 billion per year in defense aid and President Donald Trump pledging unstinting support for the country.
Mattis will next travel to Qatar, where he is to "meet with key international leadership and continue efforts to strengthen regional security architectures."
His final stop is Djibouti, where he is to meet with Presidnet Ismail Omar Guelleh to "further the US-Djibouti commitment to promoting regional stability."
(Staff with agencies)
You need to be logged in in order to post comments. Sign up or log in
Is Mattis changing his opinion about Israel?