Tel Aviv shows solidarity with victims of deadly Manchester attack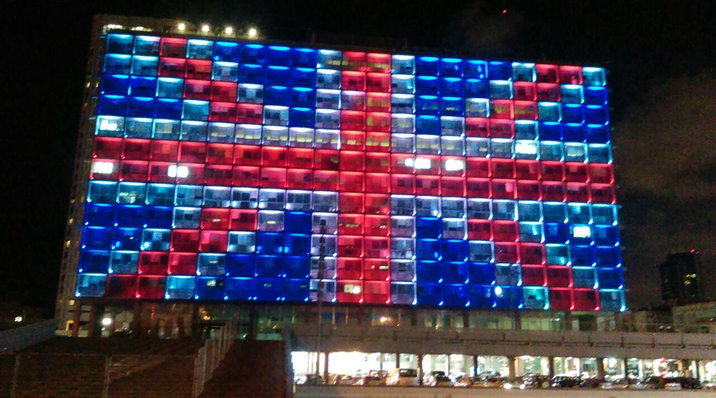 La ville de Tel Aviv rend hommage aux victimes de l'attentat de Manchester
Mairie de Tel Aviv - Twitter
Union Jack colors were projected upon the face of several world monuments as the world mourns with Manchester
A Union Jack flag was projected on the face of Tel Aviv's city hall on Tuesday evening, in solidarity with the victims of the deadly Manchester attack, which took at least 22 lives and left 59 injured during what was the deadliest attack on UK soil in 12 years.   
"A sad morning here in Tel Aviv as our hearts go out to the people of Manchester," Tel Aviv's mayor Ron Huldai tweeted. "Tonight we will light the Municipality with Union Jack."
Cities across the world also projected Union Flag colors on their monuments to shows solidarity with the people of Manchester.
A Union Jack was projected onto Berlin's Brandenburg Gate on Tuesday evening and the Orlando Eye was ignited blue, white and red lights with a tweet saying: "our heart goes out to those affected by the attack on the Manchester Arena. Tonight the Eye will be lit in Union Jack colors."
England's Penshaw Monument also shone with Union Flag colors with a simple message on twitter saying "we stand with Manchester."
Belfast's city hall building was also lit up with red, blue and white lights on its face in solidarity and the Burj Khalifa tower in Dubai hoped to send a powerful message by projecting a Union Flag which lit up the night sky among the city's other skyscrapers.
Tributes poured in for Manchester from around the world on Monday including from London mayor Sadiq Khan, whose city was struck by a terror attack just two months ago.
"Our thoughts are with all those killed and injured tonight and our brave emergency services," he said.
The pop world also rallied with Katy Perry tweeting: "Praying for everyone at Ariana Grande's show".
US pop princess Taylor Swift, a friend of Grande, wrote: "My thoughts, prayers and tears for all those affected by the Manchester tragedy tonight".
In Manchester, residents tweeted with the hashtag #RoomforManchester to offer a place to stay and there were reports of taxis taking passengers for free.
Concerned relatives used the hashtag #MissinginManchester to locate loved ones.
Train services to and from Manchester Victoria Station -- located under the Arena -- had been cancelled.
"Disruption is expected to continue until the end of the day," National Rail said in a statement.
A few hours after the blast, police carried out a controlled explosion in a small park near the venue a but said the item turned out to be only abandoned clothes.