'Earth to Trump: F**k you!': Germans frustrated by announcement on climate deal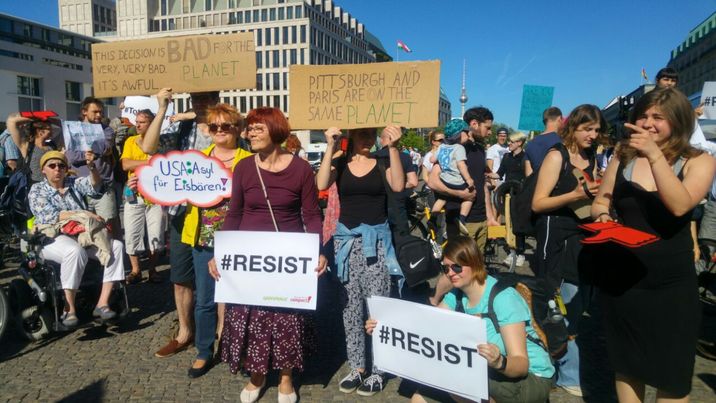 Protesters against US withdrawal from climate accord in Berlin
Polina Garaev
German media outlets join Merkel and her main rival in slamming Trump's announcement of US withdrawal
German Chancellor Angela Merkel is outraged – and she is not alone. Concerned German citizens, as well as its media, on Friday joined their "disappointed" chancellor in criticizing President Donald Trump's decision to withdraw the US from the Paris climate agreement.
"This is an unfortunate decision, to put it mildly," Merkel said Friday morning as she addressed parliament to comment on Trump's announcement. She refrained from attacking the US president directly, instead calling for the remaining members of the treaty to "look to the future" and tackle the challenges of climate change with "greater resolve than ever before."
But German media outlets were not nearly as kind, describing Trump's decision as anything from a "betrayal of humankind" to "moral bankruptcy" and a declaration of war on the planet.
The respected weekly Der Spiegel suggested in its online headline that Trump gave the world "the finger," while Berlin's local tabloid Berliner Kurier was even more blunt: "Earth to Trump: F**k you!" read its cover Friday morning.
Putting aside briefly the environmental and diplomatic rectifications of the move, some commentators tried to "reason with Trump" in terms he might understand, warning of the damage to the US economy and status.
"The US will be left behind," warned Sonya Angelica Diehn, who heads the environment team at Deutsche Welle, Germany's public international broadcaster. "It will be disadvantaged economically in the long run. Pulling the US out of the Paris agreement makes America weak."
The criticism of Trump even brought together Merkel and her political opponents, including Martin Schulz, her main rival in the upcoming federal elections in September. "You can withdraw from a climate agreement but not from climate change, Mr. Trump," he tweeted. "Reality isn't just another statesman you shove away."
The local Greenpeace branch also took first action early Friday morning. For about half an hour, shortly before sunrise, activists projected Trump's silhouette onto the American Embassy near Brandenburg Gate, and underneath it the slogan: "#TotalLoser, so sad!"
They also called for a demonstration in the afternoon outside the US Embassy. "With his isolation, the president sabotages climate protection efforts. But he will not derail them - not in the world and not in the USA," said Sweelin Heuss, Managing Director of Greenpeace Germany.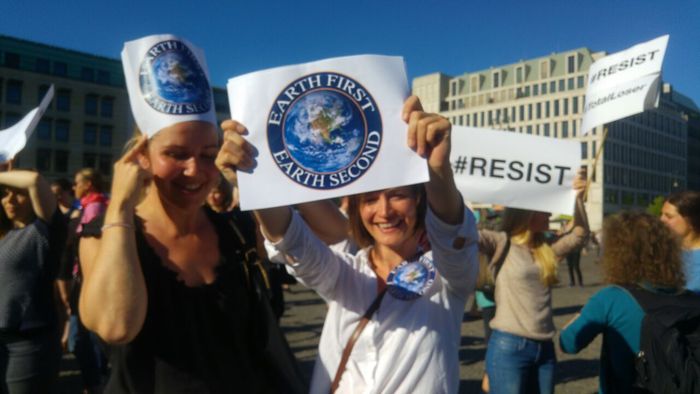 "Earth first, Earth second!" This motto was also chanted by demonstrators that gathered in the afternoon outside the US embassy. Like the German media, they did not hold back in their disapproval.
"It's just a terrifying decision that was made and it's worth going to the streets for," stated Alexandra, from Berlin. Together with her friend Anna, she handed out signs with slogans mocking Trump's decision. "There is no America without our Earth," said Anna.
Peter, another Berliner, had a similar reminder for Trump: "Pittsburgh and Paris are on the same planet," read his sign. "Climate change doesn't stop at your border and you can't deny this fact," he emphasized.
"It's extremely sad that he is making decisions from a very national perspective, without thinking of the international climate," agreed Christian, holding a red thumbs-down sign. "He just doesn't care about it, and this sends a completely wrong signal to the entire world."
Polina Garaev is the i24NEWS Germany correspondent in Berlin.
You need to be logged in in order to post comments. Sign up or log in
such a shame to see this headline by an Israeli media , just self serving Leftie​ agenda. like israel did not have enough negative image with americans, and now this place has gotten itself to further damage it hope this gets sobber over its far Left sooner than later.