Car explodes after hitting police van on Champs-Elysees in 'attempted attack'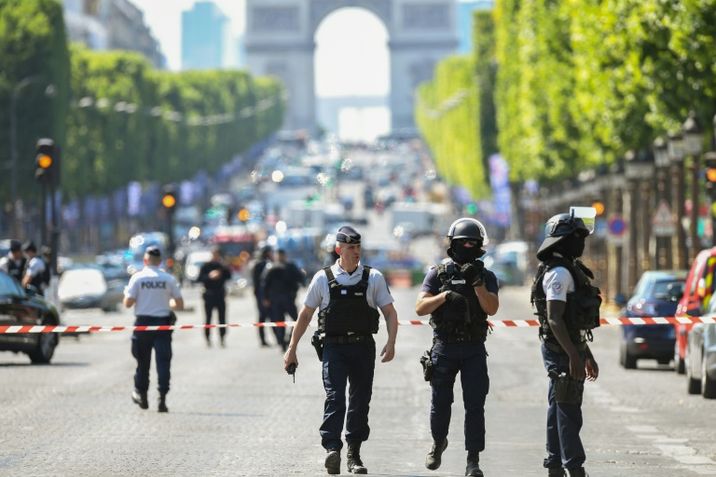 Des policiers sur les Champs-Elysées à Paris, le 19 juin 2017
ALAIN JOCARD (AFP)
Gas cylinder, semi-automatic rifle, handguns, and ammunition cartridges discovered in car, local media reports
A car exploded and burst into flames after it crashed into a police van on the Champs-Elysees avenue in Paris in an "attempted attack" on Monday, killing the driver who was discovered armed with a Kalashnikov rifle, handguns and gas bottles.
France's interior minister Gerard Collomb said that the driver of the vehicle had died following the crash, calling it an "attempted attack". 
"Security forces have been targeted in France once again," Collomb said, adding that the weapons and explosives found in the vehicle "could potentially blow this car up."
France's anti-terror prosecutor has opened an investigation into the incident.
Sources close to the probe said that the 33-year-old suspect had been on a security watchlist since 2015 for membership to "the radical Islamist movement." 
According to France's BFM TV, a gas cylinder, kalashnikov semi-automatic rifle, handguns, and ammunition cartridges were discovered in the vehicle, a Renault Megane.
"A bomb disposal operation is under way to ensure the vehicle poses no further danger," spokesman Pierre-Henry Brandet said at the scene.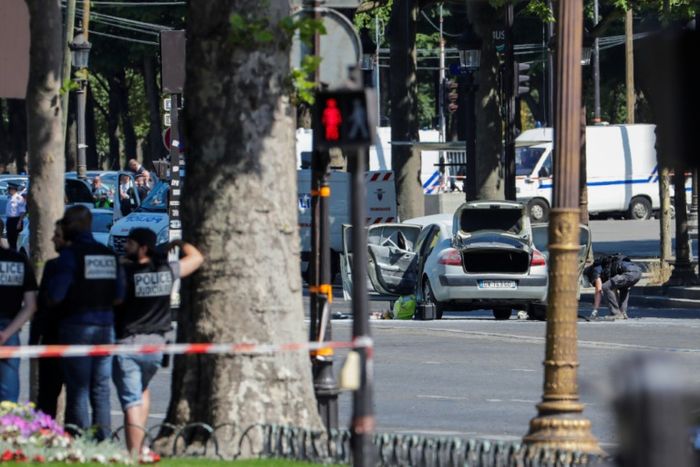 Video showed orange smoke pouring from the car after the impact.
No police or bystanders were injured in the incident near the Grand Palais exhibition hall.
France is in a state of emergency and at its highest possible level of alert since a string of terror attacks that began in 2015, which have killed over 230 people.
Interior Minister Gerard Collomb said announced that in light of Monday's attack, he will put forth a bill to extend the state of emergency beyond its current July 15 expiration date until November 1.
He said that the current situation in France shows a new security law "is needed" and the measure would "maintain a high security level" beyond the end of the state of emergency.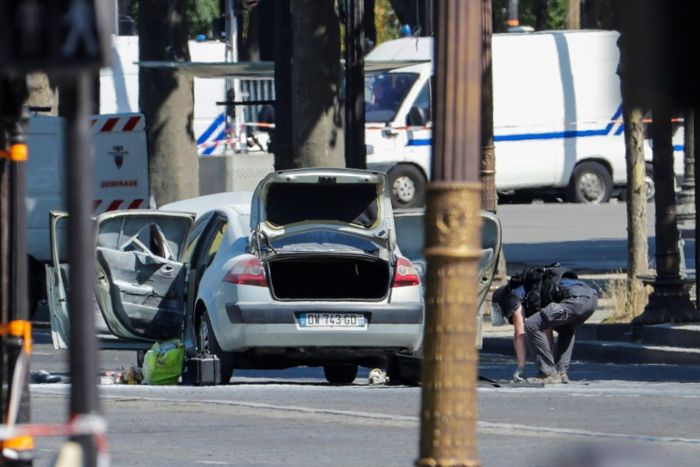 Thousands of troops and armed police have been deployed to guard tourist hot spots such as the Champs-Élysées or other potential targets like government buildings and religious sites.
Monday's incident came just two months after a policeman was shot and killed on the Champs-Elysees, three days before the first round of France's presidential election.
A note praising the Islamic State group was found next to the body of the gunman, Karim Cheurfi, in that incident.
Police later found other weapons in Cheurfi's car including a shotgun and knives.
(Staff with agencies)