German lawmakers outraged by appearance of radical Imam at Berlin mosque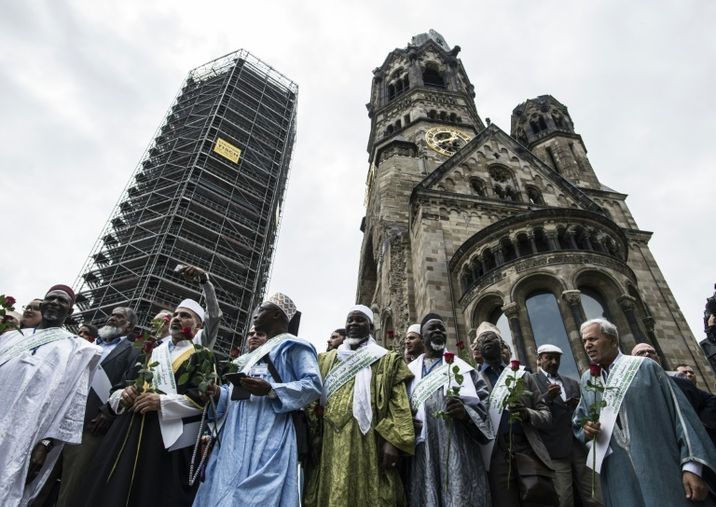 Marche d'imams contre le terrorisme à Berlin, le 9 juillet 2017
Paul Zinken (dpa/AFP)
Danish Imam Abu Bilal Ismail was convicted of incitement in 2015 for calls to 'destroy the Zionist Jews'
BERLIN -- The Danish Imam Abu Bilal Ismail, who was previously fined after calling on supporters to "destroy the Zionist Jews" during the 2014 Gaza war, appeared on Friday in a Berlin mosque, sparking an outcry among German politicians.
According to a report by the Berlin local daily B.Z., the preacher attended a Friday service at the African Mosque in the city's predominantly immigrant neighborhood Neukölln, with police present at the location.
He was originally scheduled to address the some 100 worshipers, but plans were scrapped at the last minute.
A B.Z. journalist in the audience reported that instead of Abu Bilal, the mosque's Syrian-born Imam took the stage, talking during his 30-minute-long sermon about "hypocrisy" in Islam and "spies" working within the congregation.
After the service, the journalist reportedly asked Abu Bilal to comment on his controversial past remarks, but he just laughed.
"Everything was taken out of context," answered one of the preacher's companions instead. "If there were honest press, he [Abu Bilal] would also say something. But we are saying nothing."
Politicians representing the district were outraged that such a visit was allowed to take place.
"Whoever gives a platform to such people, declares war on our democratic society," a lawmaker of Merkel's Christian Democratic Union (CDU), Falko Liecke, told the daily before the Friday service.
"And it is not the first time that this mosque stands out with extremist positions. It is one of the radical hotspots in Berlin. We must proceed with all severity and determination against these Islamists."
"This hatred and violence contradicts everything we stand for," Liecke said, calling on Berlin's interior minister to consider a ban on the mosque.
Another politician from the Free Democratic Party (FDP), Marcel Luthe, accused the Berlin Senate of "learning nothing" from the previous appearances of extremists preachers in other Berlin mosques.
One of them is the Fussilet Mosque that was attended by the Islamic State-affiliated Anis Amri, who deliberately drove a truck into a busy Berlin Christmas market in December. Twelve people died in the attack, including Israeli Dalia Elyakim.
"It [the Senate] does not take seriously the incitement to terrorism that exists under the cover of the religious practice. Such acts are to be carefully monitored, and in the case of criminal offenses such as incitement, immediate action must be taken to enforce our laws," Luthe told the newspaper.
Abu Bilal first made headlines in Berlin after giving a sermon in Neukölln's Al-Nur mosque on 18 July 2014, and saying: "Allah, destroy the Zionist Jews, count and kill them to the last man. Don't spare a single one of them."
A video recording of the sermon surfaced on YouTube, leading to his conviction for incitement in November 2015. He was fined, but authorities were not able to prevent him from entering Germany again in the future.
In a later interview Abu Bilal stated that "I don't mean that all Jews should die. Only those Jews who have killed people in Gaza. I prayed for God to destroy those Jews who kill us. It's not all Jews, because I know Jews who are good toward us."
In 2016, he was caught on tape again, giving a lecture in his Grimhøj Mosque in Aarhus, Denmark, advocating stoning adulterers to death.
"If a married or divorced women engages in fornication, and she is not a virgin, she should be stoned to death," Abu Bilal said in the clip.
The Grimhøj Mosque is known for its support of the Islamic State and according to the Danish authorities, many young men of the congregation have left to fight for the terrorist organization in Syria and Iraq.
Polina Garaev is i24NEWS' correspondent in Germany.