Neo-Nazi rock festival in Germany attracts over 5500 attendees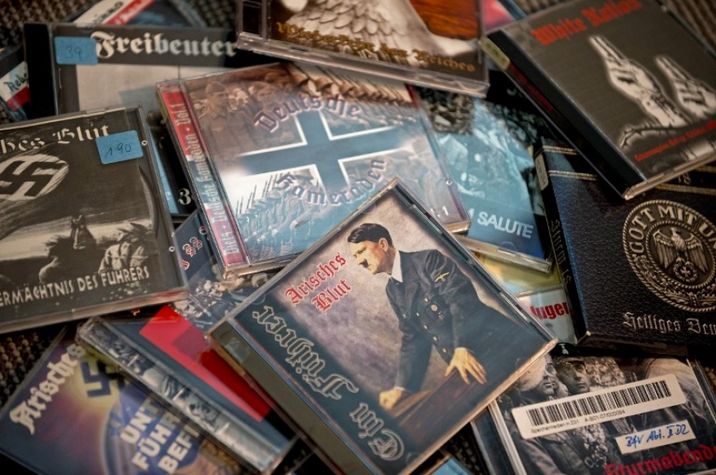 Disques néo-nazis
AFP
Many of the festival-goers were wearing shirts reading 'I love Htlr,' '1933' and 'N.A.Z.I.'
BERLIN - The German police are investigating a video showing a crowd at a far-right rock concert giving the Nazi salute. Almost 6,000 people from Germany, Russia, Hungary and the Czech Republic attended the event on Saturday in state of Thüringia. It featured international music acts associated with the right wing scene and political far-right speakers, including from the German neo-Nazi party NPD.
The event, taking place in Themar, a village of 3,000 inhabitants, was titled "Rock gegen Überfremdung" [loosely translated as "Rock against over-foreignization"]. The German Spiegel Online noted that organizers needed to present a long list of speakers, so the event could be classified as a political protest and could not be banned.
Themar authorities also stressed that all their attempts to prevent the far-right event were in vain. Protest signs against the concert were put up throughout the village, and on the day of the event, 300 demonstrators gathered outside the festival site, alongside some 1,000 police officers.
Police searched visitors before allowing them to enter the fenced-in grounds occupying a large meadow outside of town, but could not go into the tent where the bands and speakers took the stage.
During the festival, 43 of the attendees were charged with various offenses, including displaying forbidden symbols of organizations deemed unconstitutional by the authorities, assault and threats.
According to the Spiegel report from the scene, many of the festival-goers were wearing shirts with the writings that are not considered illegal: "I love Htlr", "1933", "I love NS", the SS slogan "My Honor is Loyalty", "N.A.Z.I." and "HKN KRZ" [short for "Hakenkreuz", swastika in German].
An additional investigation was opened Monday after a video surfaced on social media, showing countless participants raising their outstretched arms and calling "Heil!" The Hitler salute has been prohibited in Germany and Austria since after WW2. A local police spokesperson told the Spiegel that the source of the video is still unknown and they are working to track down the original.
In addition, Thüringia's State Prime Minister Bodo Ramelow announced that he is reviewing ways to limit neo-Nazi gatherings and "no longer dismiss these things as freedom of expression," so to be able to ban such events from the future.
Underground rock concerts, whose location is kept secret and announced only in far-right forums, are a common meeting place for right-wing extremists and are often used for the spread of illegal propaganda. Also legally organized events, like the concert in Themar, are used to finance the activities of the far-right network.
A local politician of the left party Die Linke, Katharina König-Preuss, noted that many of these event take place in Thüringia, due to insufficient counter-protest. "This is a task for the next few years for Southern Thüringia, to push this whole [phenomenon] as far as possible."
Another local lawmaker, Helge Hoffmann (CDU), told the broadcaster MDR: "I hope we won't become now the go-to region for such events. This will greatly damage the region."
You need to be logged in in order to post comments. Sign up or log in
Would have made a wonderful target for a very large bomb