Merkel rival Schulz: Palestinians in Germany have 'deeply rooted anti-Semitism'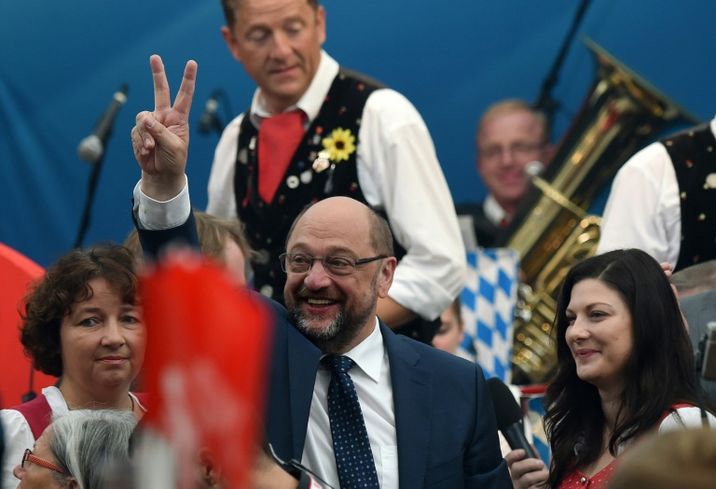 Martin Schulz, leader du SPD, le 4 septembre 2017 à Abensberg
Christof STACHE (AFP)
German Jews have been wary of the center-left challenger
Postmortems of Sunday's hotly anticipated debate between Germany's Chancellor Angela Merkel and her challenger Martin Schulz largely focused on the latter's inability to land a blow upon the seemingly unassailable incumbent, leading a brief foray into the Israeli-Palestinian conflict to go largely unnoticed.
Reports of disputatious phone calls with Israeli leader Benjamin Netanyahu aside, center-right Merkel has been seen as a steady hand at the tiller of Israeli-German relations, while members Schulz's center-left Social Democratic Party (SPD) have made comments displaying a less positive view of the Jewish state.
On Sunday, when asked by a debate questioner whether immigrants from Muslim countries have more difficulty integrating into Germany than those from other cultures, Schulz grasped the opportunity to make a statement that will no doubt be well-received in Germany's Jewish community and among supporters of Israel.
"I don't believe so. In principle, no," he said about Muslim immigration, before adding: "That depends on their education in their countries. There are, for example, young Palestinian men that come to us, that were brought up with deeply rooted anti-Semitism."
"To them we must clearly say: 'in this country you only have a place when you accept that Germany is a country that defends Israel,'" he concluded.
Schulz may have been trying to smooth over a schism with Germany's Jews after he last year praised a speech by Palestinian Authority President Mahmoud Abbas in Brussels as "inspiring" and stayed silent in the face of Abbas' immediately discredited claim that Rabbis are urging Israel to poison Palestinians' water
Pro-Israel SPD lawmaker Fritz Felgentreu told i24NEWS in August that the incident made German Jews "distrust Martin Schulz."
"I believe it was just a blunder, a mistake, but from my discussions with German Jews, it is clear that when you have a series of little signals like that, it can destroy confidence in the SPD's general position," he said. "We have to be much more sensitive of the signals we broadcast and to take the sensitivities of Jewish Germans much more seriously."
The Israeli-Palestinian conflict reared its head even at the outset of the German election campaign, after it emerged that a designated terror group, the Popular Front for the Liberation of Palestine, would be on a joint list with the Marxist-Leninist Party.
Elsewehere in the debate, Schulz accused Merkel of failing to coordinate plans with EU neighbours when she decided to open Germany's borders in 2015 to allow in refugees, many from war-torn Syria and Iraq.
But Merkel was not rattled, countering that: "In the life of a chancellor, there are moments when you have to make a quick decision."
And as Schulz voiced his wish to end EU membership talks with Turkey amid escalating tensions with Ankara, Merkel stole the issue from under his feet as she said she did not "see them ever joining" the bloc.
The bulk of commentary following the debate put Merkel -- chancellor since 2005 -- far ahead of what was seen as a lacklustre show by Schulz.
The vote will take place on September 24.
Polina Garaev, i24NEWS' Europe correspondent, contributed reporting from Berlin.
You need to be logged in in order to post comments. Sign up or log in
September 4, 2017 8:28 PM
anyone who supports Abbas supports terrorism