Terrorism changed European way of life, former France PM Valls tells i24NEWS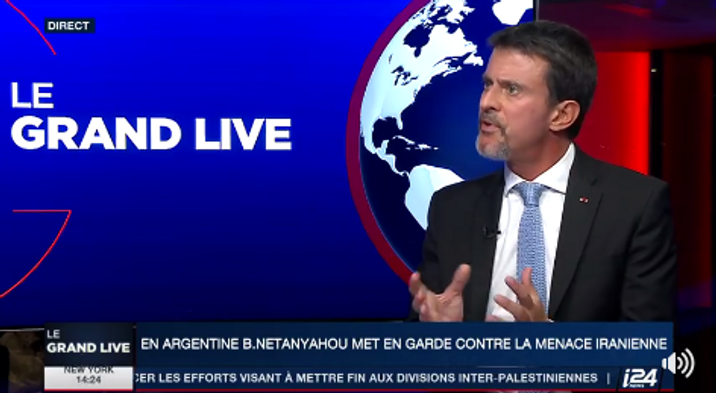 L'Ex-Premier ministre français Manuel Valls dans le Grand Live le 12.09.2017
i24NEWS
The former official is visiting Israel to attend an international conference on anti-terrorism
The emergence of Islamic terror as a threat in Europe has profoundly changed the European way of life, former French Prime Minister Manuel Valls told i24NEWS on Tuesday.
 "In the West and in Europe, we live in carefree societies that do not want to live through war," said the former official, who's on a visit to Israel attending an international conference on anti-terrorism in Herziliya.
Valls, who served as interior minister and then prime minister under former president François Hollande, has also reiterated his condemnation of anti-Semitism: "it must be very clear, I welcomed the statements of Emmanuel Macron when he said that anti-Zionism is a new form of anti-Semitism."
The Spanish-born politician was rejected by Socialist party voters in a primary to choose a presidential candidate for this year's election.
He then infuriated many within the party by announcing he would vote for Macron instead of the Socialist primary winner, Benoît Hamon.
Although he was subsequently rejected by Macron, who said he "doesn't fit the criteria" for his project of letting the wind of change into French politics, Valls told i24NEWS that "This renewal, the French wanted it. I support unambiguously the action of the government... I want the success of the president of the Republic and Government for my country."