Police confirm IED used in 'terrorist' attack on London train, 22 hospitalized
PM Theresa May to chair emergency Cobra meeting; Trump lashes out at 'loser terrorists' behind attack
Police confirmed that an explosion on a London Underground train that injured at least 22 people Friday was caused by an "improvised explosive device" fitted with a timer, declaring it to be a "terrorist incident."
"At 8:20 this morning at Parsons Green station there was an explosion on a Tube train. We now assess that this was a detonation of an improvised explosive device," police counter-terror chief Mark Rowley told reporters.
Police investigating the explosion believe that the device did not fully detonate, according to Sky News sources.
A massive manhunt is now underway for the attack perpetrator.
Police have identified the person who carried the device -- seen in pictures to be a white bucket in a freezer bag -- onto the train, Sky News reported.
Prime Minister Theresa May chaired a meeting of the government's Cobra emergency committee at 1pm local time Friday to discuss the incident.
In televised remarks after the meeting, May called the attack "cowardly" and said that the UK threat level will remain at severe, adding that her government needs to do more to tackle the root causes of terrorism.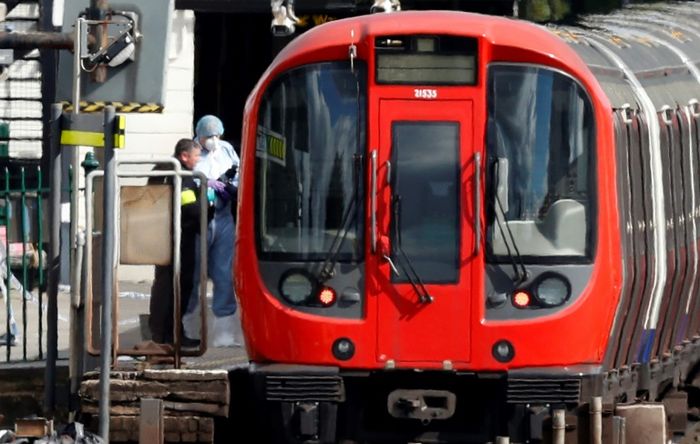 US President Donald Trump responded to the incident in a tweet calling the perpetrator a "loser terrorist" and appeared to reveal hitherto unknown information about the attack.
"Another attack in London by a loser terrorist. These are sick and demented people who were in the sights of Scotland Yard. Must be proactive!" Trump tweeted. In later comments to reporters, he said the apparent attack was a "terrible thing" and that "perhaps we're not nearly tough enough" on the causes of terror.
When asked about the tweet, May responded that "I never think it's helpful for anybody to speculate" on an ongoing investigation.
Twenty-two hospitalized
Passengers were seen "badly burned" following the explosion, eyewitnesses said.
Britain's National Health Service (NHS) said that 22 were injured the attack and were being treated at four area hospitals.
The majority of the injured suffered flash burns, but none sustained serious or life-threatening injuries.
A Metro news website reporter said that a number of passengers were injured, with some suffering facial burns, after a container apparently "exploded" on the district line train.
She said they were "really badly burned" and their "hair was coming off".
Other witnesses interviewed by British media described a chemical-like smell after the explosion.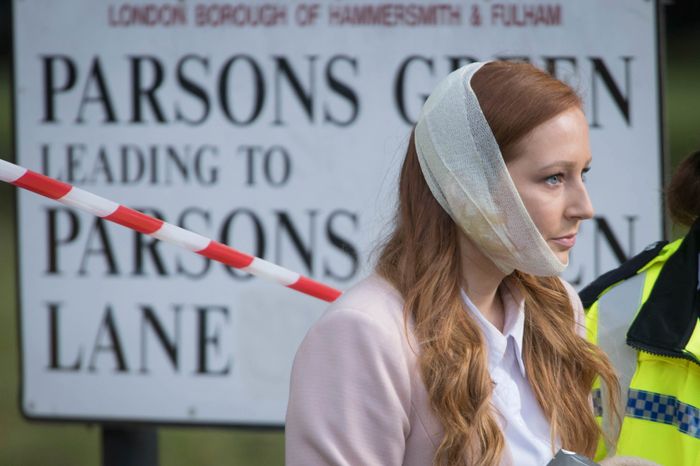 Others were apparently injured after panicked passengers fled the train station sparking a stampede, according to a BBC correspondent at the scene.
The nearby St. Mary's hospital in Paddington, one of four major trauma centers in London, has declared a major incident and activated procedures for large events, the Imperial College Healthcare NHS Trust said.
The incident comes after a series of terror attacks that have rocked Britain this year, killing dozens of people and injuring hundreds, putting the capital on high alert.
It would be the fifth terror attack in six months in Britain since March, when a lone attacker mowed down pedestrians and stabbed a police officer outside the British parliament.
London Mayor Sadiq Khan condemned the attack and vowed that Londoners "will never be intimidated or defeated by terrorism." British Foreign Secretary Boris Johnson, a former London mayor, also appealed for calm.
"Obviously, everybody should keep calm and go about their lives in a normal way, as normal as they possibly can," Johnson told Sky News.
"Our city utterly condemns the hideous individuals who attempt to use terror to harm us and destroy our way of life," Khan said in a statement. "As London has proven again and again, we will never be intimidated or defeated by terrorism."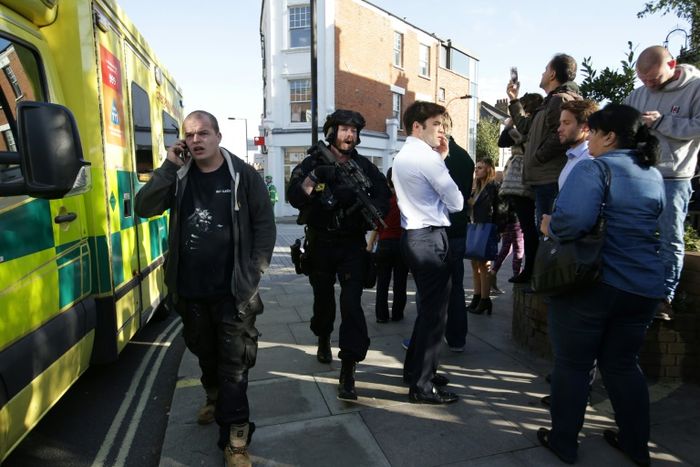 "I urge all Londoners to remain calm and vigilant, and to check Transport for London's website for travel advice," he added.
London's Ambulance Service said in a statement that it sent "multiple resources", including a hazardous area response team, to attend the scene.
The Parsons Green station was closed, as well as an entire section of the District Line where it is located. Authorities said transport services would remain disrupted throughout the day.
A total of 35 people have been killed in four previous attacks in London and Manchester since March.
Three of those involved a vehicle ploughing into pedestrians.
The other attack was a bombing in May at a pop concert by US star Ariana Grande in Manchester which killed 22 people including children.
More to follow.
(Staff with agencies)